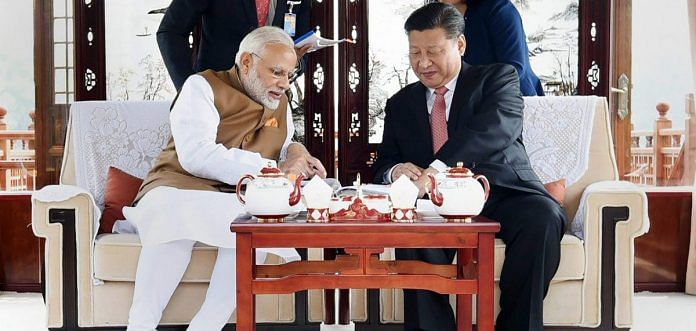 Text Size:
From Hindi Chini Bhai Bhai to hawks and owls: the many ways Indians think about China.
One of the positive trends in India's think tank community in the past few years is the emergence of institutes that aim to study China. Last week, journalist Nitin Gokhale reported that the ministry of external affairs has set up a new think tank that includes members from intelligence, defence and trade. The higher education system has invested in setting up a few new centres that will observe and analyse China from various perspectives and purposes. This ought to have started at least a decade ago, but better late than never.
Many educated Indians can name at least half a dozen states of the United States and their respective capitals. Bengaluru and Hyderabad are likely to score higher on this test. However, even among the more informed Indians, it is hard to find people who can name a few Chinese provinces. Similarly, a lot of Indians know excruciating details about the US political system, can identify US administration officials, senators and governors. But few will know the name of a third Chinese leader after President Xi Jinping and Premier Li Keqiang. Language, openness and greater people-to-people interaction are perhaps responsible for this asymmetry, but it is astonishing – and a matter of concern – that an average well-informed Indian knows relatively little about the big neighbour to our north. Our knowledge of China is dangerously inverse to the country's importance to us.
That does not mean we don't have views and opinions on China. We do. Often strong ones.
---
Also read: Not China, 1962 war called India's bluff
---
Over the years, I've noticed that our China watchers fall into several broad stereotypes. This attempt to pigeonhole people is obviously unscientific, but fun. So, let's do it.
Until around a decade ago, there used to be the Hindi Chini Bhai Bhais (HCBBs) who entertained fantasies about a wonderful fraternal future while reality pointed in other directions. A few of them are still around and use terms like "Chindia" that makes the rest of us shudder in alarm. I will leave the HCBBs out of my typology because this species is close to extinction.
Then there are those Indians who come back after a visit to a Chinese city, full of admiration for "their system". Let's call them "the Dazzled". They are full of praise for how a country unencumbered by "democracy" and "elections" can transform itself so fast and so dramatically. Where corrupt officials are sentenced to death, slums cleared and troublesome minorities put in their place. They will come back and tell you why the Chinese system is better than ours and why we would benefit if we copied the winning formula. This is the type you are most likely to encounter in your daily life (and WhatsApp groups).
---
Also read: India's loss in the Maldives is China's gain, and it is showing
---
A related but different type are people who are impressed by China's economy. These "Economic Optimists" are sometimes oblivious to the political system that produces the economic growth, and can argue "whatever may be their politics, their economic growth is a good thing" for the world and for India. They may or may not want India to adopt the same methods – as the costs are becoming harder to ignore – but argue that we should find ways to benefit from the unprecedented opportunities presented by China's economic rise. A variant of this type, the "Tech Optimists", see China as driving global investment and innovation in certain technology sectors and, hence, of importance to our own entrepreneurs.
Poised at the opposite end are the next two types, those sceptical of China's political system and its economy, respectively.
Many of the former, the "Political Sceptics", are descended from our anti-Communists and see an authoritarian, single-party state as a problem in itself. Far from being worthy of emulation, they believe our northern neighbours would do well to take a page out of our own liberal democratic book. They hold that the manner in which China treats its ethnic minorities and political dissidents is a scandal, and that such a system is bound to implode sooner or later. They've been waiting for a long time for this to happen, to no avail.
The "Economic Sceptics" are similarly waiting for the coming collapse of China. They cite old Monsieur Poisson to argue that just because the collapse didn't happen for the past several decades doesn't mean it won't happen tomorrow, or well, the day after. Or, the day after. In the meantime, they point out that the true cost of the Chinese model of growth and development has not been estimated properly – as environment, cultural heritage and human freedom have been laid waste in the mad chase for wealth and power. Worse, the costs of the Chinese model have been felt around the world, with dumping, illegal mining, countryside ravaged by infrastructure no one wants and jobs lost to hordes of expatriate Chinese workers.
---
Also read: After PM Oli's return from Beijing, Nepal thinks China is the new India
---
Among the strategic analysts, there are two types: "hawks" that see dark Chinese conspiracies everywhere and in everything, and the realists ("owls"?) who believe that while China's power plays must be robustly managed, not every action is mala fide and directed against us. There are few doves now. The Doklam standoff put an end to most of them.
A decade ago, you would find some of the hawks raising alarms about the string of pearls and the damming of the Himalayan rivers. Today, they warn us about the Belt and Road Initiative. In response, they would like more mountain divisions, a stronger Navy, a full Air Force, and hydrogen bombs on submarine-launched intercontinental ballistic missiles. And no, they won't countenance any deal on the unresolved Himalayan border.
The owls, on the other hand, acknowledge the threats their hardline peers identify but believe that negotiations, alliances, engagement and some red lines are the way to deal with the situation. They are open to trade and economic engagement, but cautiously exclude high technology areas. They believe historical paths, geography, differences in relative power and state capacity compel us to remain sober. They try not to get carried away by both China's awesome strides and its numerous failings. As a result, they get attacked by all other types for being too conciliatory, too pusillanimous, too aggressive, too inflexible, too red-tapey and too permissive.
Now that I've drawn up the neat pigeonholes, let me admit that few real people will fit perfectly into just one. For instance, I self-identify with the realists, but think that India ought to exploit the economic opportunities created by China's growth, challenge the international narrative favouring the "China model", avoiding direct military conflict, even as we try to evolve a stable cooperative relationship. The more you learn, discuss and think deep, your view of China becomes a long complicated sentence.
You might start off in a pigeonhole, but please don't remain there.
Nitin Pai is director of the Takshashila Institution, an independent centre for research and education in public policy.
Subscribe to our channels on YouTube & Telegram
Why news media is in crisis & How you can fix it
India needs free, fair, non-hyphenated and questioning journalism even more as it faces multiple crises.
But the news media is in a crisis of its own. There have been brutal layoffs and pay-cuts. The best of journalism is shrinking, yielding to crude prime-time spectacle.
ThePrint has the finest young reporters, columnists and editors working for it. Sustaining journalism of this quality needs smart and thinking people like you to pay for it. Whether you live in India or overseas, you can do it here.