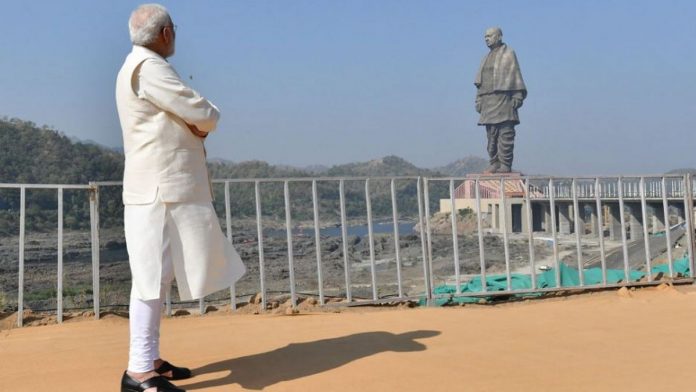 Text Size:
Punsters had a field day when Narendra Modi dedicated Sardar Patel's statue to the nation.
While the world is being divided 'by narrow domestic walls', in Tagore's unforgettable words, the 'Statue of Unity' stands tall – not among the ruins but the utterly delightful Valley of Flowers in Gujarat.
At 182 metre, Sardar Patel is 'India's towering icon' (CNN News 18) and stands 'the tallest in the world' (Times Now, ABP, NDTV India). Oh, how the punsters had a field day Wednesday morning, when Narendra Modi dedicated Patel's statue to the nation on the Congress leader's birth anniversary – a fact that may well have escaped your notice, as you watched the ceremony on TV. Not a single current Congress leader was seen anywhere near the venue.
What we did espy was a few people seated at his feet –in the long shot, they appeared rather like pygmies – no offence intended (Zee News).
Once the news channels were done with the puns, and the PM held forth on the 'stalwart's' many virtues, the TV channels delighted us with the kind of (useless?) information you find in 'Did You Know?' quizzes. According to Mirror Now, the Iron Man contains not just '24,500 tonnes of steel', but also '70,000 tonnes of cement, 1,700 tonnes of bronze' and his statue can withstand an earthquake measuring 6.5 on the Richter scale (Times Now). Voila, now you know.
---
Also read: Handle with care: Sri Lanka now has two Prime Ministers and a lot of political chaos
---
Away from such lofty matters (ah, the pun), television news would have you know that 'tensions reach boiling point' (CNBC TV 18). Regular viewers would think this was perhaps a reference to the continuing CBI saga, or Swami Paramhans who certainly looked like he was about to blow the lid if the Supreme Court did not rule on Ayodhya very soon (Zee Hindustan).
Back to that in a moment.
The CNBC TV 18 reference was to 'Govt versus RBI?' as both sides suddenly seem to be talking out-of-turn, publicly: RBI's deputy governor, Viral Acharya, and union finance minister Arun Jaitley have both voiced their reservations about the attitude of the government and the central bank, respectively. Even as this is being written Wednesday, NDTV 24×7 reported that the RBI governor Urjit Patel may resign.
---
Also read: Even if Statue of Unity becomes as famous as Taj Mahal, we may need 120 years to break even
---
However, Monday and Tuesday, mainline English and Hindi news channels, other than NDTV 24×7 and Mirror Now, didn't seem overly impressed by the stand-off: they preferred the far more emotive issue of Ayodhya.
Over the past few weeks, anyone from the Sangh Parivar who had an opinion on 'mandir wahin banega' aired it on obliging TV news channels. By the time RSS sarsanghchalak Mohan Bhagwat asked for a law to facilitate the building of the temple on 18 October, we knew things were being brought to a boil. Uttar Pradesh chief minister Yogi Adityanath then increased the heat, last Saturday, by saying the Supreme Court should rule forthwith.
These demands were relayed across Hindi and English news TV, leading to agitated arguments Sunday, a day before the Supreme Court was to hear the matter. So, the Supreme Court's postponement of its hearings till January 2019 in barely4 minutes not only dismayed the parivar but robbed TV news of an opportunity for all-day coverage: CNN News 18 had lined up a team of 12 to report/debate and Zee News was singing 'Ram, Ram, Sita Ram….'
Monday evening heard ominous rumblings on India Today and other channels as anchors questioned the Supreme Court's 'priorities' without appearing to do so. It's all in the wording: '#RamMandirHeldUp', for instance, suggested some kind of wrongful confinement (Republic); 'SC dallies' (India News) suggested a wilful delay; while India Upfront wondered why 'Hindus' were not a 'priority' with the SC (Times Now).
And suddenly, the issue became one of 'Faith v/s Law' (CNN News 18), encompassing Ayodhya, Sabarimala (BJP president Amit Shah's comment, 'We stand like a rock with the protesters') and Diwali (with the Tamil Nadu government's plea to the highest court that cracker bursting be permitted in the early morning hours as the festival is part of the freedom to practice one's faith).
---
Also read: Is Viral Acharya speech just another fight or shows Modi govt's inability to work with RBI?
---
With so many controversies raging like the stubble-burning fires in Punjab and Haryana, Modi's visit to Japan was almost overshadowed, except for the live coverage of his speech.
And what about the curious case of Sri Lankan President Maithripala Sirisena, sacking one PM and appointing the man he challenged and beat to the presidency as the new PM? Other than ET Now, one did not see any meaningful discussion on a change that will almost certainly influence India's relations with its neighbour.
PS. From cement to digestion concoctions, from a child's inoculation to Swachh Bharat and onto Gujarat, via a stopover with Jaya B at Kalyan Jewellers, he is now promoting Emami cooking oil – is there anything that Amitabh Bachchan won't or can't sell you?
The author is vice dean, Jindal School of Journalism and Communication.
Get the PrintEssential to make sense of the day's key developments