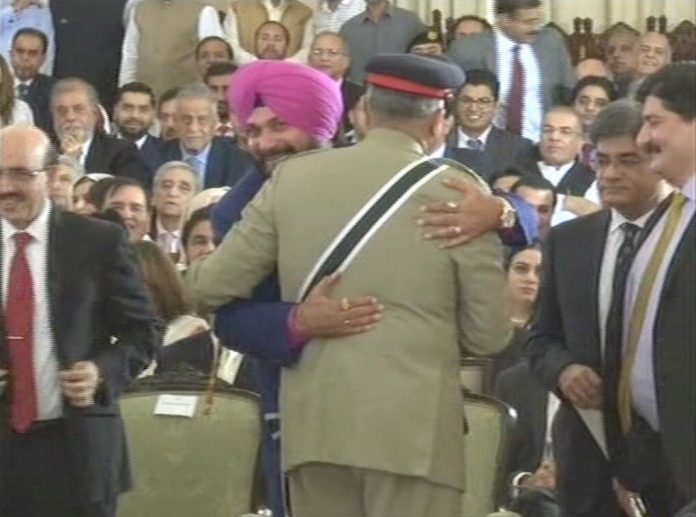 Text Size:
Funny how politicians are being scrutinised for their 'hugplomacy', but an exception is made for Narendra Modi, the master of the art.
On 19 August, Navjot Singh Sidhu talked elatedly about his interaction with Pakistan army chief, General Qamar Javed Bajwa and the prospects of peaceful initiatives between the two countries. On 21 August, Sidhu spent 40 minutes convincing Indians on national television that he hadn't offended the nation by "hugging the enemy".
The brouhaha over the hug – an act that has divided more people than brought together – is not unlike the other hug that captured the national imagination and chatter. When Congress president Rahul Gandhi hugged the stunned Prime Minister Narendra Modi in Parliament, it took over all the headlines. That too was an act of hugging the enemy.
If the Sidhu hug is anti-national for some, the Rahul-Modi hug was un-parliamentary for others in the chattering classes.
---
Also read: Sedition case against Sidhu for hugging Pak army chief a test of nationalism or paranoia?
---
Sidhu was called for the swearing-in ceremony of Pakistan's new Prime Minister and his old friend Imran Khan. Although Sidhu said he did not go to Pakistan with the intention of talking politics, the cricketer-turned-minister walked straight into it when he met Bajwa. The General hugged Sidhu and told him about Pakistan's plans to open the Kartarpur Sahib Gurudwara to Indian Sikh pilgrims.
This hug rubbed many the wrong way – from journalists to opposition party leaders to Punjab chief minister Captain Amarinder Singh. Some called it "shameful" while others called him "anti-national".
It's funny how politicians in this country are being scrutinised for their 'hugplomacy', but an exception is made for the master of the art, Narendra Modi.  His hugs haven't been any less controversial, like when he publically embraced Israeli Prime Minister Benjamin Netanyahu earlier this year, especially when India's relationship with Palestine has been so complicated. However, that's still not as cringe worthy as the hug Modi offered (more like stole) from American President Donald Trump. Yet, Modi's hugs rarely became the subject of prime time battles.
---
Also read: If Modi can engage with a hostile China, why can't Sidhu go to Pakistan?
---
Sidhu's hug controversy shows that it is not the hug that is the problem. It is whom you hug. Of course, this follows sustained campaigns around who you can and cannot love or marry, and which meat you can and cannot eat.
In the nation of increasing dogmas, some have the power to claim an exception to the rules. Modi can hug former Prime Minister of Pakistan Nawaz Sharif and be called a diplomatic game-changer. Hindutva outfits can disrupt Friday prayers being offered by Muslims in Gurugram, and the chief minister of Haryana Mohan Lal Khattar can issue a statement saying Namaz should be restricted to certain spaces. However, you cannot question the kanwariyas who run amok on busy highways.
---
Also read: Kanwariyas vs Namazis: Double standard over disruption in public spaces?
---
The deeper message in the Sidhu fiasco is that either you see Pakistan as the enemy, or you are the enemy. Unless you belong to the ruling party or the government. Modi government did send Imran Khan a cricket bat autographed by the Indian team and a letter.
The bat and the letter, apparently, stop short of a red line this election season. But the hug crossed the red line.
From interviews to news reports, catch ThePrint live in action on our YouTube channel. Subscribe here .