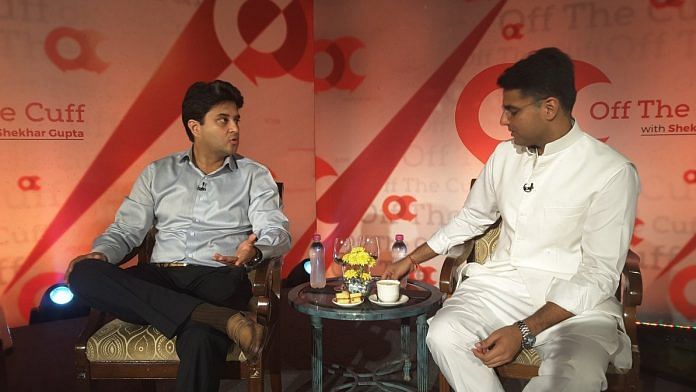 Text Size:
The defection of Jyotiraditya Scindia and the rebellion of Sachin Pilot has brought the Congress party's internecine politics to the fore. A standard narrative around these rebellions is that the Congress party can no longer retain its popular, younger leaders and that the central leadership, i.e., the Gandhi trio — Sonia, Rahul, and Priyanka — are to be blamed. In our view, this is rather simplistic and maybe a misplaced understanding of why the Congress party is imploding. In reality, the current crisis in the Congress party is structural.
Let us begin with some plain facts. All parties in India have a factional conflict. Even the cadre-based parties like the Bharatiya Janata Party (BJP) or the Communist Party of India (Marxist), or family-run parties like the Samajwadi Party (SP) or the Nationalist Congress Party (NCP) are not an exception. After all, parties are made up of factions. It is the role of the party leaders to manage the emerging competition among the factions. Sometimes, the factional management is handled by the state unit. In other cases, the central leadership has to intervene to sort out factional conflict. This is a long-standing feature of Indian party politics.
---
Also read: Sachin Pilot has done the unthinkable — united all TV channels from NDTV to Republic
---
Where lies the blame?
Scindia and Pilot headed their factions in Madhya Pradesh and Rajasthan. Both sought more power/representation for their wings or themselves. While Pilot had ambitions to become the Rajasthan chief minister, Scindia wanted a more significant role in Madhya Pradesh. Neither Scindia nor Pilot could attain their political goals.
In MP and Rajasthan, then, a less charitable but entirely plausible interpretation of the actions of both Scindia and Pilot is that while they led a minority faction yet they tried to hold the elected Congress governments hostage. The steps taken by Scindia and Pilot make it a simple case of minority faction blackmail made possible because of ruthless electoral arithmetic. There is an opposition party (BJP) in both states with enough numbers to form the government with the help of 'defectors'. Scindia was successful right away because the Congress had far fewer seats to play within Madhya Pradesh. In Rajasthan, the Congress has a greater buffer and thus foiled Pilot's attempt. In fact, the series of events in Rajasthan since May 2019 suggests that Gehlot carefully precipitated a crisis, calculated the fallout at each step, and Pilot got played.
A dominant interpretation lays the blame for the Congress Party's crisis at the central leadership's doorstep. In this interpretation, Scindia and Pilot could have been mollified, appeased, accommodated, or given Madhya Pradesh and Rajasthan's reins. There is an alternative interpretation. Neither Scindia nor Pilot had enough MLAs on their side for the Congress leadership to put their weight behind their factions. According to news reports, Pilot wished to be named as Rajasthan CM in the coming days/months. Would the Ashok Gehlot faction (which is clearly the larger of the two) have accepted the central leadership's support to the smaller faction as a fait accompli? Would they not have defected?
Realpolitik would suggest that the Congress leadership had no other option. It had to go with the larger faction. Could it have intervened on Pilot's behalf and moved some MLAs from the Gehlot faction? Possibly. But, would that defection have been large enough to reduce the Gehlot faction to less than 17 MLAs? Maybe, but possibly not.
---
Also read: Why it's unfair to blame Ashok Gehlot or Congress for Sachin Pilot's unreasonable ambitions 
---
Why the central leadership is in a spot
Critics of the Congress party blame the central leadership's inability to control minority factions, especially when they can destabilise state governments and rob the party of chances to establish itself as a contender for national power. It is beyond doubt that Congress's central leadership is having difficulty in controlling minority factions because the party is no longer in power at the Centre. While it is possible, but in the world of power politics, less plausible, that a party can be held together by the loyalty of state politicians to the central leadership. Loyalty goes only so far, Scindia and Pilot's story are a good testament to this.
When Congress was in power in Delhi, it could easily accommodate minority factions' interests in multiple ways. For example, it could give the minority faction some resources or share of power in the central government. Moreover, the minority faction was aware that while their party is ruling in New Delhi they have limited options. There were no real alternatives with whom the minority faction would have aligned without incurring a cost (read Income Tax raids etc). And thus, their threats to exit if the demands were not met, were less credible. A minority faction of the BJP in Gujarat today cannot threaten the ruling government's stability because its threat is not credible. If it left the party where would it go? Into the wilderness?
---
Also read: Covid delayed Sachin Pilot's revolt, he had planned exit in March, Congress insiders claim
---
For long-term gains
It is conceivable that the Congress Party's leadership has now decided to take short-term losses for the party's longer-term viability in states like Madhya Pradesh and Rajasthan. Maybe, it now expects the state units to solve its internecine conflicts by themselves. If younger politicians like Scindia and Pilot want to be successful, they have to work with other factions in their party, with leaders they do not like, and build a career from the ground up rather than rushing to Delhi to defend them and their political ambitions. And herein lies the crux of the current crisis in the Congress party. The Gandhi trio should not expect young and ambitious politicians like Scindia and Pilot to fight the factional battles in their respective states when until now the central leadership has handed them positions of power on a platter– union ministries and state party chiefs.
To sum up, power distribution in any party purely based on loyalty to the high command will sooner or later implode. Especially, when the party is not in power. Today the Congress party's chances of acquiring power in New Delhi in the immediate future appear bleak, and therefore minority factions can make credible threats to exit the organisation. State politicians of the Congress are doing what faction leaders do all over the world — look for chances to enhance their power, either within the party or while the option still exists by exiting and either joining another party or forming a new outfit. The Congress high command should be aware of its limitations in managing minority coalitions without power and resources. However, that is not an easy task and is a real test for any leader.
Pradeep Chhibber is a Professor of Political Science and Indo-American Community Chair in India Studies at UC Berkeley, US. Rahul Verma is a Fellow at the Centre for Policy Research. Views are personal.
Subscribe to our channels on YouTube & Telegram
Why news media is in crisis & How you can fix it
India needs free, fair, non-hyphenated and questioning journalism even more as it faces multiple crises.
But the news media is in a crisis of its own. There have been brutal layoffs and pay-cuts. The best of journalism is shrinking, yielding to crude prime-time spectacle.
ThePrint has the finest young reporters, columnists and editors working for it. Sustaining journalism of this quality needs smart and thinking people like you to pay for it. Whether you live in India or overseas, you can do it here.