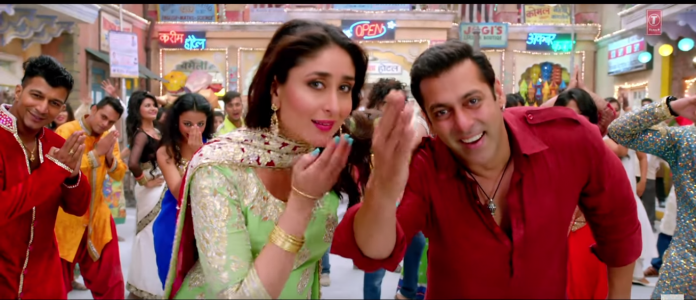 Text Size:
The wane of the 'Muslim social' genre coincided with the loss of prominence that Urdu suffered in northern India.
Salman Khan-starrer Race 3 is this year's Eid release from Bollywood. In the last decade, Khan has monopolised the festival of Eid with an offering each year. Funnily, if you look at the oeuvre of his Eid releases, barring a promotional song in Bajrangi Bhaijaan, there's little that you can connect to the festival.
This omission is not incidental. It's a direct consequence of the demise of the 'Muslim Social' genre.
Sohrab Modi's Pukar (1939), based on Mughal emperor Jehangir, is usually credited for the initiation of the genre that reached its pinnacle in Kamal Amrohi's Pakeezah (1972). Between these two, a great number of films appeared – Chaudhvin Ka Chand (1960), Mere Mehboob (1963), Bahu Begum (1967), Mere Huzoor (1968) and Mehboob Ki Mehndi (1971).
With its unique Muslim ethos and Urdu-tinged dialogue, the Muslim social focused on creating an exotic world. It was about the 'gentle' Muslim who had tehzeeb (culture) and nazaakat (delicate). The characters populating the genre were elegant people, usually from the upper class, dressed in sherwanis and shararas, with a whiff of regal nawabi culture.
In the post-Partition era, Muslim filmmakers and writers like Amrohi, Mehboob Khan, Khwaja Ahmad Abbas, Abrar Alvi, K. Asif, among others, brought a certain kind of Muslim representation to the Indian screen. These were mild and moderate, albeit other-worldly, portrayals.
Imagine a sherwani-clad Rajendra Kumar singing 'Mere Mehboob Tujhe Meri Qasam' to Sadhana in Harnaam Singh Rawail's romantic musical Mere Mehboob. Or a Jeetendra serenading Mala Sinha with 'Rukh Se Zara Naqab' in Mere Huzoor. Or a Guru Dutt looking longingly at Waheeda Rehman in the classic melody 'Chaudhvin Ka Chand' from M. Sadiq's film of the same name.
Given that most Muslim socials had certain progressive agenda, especially seeking better rights, the female characters portrayed in these films had a certain level of unmistakable pathos due to their constant navigation within the social matrix.
In Amrohi's 14-year-in-the-making Pakeezah, Meena Kumari played the titular role of a nautch girl who didn't have the luxury to fall in love. She played the character to such perfection that despite it being her last film, she was forever epitomised as 'Pakeezah'.
From that point on, few notable Muslim socials were made in the mainstream space, Laila Majnu (1976) and Umrao Jaan (1981) being eccentric exceptions, especially with their wondrous soundtracks.
The vacuum was filled by fewer but more new-wave socials – Garm Hava (1973), Amar Akbar Anthony (1977), Bazaar (1982), Coolie (1983), Salim Langde Pe Mat Ro (1989), among others.
Amar Akbar Anthony placed the Muslim at the center of the quintessential nation-building template of unity in diversity.
In Coolie, Amitabh Bachchan played a Muslim porter fighting for the rights of workers pitted against evil capitalists. The film was a departure from the gentle culture of the nawabs; it was as rugged and grungy as it could get. The 80s Muslim was concerned with livelihood issues, and not romanticising a bygone era. He did not sacrifice his identity, but the workers' struggle existed alongside Haj travel, namaz offerings, poverty and a saviour-falcon named Allah rakha.
The wane of the genre coincided with the loss of prominence that Urdu suffered in the northern parts of the country. New age audiences and, therefore, filmmakers followed the diktat due to the changing morality. India lost its inhibition in the early 90s with the onset of liberalisation and characters lost their roots too, for a larger part of that decade.
The Muslim social gave way to the Muslim political, when the films paralleled the nation's grappling with questions on Muslim citizenship, stake in democracy and injustice.
The first main sign of reassertion was seen in a very different context, in Shimit Amin's muted sports drama Chak De! India (2007). It's no coincidence that it was Shah Rukh Khan who played the role of a disgraced national coach Kabir Khan. He further went on to star in possibly the most significant Muslim social in the last decade, My Name Is Khan (2010). Karan Johar's US-set drama was a complete tonal departure for the genre.
It's, of course, implicit that traversing these periods, India too changed considerably. The political landscape has been such that over the years India's centre moved considerably towards the right. With that deeper shift, different communities found themselves at diverse crossroads. Muslims in the country too have seen their cultural representation relocate vis-a-vis eras.
In the year 2007, apart from Chak De! India, Shah Rukh Khan had another release – Om Shanti Om. It released alongside one of the biggest disasters in mainstream cinema, Saawariya.
Sanjay Leela Bhansali's film was not set in any particular time. It existed, as Bhansali films usually do, in Bhansali-land. It was, however, significant because it was the last big Hindi film in complete embrace of a bygone sensibility. There was Urdu, a character called Sakina, but most importantly, there was 'Eid ka Chand' (moon).
In 'Yoon Shabnami', Bhansali lavishly shot Hindi cinema's last grand Eid song, probably a hat-tip to filmmakers who came before him.
Get the PrintEssential to make sense of the day's key developments