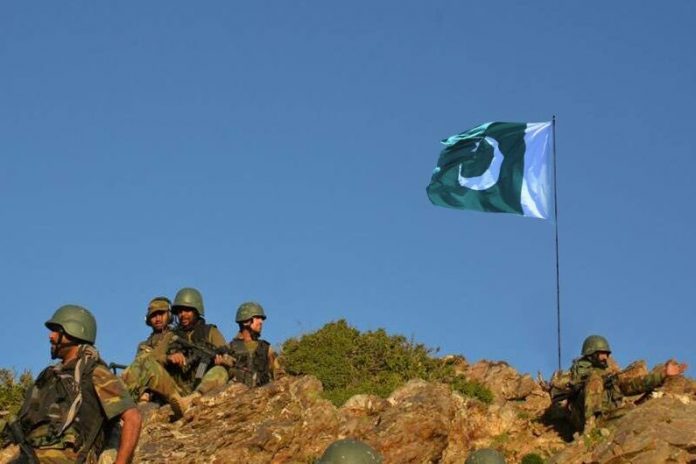 Text Size:
It may be easy for the Pakistan military to manage traditional mainstream media, but social media plays by its own rules.
The Pakistan army's media wing, the ISPR, flew journalists to North Waziristan, a tribal zone close to the Afghanistan border in the last week of January. It is normally a no-go area for journalists from outside the region. But this time, the ritualistic dog-and-pony show between the army and journalists has backfired.
پاکستانی میڈیا چینلز کے لوگ میرانشاہ شمالی وزیرستان لے جائے گئے ہیں اچھی بات ہے.. لیکن سوال یہ ہے کہ کیا رپورٹ کریں گے؟ بدقسمتی سے پاکستانی میڈیا دہشت گردی کے خلاف پوری جنگ میں ہمارے خلاف ایسے استعمال ہوئی ہے جیسے کسی ملک دشمن کے خلاف جنگ کے دوران پروپیگنڈہ کے لیے استعمال ہوتی pic.twitter.com/ksYNkoKXnh

— Pashtun Tahafuz Movement (@PashtunTahafuz) January 28, 2019
The Pakistan army media wing has been conducting controlled trips for many years now, with journalists embedded with the military to travel to such conflict zones. The goal is to manage the narrative of the local and international media.
Considered at one point as the headquarters of the Pakistani and Afghan Taliban, the Pakistani military now claims that it has been able to clear the tribal belt. In a bid to show its "success", it flew in a delegation of local and foreign journalists.
But the visit couldn't have come at a more inconvenient moment. There is an ongoing controversy of a Waziristan woman coming forward days before the trip claiming sexual harassment and abuse by the Pakistani army soldiers. In a video statement that went viral on social media, the woman says that Pakistani soldiers threatened to rape her, after abducting her husband and her son. Such testimony is the first of its kind and was shared by members from the grassroots movement ongoing in Pakistan right now called the Pashtun Tahaffuz Movement (PTM), which was launched in the wake of an extra-judicial killing of a man from North Waziristan last year. Once PTM members shared the video, it went viral. This rattled the Pakistan Army's media wing so much that in an attempt to diffuse the situation, it flew in its selected team of journalists to counter the woman's statement with an alternative discourse.
---
Also Read: Pakistani journalists calling my article a publicity stunt is the biggest disappointment
---
But it may be easier to manage traditional mainstream media, but social media plays by its own rules.
The attempt to manage the narrative this time through controlled PR exercise has received severe backlash on social media, and a number of social media users from Pakistan are for the first time questioning the very purpose of such reporting trips. It appears that the PTM has given them the courage to speak up, just like it encouraged the woman to make that video statement, which is also a rare occurrence.
What has further added fuel to this fiery criticism of the Pakistani military on social media is the subsequent attempts by some prominent journalists from traditional media to spin the statement of the abused woman.
One of Pakistan's most well-known television show host Hamid Mir who was also a part of this trip to Waziristan uploaded a video on Twitter Monday in which he is seen interviewing the Director General of ISPR – General Asif Ghafoor. But his line of questioning gives away his attempt to spin the story: He asks about the "propaganda on social media about the incident in Waziristan regarding dishonouring of women". In response, the general rejects the accusations and cites a jirga (a tribal council of sorts) ruling to say that the woman is lying. But jirgas, which are male-dominated judicial councils consisting of elders from the area, have been deemed illegal by the Pakistani courts, especially due to their anti-women verdicts.
Many are now questioning Hamid Mir's intent in uploading such a problematic response from the general when he should have been interviewing the woman instead.
But given that Mir was embedded with the military, it appears that the famous television show host went a step ahead in ensuring the broadcasting of ISPR's propaganda.
The practice of embedded journalism was intended to humanise soldiers fighting in conflict areas, but the military media managers make it difficult for a journalist to break the bond that builds up and report critically about the very soldiers that he or she has spent days with on the field.
---
Also read: Pakistan journalist in exile fears he'll meet Khashoggi's fate if he returns home
---
Second, the Pakistani military ensures that if a journalist is not okay about reporting only with what he or she is being fed, it may become his or her last trip as an embed and access is blocked in future.
Such pressure tactics end up putting journalists in a tight spot with their own editorial management.
I have witnessed this first-hand when I travelled to South Waziristan in 2013 with the Pakistan Army. The army had widely claimed that it had brought peace to the region and once we reached the tribal zone, we were taken on a tightly controlled visit to pre-decided locations. When we insisted on being allowed to go independently in a local village, the military media personnel accompanying us refused and when we showed our dismay at this, they told us that this was the last time we were being allowed.
Despite my repeated requests to be embedded in the next few years, it never invited me, while taking many other journalists to Balochistan and Kashmir. But I have now realised that these trips are useless anyway.
Another issue with such embedded trips is that the military men act very differently when there are no journalists observing them. A soldier spoke about this during the Iraq/Afghanistan Winter Soldier hearings in 2008. One of the participants of the hearing – a young US Iraq veteran John Michael Turner stated: "Any time we did have embedded reporters with us, our actions would change drastically. We never acted the same. We were always on key with everything, did everything by the books."
What should journalists do if they want to report independently? A reasonable option is to collaborate with local stringers in the region like the BBC did after an ISPR-arranged trip to Pakistan's Kashmir (that the military undertook to dispel claims of a surgical strike that India said it had carried out across the Line of Control in 2016).
Subsequent to this trip, the BBC had sent its own team and investigated how the incursion did occur, but it was only possible to report this without the prying eyes of the military.
---
Also read: Abduct me, bully me, chase me out, but I still love Pakistan and won't shut up
---
Pakistan is considered a conflict zone by international media especially in areas like the tribal belt, Balochistan and disputed territories like Kashmir and Gilgit Baltistan. It is, therefore, important that journalists report the truth from this region, especially in times of war, instead of becoming party to the conflict by embedding with the very forces that have an agenda in presenting a certain kind of positive image of themselves to the public.
The author is an award-winning Pakistani journalist living in exile in France. He teaches journalism and is writing a book on Pakistan. He also manages safenewsrooms.org, a digital media platform documenting press censorship in South Asia. He tweets @TahaSSiddiqui.
Check out My543, our comprehensive report card of all Lok Sabha MPs.