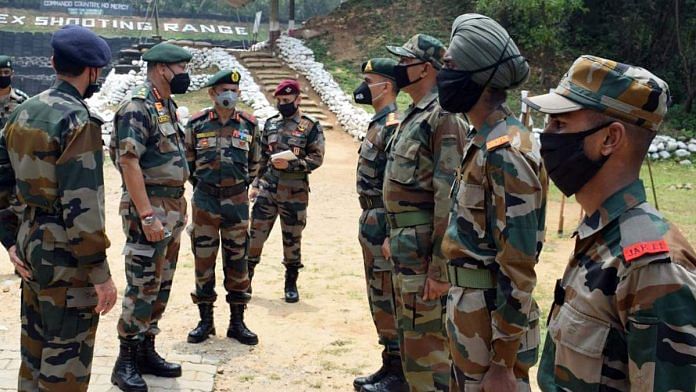 Text Size:
On 20 November, General Angus Campbell, Australia's Chief of Defence Force, set an example for all militaries to follow in upholding human rights. On Twitter, he apologised to the people of Afghanistan and Australia for the human rights violations committed by the Australian Special Forces during their deployment in Afghanistan from 2005 to 2016.
In a 21-minute televised address, Campbell said, "To the people of Afghanistan, on behalf of the Australian Defence Force, I sincerely and unreservedly apologise for any wrongdoing by Australian soldiers. I have spoken directly to my Afghan counterpart, General Zia, to convey this message…..And to the people of Australia, I am sincerely sorry for any wrongdoing by members of Australian Defence Force. You're right to expect that your Defence Force will defend our nation and its interests in a manner that accords with our nation's values and laws." He further said that apart from the personnel who committed the alleged acts, the chain of command would also be held accountable and liable for disciplinary action for complicity or moral failure, in case they remained ignorant. A redacted version of the inquiry report has been put in public domain.
What the Chief of Defence did was a course correction, as for nearly a decade the Australian media had been reposting about the alleged human rights violations. A combination of public, media and political pressure forced the military to course correct. In a sharp contrast, President Trump granted pardon to soldiers accused of human rights violations, much against the advice of his military and media outrage.
Ten days earlier, on 10 November, the Chairman of the United States' Joint Chiefs of Staff General Mark Milley said, "We are unique among armies, we are unique among militaries. We do not take an oath to a king or queen, or tyrant or dictator, we do not take an oath to an individual. No, we do not take an oath to a country, a tribe or a religion. We take an oath to the Constitution, and …… every sailor, airman, marine, coastguard each of us protects and defends that document, regardless of personal price."
Milley's assertion, however, of the US forces being "unique among militaries" is not true because many other militaries in democracies do the same. It has been speculated that the General's statement was a veiled message for President Donald Trump to forestall him from 'using' the military in any form while challenging the electoral verdict. A few days before this statement, Trump had sacked Defence Secretary Mark Esper and appointed three loyalists to senior Pentagon policy positions. Earlier in June after being present with Trump for a photo op outside a church he had publicly said, " I should not have been there. My presence in that moment, and in that environment, created a perception of the military involved in domestic politics."
The two recent statements from the top brass of the Australian and US defence establishment hold a lesson for the Indian military. In the last few years, its reputation with respect to human rights has taken a beating and its apolitical status is under threat from politically inspired neo-nationalism.
---
Also read: Shopian encounter is Manoj Sinha's litmus test. Justice can act as bridge to Kashmir
---
Human rights
The Indian military has a stellar record in upholding human rights in both internal and external conflict situations. The world recognises its success in controlling/containing insurgencies through model, people-friendly operations. It has elaborate rules, regulations and laws, supported by command guidance to deal with rogue actions or other lesser violations. And in cases where the military did not measure up in the past, the media and the higher judiciary acted as excellent watchdogs — intervening and ensuring action.
A convoluted sense of honour is largely responsible for this reputation getting sullied over the years. On one hand, the desire to protect unit/regiment/formation/personal reputation leads to cover-up/condoning of violations. On the other hand, the zeal to enhance the same through successes and decorations leads to rogue actions. The pattern has become too familiar — denial, obfuscation, delay, opacity of investigations and shelter of the Armed Forces Special Powers Act (AFSPA). Internal corrective mechanisms have been diluted to the point of becoming dysfunctional.
In cases where action is taken, the conduct of the court martial is so shoddy that it does not withstand the scrutiny of the Armed Forces Tribunal and the Supreme Court. A case in point is the court martial of the accused in the Machil fake encounter case — the sentence of the accused was suspended by the Armed Forces Tribunal. In the Dangari fake encounter case, the Supreme Court was deliberately misled by the government/Army to take over the case. They were well aware that a court martial was categorically time-barred under Section 122 of the Army Act. If that was not enough, the court marital too was conducted and stiff sentences awarded. The authorities knew well that it was illegal the accused will be acquitted during review by the Armed Forces Tribunal/Supreme Court.
A politically inspired neo-nationalism has further compounded the problem. The military has been deified and put on a pedestal. As it often happens, ethnic/ religious minorities on the periphery of the nation are mostly responsible for secessionist insurgencies. The anti-minority sentiment of the majority supports a no-holds-barred military solution to the problem. This sentiment rises in unison to defend even the rogue actions of the Army. With the exception of some local journalists, the media also seems to have been carried away by the 'mood of the nation'. Judicial activism, which in the past had forced reforms in the armed forces, suddenly seems to have taken a back seat.
Nothing exemplifies this case more than the infamous 'human shield' case. A gross violation of human rights by a rogue officer was covered up, condoned and rewarded by the Army with overwhelming support of the public, media and the government.
Neo-nationalism is fast creeping into the military through social media. An army in which human rights violations are condoned, covered-up or overlooked, starts decaying from within due to the cascading effect on all other facets of military ethos and discipline. A classic example of this is the fate of the Pakistan Army in East Pakistan.
---
Also read: Shut down canteens, relieve sahayaks — here's how the armed forces can really cut costs
---
Politicisation
The Indian military, like the United States', also takes an oath to the Constitution and functions under the civilian government in power. It is bound by law to remain apolitical. This facilitates rendering of impartial advice with respect to matters of national security.
Traditionally, the armed forces as the guardians of the security of the nation are revered by the public. By nature, politicians tend to exploit this sentiment. In well-established democracies with strong institutions and constitutional civilian control over the armed forces, the military is able to advise the government to refrain from such exploitation. This was done by the Chief of Army Staff in 1999 when posters highlighting the Kargil War appeared during elections rallies.  However, in a political environment dominated by neo -nationalism of which military prowess is invariably an integral part, it tends to get sucked in to become part of it. More so, if the military hierarchy does not render firm advice in this regard. This is what has been happening to our military since 2014.
The military has been deified and identified with every facet of national life. The distinction between the government and the military has got blurred and neither is being held accountable for serious lapses with respect to national security. Military budget is shrinking, government-owned holistic national security/military reforms have not been carried out and yet a picture of exaggerated military prowess is being painted for public consumption. What is happening in eastern Ladakh is only a manifestation of the rot that has set in.
It is time for the military hierarchy to course correct to resurrect its reputation with respect to upholding human rights and stand up to its oath to the Constitution. History is replete with examples of militaries coming to grief for failure to do so.
Lt Gen H S Panag PVSM, AVSM (R) served in the Indian Army for 40 years. He was GOC in C Northern Command and Central Command. Post retirement, he was Member of Armed Forces Tribunal. Views are personal.
Subscribe to our channels on YouTube & Telegram
Why news media is in crisis & How you can fix it
India needs free, fair, non-hyphenated and questioning journalism even more as it faces multiple crises.
But the news media is in a crisis of its own. There have been brutal layoffs and pay-cuts. The best of journalism is shrinking, yielding to crude prime-time spectacle.
ThePrint has the finest young reporters, columnists and editors working for it. Sustaining journalism of this quality needs smart and thinking people like you to pay for it. Whether you live in India or overseas, you can do it here.