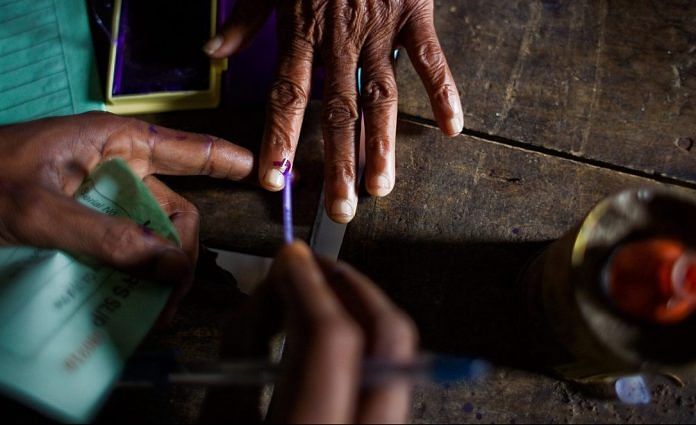 Text Size:
The govt has succumbed to myopic political benefits in a bid to garner NRI votes by hastily passing a poorly drafted bill.
On 9 August 2018, the Lok Sabha passed The Representation of the People (Amendment) Bill, 2018. The Speaker extended the sitting of the house by an hour and the government surreptitiously deferred a Bill listed before this amendment in order to ensure a hasty passage without any serious opposition.
The Bill grants Non-Resident Indians (NRIs) the right to vote through a proxy, which raises serious questions about the manner in which we seek to implement the right to adult franchise.
---
Also read: 'NRIs not eligible to file RTI': Why Centre's response in Lok Sabha is misleading 
---
When India attained Independence, we took a conscious decision to adopt universal adult franchise, whereby every Indian irrespective of their caste, creed, race, language, sex or origin, could exercise his or her right to vote.
Jawaharlal Nehru stood by this fundamental principle of democracy, despite the opposition he faced at that time. There were those who argued that giving a nascent country, with a vast population of illiterate persons, the right to universal adult franchise would lead to disaster. It is interesting to note that the RSS journal, the Organizer in 1952 stated that Nehru would, "live to regret the failure of universal adult franchise in India". However, our experience in the last 66 years since the first general elections, has clearly shown that the RSS's fear was misplaced and that Nehru stands vindicated.
As someone who was an NRI for a significant part of my lifetime, I understand the difficulties of those who are unable to exercise their franchise because of the tyranny of distance. It was in recognition of this that the UPA government under Dr Manmohan Singh gave the NRIs their right to vote through the insertion of Section 20A of The Representation of The People Act, 1950, discarding the need to be a resident Indian in order to participate in the democratic process. The right to vote is a statutory right. However, the decision to vote for a candidate is a part of the voter's right to free expression under Article 19(1)(a) of the Constitution and is essential to the functioning of a democracy. An important aspect of this right is the secrecy involved.
In the landmark Kuldip Nayar v Union of India case, the constitutional bench of the Supreme Court held that secrecy is sine qua non for elections to the house of representatives of the people, unlike elections to the Rajya Sabha, which is not a constituency-based election. Proxy vote, in essence, goes against the very concept of a secret ballot as you have to disclose your preference to another individual, who in turn has to vote on your behalf.
Free and fair elections are an essential aspect of the basic structure of the Constitution, as reiterated by the courts in numerous precedents. However, in the case of proxy voting, there is no guarantee that a proxy may vote as per the preference of the NRI, thereby vitiating the object of free and fair elections. Proxy voting is susceptible to misuse and electoral fraud. In fact, elections in parts of the UK have seen allegations of 'granny farming', whereby the authorisation to proxies from senior citizens was obtained, without them even realising it. The Speaker's Committee Report 2007, presented to the House of Commons, discusses reports of electoral fraud in various constituencies in the UK due to the misuse of proxy votes.
One will only delegate the right to vote to a proxy if such proxy in that particular constituency has the trust and confidence of the voter. What if the voter does not have a relationship of this nature with an individual in the constituency? This situation can be remedied through e-postal ballots. In 2016, the government had amended the Conduct of Elections Rules to enable service voters, including armed forces personnel, to cast their vote in elections through e-postal ballots. The report of the Election Commission on this matter had clearly stated that apart from proxy voting, the additional alternative of e-postal ballots must be provided so that the overseas voter can exercise her/his franchise in the manner s/he prefers.
However, Clause 3 (ii) of The Representation of the People (Amendment) Bill states that such persons can "vote either in person or by proxy and not in any other manner", thereby excluding the possibility of e-postal ballots. It is interesting to note that only the countries of Mauritius, Nauru, Togo and Vanuatu restricts the option of overseas citizens to proxy voting, whereas the majority of countries which provide for external voting systems, provide either for postal voting or a mixed procedure of postal voting, e-voting and proxy voting.
---
Also read: Modi wants NRIs to work like the Jewish or Chinese lobby
---
The option of NRIs voting at embassies abroad, as so many foreign countries permit, is ruled out for Indians because the number of Indian citizens eligible to vote abroad is so large that it would cause public-order problems for some foreign countries. But why not consider electronic voting on the internet? Send a secure voter ID number to the NRI voter with due authentication safeguards, and let her/him vote safely, rapidly and securely by email!
The election process in India is an extremely complex affair. One major hurdle is the preparation of a valid electoral roll and the elimination of 'Absentee, Shifted and Duplicate Voters', referred to as ASD voters from these rolls, to prevent election fraud. The government must answer as to how it plans to manage this issue in relation to overseas voters, especially since we do not have enough staff in our missions abroad to deal with this phenomenon.
Geographical distance and the high cost of travel prevent NRIs from effectively participating in elections in India. But these are also the same reasons why many internal migrants in our country are unable to exercise their franchise in their respective constituencies. However, under the Bill, a person moving from Lucknow to London can continue to cast her/his vote in Lucknow whereas a person who moves from her/his village to Delhi to seek better economic opportunities is barred from casting her/his vote in her/his village. This is patently unjust and is antithetical to constitutional norms, since it denies the basic principle of equality enshrined in the Constitution.
The recommendation of the report of the Election Commission to undertake a pilot study by using options suggested by it in a few constituencies and in the assemblies, before adopting it for the Parliamentary elections, has been ignored by the government. The failure to undertake such a study is an indicator of reckless policy making. The government has succumbed to myopic political benefits in a bid to garner NRI votes, by hastily passing this poorly drafted Bill. Unfortunately, it is vulnerable to so many infirmities, as pointed out above, that court challenges are all but inevitable.
In the winter session of Parliament, the Rajya Sabha will have a chance to prevent this flawed bill from becoming law. If it does not, a messy NRI proxy vote system will cause many more problems than it resolves.
Dr Shashi Tharoor is a Member of Parliament for Thiruvananthapuram and former MoS for External Affairs and HRD. He served the UN as an administrator and peacekeeper for three decades. He studied history at St. Stephen's College, Delhi University, and International Relations at Tufts University. Tharoor has authored 17 books, both fiction and non-fiction; his most recent book is 'Why I am a Hindu'. Follow him on Twitter @ShashiTharoor.
Subscribe to our channels on YouTube & Telegram
Why news media is in crisis & How you can fix it
India needs free, fair, non-hyphenated and questioning journalism even more as it faces multiple crises.
But the news media is in a crisis of its own. There have been brutal layoffs and pay-cuts. The best of journalism is shrinking, yielding to crude prime-time spectacle.
ThePrint has the finest young reporters, columnists and editors working for it. Sustaining journalism of this quality needs smart and thinking people like you to pay for it. Whether you live in India or overseas, you can do it here.