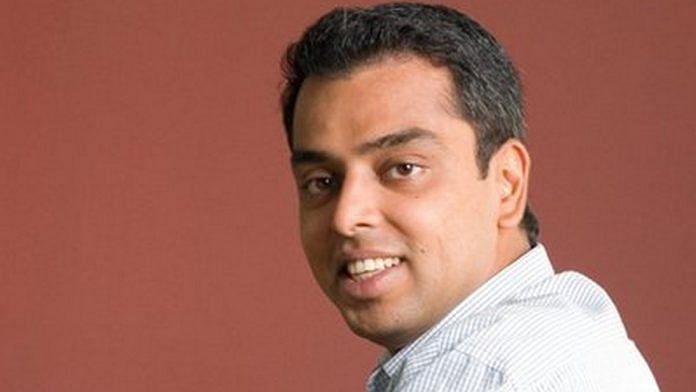 Text Size:
When former South Mumbai MP Milind Deora praised Prime Minister Narendra Modi's speech at the 'Howdy, Modi!' event in Houston calling it a "momentous first for India's soft power diplomacy" and was met with a gracious reply from Narendra Modi, recalling both his father, whom he called a "friend" as well as his commitment to strong Indo-US ties, he was in a way echoing Murli Deora's best principles. The late Murli Deora believed in friends across the political, social and corporate spectrum. He also was a great proponent of strong ties with the US, despite being close to Indira Gandhi who spent much of her time as prime minister being the object of American disaffection.
But India has changed, and so has its politics. There is no room for a gentleman industrialist-politician who can bridge political and corporate rivalries; who can wear Savile Row suits and still be popular among the poorest in his swish South Mumbai constituency; who can play Bridge and kingmaker with equal élan; and who can host global moghuls in his posh Peddar Road home and then separate them from their money for philanthropic causes in the slums.
So, when Milind Deora, educated at Cathedral and John Connon School, Sydenham College, and Boston University speaks like US President Lyndon Johnson ("I am a free man, an American, a United States Senator, and a Democrat, in that order"), he invariably comes up against a wall of disbelief, especially in Maharashtra's toxic Congress politics, which has already seen the departure of significant leaders. In a political culture where actions are valued more than words, and the ability to mobilise crowds matters more than the power to organise an invite to the weekend with Charlie Rose for Rahul Gandhi your fellow dynast leader, Milind Deora may well be a misfit.
Milind Deora's crossroads is not his alone. If young politicians like him, like Jyotiraditya Scindia and Sachin Pilot, are unable to rise in their parties, unable to connect with India's burgeoning youth or dislodge the image of the Congress as a party of the old and outdated, then something is broken in politics in deeper ways than is visible to outsiders.
It goes beyond just the Modi sway, Rahul Gandhi's ineptitude and the fall from grace of dynastic politics. These young politicians are falling into the gaps between the plates that sprung from the 2014 elections. It's a debilitating crisis of imagination.
---
Also read: Rahul Gandhi criticises Howdy, Modi! but his party peers can't stop praising it
---
A post-Rahul Congress
Milind Deora's precarious position today in a post-Rahul Congress has tragic overtones. He is a leader who hasn't been tested fully yet and he's already in a quandary. Just like Rahul Gandhi.
Even though he criticised him and his advisers after the 2014 election results, Deora was in Rahul Gandhi's close circle and a trusted friend. He took him to the US, lined up tech startup CEOs for him. Now, Deora looks more wingless than ever.
Having lost twice in succession in 2014 and 2019 from his father's constituency (which sent him to the Lok Sabha in 1984, 1989, 1991 and 1998), despite support from the country's richest man, Mukesh Ambani, Milind Deora is missing in action as Congress fights a clearly losing battle in Maharashtra against a pumped-up BJP. Even before the battle could begin, Milind has quit as chief of the Mumbai Congress, a position his father, former mayor of the city, occupied for 22 years.
Naamdar vs kaamdar
By his own admission, 42-year-old Milind Deora is a child of privilege, which naturally comes from being born to an industrialist father who would play bridge with Adi Godrej and Deepak Parekh and be close enough to Dhirubhai Ambani for his children Mukesh and Anil to call him 'uncle'. As he wrote in Simply Mumbai, India Today, in 2004: "Growing up was all about going to Chowpatty, playing tennis at NSLTA, squash and badminton at Bombay Gym, watching movies at Sterling and shopping at Fashion Street." But then, he added, south Mumbai to him is more than just Haji Ali and Nariman Point. "For, further east are Mumbadevi, Khetwadi, Umarkhadi, Bhuleshwar (where my father comes from)—places that have a life and colour of their own. The fact that I realise this, makes me different from the quintessential south Mumbaiite."
Unfortunately, in the past two attempts, he has been unable to convince the voter that he is more than his famous last name, caught as he is in a new culture that pits the "naamdars" against the "kaamdars"; the dynasts vs the meritocrats.
---
Also read: Discontent, dissent & defiance in Congress as Gandhi family begins to lose grip on party
---
Stuck between losing Congress & crowded BJP
Political analyst Radhika Ramaseshan is unimpressed by the former minister of state for telecommunications and IT. She says: "Milind Deora never struck me as a serious, far-sighted politician. Like many of his peers, he's a legatee, the beneficiary of an inheritance that saw his parent, Murli Deora, through in more comfortable times for the Congress. He has several interests, music for one, that's fair enough. But in the days of 24X7 politics, calling for single-minded devotion to its pursuit, I wonder if a career politician can have time for other passions."
She also feels that he's clearly unencumbered by ideologies because he didn't think twice about endorsing the Modi government doing away with Article 370. "Had he read up the Congress's history and the extensive debates preceding the introduction of 370, maybe he would have got a different perspective. It's a choice that Milind and his peers will have to eventually make, whether to flow with the current stream or adhere to the Congress's core beliefs," she pointed out.
Indeed, the Congress has diluted its basic values, moving from secularism to soft Hindutva, and from being the party of the freedom struggle to allowing the BJP to claim the nationalist agenda. With a leadership mostly marked by its embarrassing waffling or its uninterested absence, the so-called Generation Next, now in their forties, are left without a compass.
NewsX anchor Priya Sahgal who has written about him in her book The Contenders: Who Will Lead India Tomorrow? (Simon and Schuster), said Milind Deora embodies the existential crisis of many younger leaders within the Congress. He is definitely at odds with the Old Guard's outdated politics. But, as she noted, going to the BJP is not an option either. She added: "Himanta Biswa Sarma told me recently when he joined the BJP there was a vacuum in the northeast. There is no vacuum in the north or west that would accommodate a Deora or a Scindia or a Pilot. They would not enjoy the hallowed space they do or did in Rahul Gandhi's Congress. So, they are really stuck between a party that is losing its relevance and a party where they would have no relevance."
---
Also read: In politics, age is just a number. Even if it is 'young' Rahul Gandhi's
---
She was not too surprised with Milind's recent comments or what is being seen an outreach to the BJP, whether it is his stand on Article 370 or Modi's US trips. "He may be the last standing Nice Guy in politics, one who weighs his conscience and beliefs instead of blindly following party handouts. I recall an interview Milind gave me right before the 2017 Uttar Pradesh Assembly elections, he was the first to say the Congress needed a credible narrative of its own instead of merely criticising the Modi government. As he said: 'Simply expecting people to vote for a party because they are disillusioned with the incumbent is not enough.' This is a line that was later picked up by others within the Congress."
Unfortunately for them, such is the stranglehold of one family over the party, that they are never included in the names that come up as credible alternatives.
But nothing can be ruled out in politics, so it is no surprise that Kripashankar Singh, who quit the Congress recently, speaks approvingly of Milind Deora. "His experience in various fields can be a good contribution to the nation, party and people. He's the kind of leader the youth are looking for," he told ThePrint.
Ah, but in which party?
The author is a senior journalist. Views are personal.
Subscribe to our channels on YouTube & Telegram
Why news media is in crisis & How you can fix it
India needs free, fair, non-hyphenated and questioning journalism even more as it faces multiple crises.
But the news media is in a crisis of its own. There have been brutal layoffs and pay-cuts. The best of journalism is shrinking, yielding to crude prime-time spectacle.
ThePrint has the finest young reporters, columnists and editors working for it. Sustaining journalism of this quality needs smart and thinking people like you to pay for it. Whether you live in India or overseas, you can do it here.