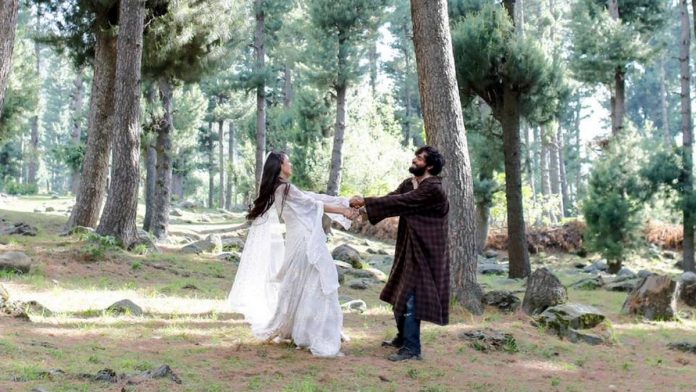 Text Size:
At a time when some national news channels demonise Kashmiris almost every day, Laila Majnu humanises us.
By now, we know that Sajid Ali's Laila Majnu has flopped, and the reviewers have panned it – from calling it a dud to accusing his brother Imtiaz Ali of running out of ideas. But as a Kashmiri viewer, watching the movie was liberating.
At a time when some national news channels demonise Kashmiris almost every day, Laila Majnu humanises us, and comes across as a breath of fresh air.
For anyone outside Kashmir, who has come to identify the Valley with only anger, stone-pelting and militancy, Laila Majnu's portrayal of Kashmir will be a surprise. The movie reminds us that Kashmiris also talk about music, language, food, flirt and celebrate their big-fat weddings too. Our heads are not always filled with the sound of the guns. There is still room for love, longing and aimless loitering.
Bollywood has always used Kashmir as an exotic backdrop for its movies. For several years, Kashmir was a staple of what author Mukul Kesavan calls "hill station hedonism". Then Bollywood decided to acknowledge the trouble in Kashmir with a spate of movies from Mission Kashmir to Yahaan to The Hero: Love Story of a Spy to Fanaa. Then came Haider.
But Laila Majnu skips all these tropes and delivers us a story about Kashmir's youth culture.
---
Also read: Laila Majnu packs every Bollywood cliché: Stalker men, apolitical Kashmir & crying women
---
Movies love to show the boulevard on the banks of the Dal Lake. It is a bit of a cliché associated with Kashmir but it is also true that this is one of the most popular hangout zones for us. The Chai Jaai, a café on the banks of Jhelum run by former finance minister Haseeb Drabu's wife Roohi Nazki, is another favourite with youngsters looking for a meeting space, away from the prying eyes of parents.
In one of the scenes in the movie, Laila is preparing collard greens, a staple Kashmiri dish – it can be prepared with cottage cheese as well as mutton. The haakh is not just a dish, it resonates as everyday-Kashmir for us. It is different from the elaborate wazwan festive meal. Haakh is what unites every Kashmiri across the spectrum.
The movie, most importantly, breaks the stereotype of Kashmiris who can't speak English. Thank you for showing that. We go to schools and colleges too. But, trust me we are more worried about getting our mother tongue Kashmiri right.
This is not to say that everything is hunky dory in Kashmir. It is not. Every aspect of our life is often overshadowed by the perennial state of conflict that we are in.
Laila Majnu ignores the political reality of Kashmir, and I believe that's why it got thumbs down from critics. The movie also glosses over the caste differences between the lead protagonists – Laila Shahmiri belongs to the ruling elite while Qais Bhat comes from a relatively lower caste. Caste is an evil deeply embedded in the Kashmiri society.
---
Also read: Vajpayee's 'insaniyat' remark wasn't one-off, his team worked on Kashmir for years
---
For me, however, the movie shows a Kashmir that I want everyone else to see. And on this, I believe I am speaking for all Kashmiris. In between all the talk on political unrest and violence, we want to hold on to anything that can brighten our lives and help us exhale a bit.
The last few scenes where Majnu loses his sanity while pining for Laila were perhaps a metaphor for the Kashmiri youth's longing for peace and stability in the Valley. This longing is marred by the loss of young lives we see almost every day.
Get the PrintEssential to make sense of the day's key developments