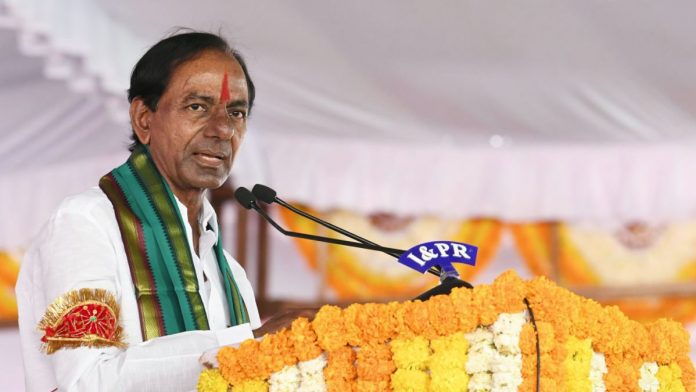 Text Size:
He wants to present himself as someone who can make the impossible possible. After all, he turned the far-fetched idea of Telangana into reality.
Out of the blue, Telangana chief minister and Telangana Rashtra Samithi (TRS) supremo K. Chandrasekhar Rao lobbed a political bombshell Sunday afternoon. KCR, as he is known, announced his grand ambition of leading a non-Congress and non-BJP national political alternative.
It caused much surprise, because it hasn't even been three months since KCR asserted he wasn't nursing any national ambitions, and that his single-point mission was to realise the dream of 'Bangaru (golden) Telangana'.
KCR changed the narrative at a time when the Bharatiya Janata Party was basking in the afterglow of its success in two of the three states that went to the polls in the northeast, and working on permutations and combinations to be part of the government in the third state – Meghalaya – too.
Turning dreams into reality
KCR clearly wants to present himself to the nation as someone who can make the impossible possible. After all, he was indeed the one who turned the far-fetched idea of Telangana into reality.
Ever since he floated the TRS in April 2001, KCR has experienced the rough and tumble of politics. There was a time when he himself had given up hope, yet stayed afloat somehow.
Then, being a master strategist, as soon as Andhra Pradesh's popular Congress CM Y.S. Rajasekhara Reddy died in a helicopter crash, KCR revived the agitation and went full throttle, capitalising on the leadership vacuum.
The Telangana demand could no longer be stymied; mere platitudes could no longer be sold to the people by the Congress, because KCR had made the sentiment as solid as a rock in the minds of the people. The rest is history.
The time is ripe
The recent announcement also seems perfectly timed. With this move, KCR can further dwarf the Congress, which is the major opposition in Telangana, by catapulting himself as a challenger to Prime Minister Narendra Modi.
KCR and Trinamool Congress chief and West Bengal CM Mamata Banerjee are in contact after the announcement; it is irrelevant who called whom. A few other leaders too have reportedly hailed his idea.
KCR, who had established contact with several political leaders across the country during his stint in Manmohan Singh's union cabinet and also during the Telangana movement, does not want to be seen as a regional satrap any longer. He surely wants to cobble up a front with leaders who would toe his line of thought and aspiration for bringing about a "qualitative change" in polity and people's lives.
The road ahead
If he can clinch the deal in the next few months with "like-minded parties", he can begin work on hitting the BJP where it hurts the most: the anti-incumbency against the Modi regime.
KCR's jibe — that winning a few smaller states does not mean that the dynamics of national politics are moving in that direction — should be seen as an attempt to slight the victory of the BJP and its allies in the northeast.
It'll be interesting to see whether KCR's friend-turned-foe N. Chandrababu Naidu, CM of Andhra Pradesh and leader of the Telugu Desam Party, will kowtow to KCR's idea and be ready to play second fiddle. Despite a rocky recent few months, Naidu is still a partner in the BJP-led NDA. But if he does decide to move on, how will KCR massage the ego of a leader like Naidu, who was the pivot in the creation of a non-Congress and a non-BJP alternative more than two decades ago? For now, KCR has taken the wind out of Naidu's sails, in terms of his post-NDA plans.
Plan of action
While BJP baiters are pinning their hopes on the likelihood of Modi's waning popularity restricting the BJP's Lok Sabha performance to far below the half-way mark, KCR's prospective third front may well be the game-changer.
But there are four things he needs to do to get to that stage:
1. Pave the way for a smooth transition of power to his son and heir-apparent K.T. Rama Rao in the state.
2. Cover up any of the promises that he may not be able to deliver for whatever reasons.
3. Boost his own personality and enhance the TRS's chances of winning more seats in Telangana.
4. Ensure that minority votes don't go adrift.
What'll be his way if he does somehow come to power? Well, KCR showered praise upon China and Singapore at Sunday's press conference, so it remains to be seen if he wants to create a China-like model by changing the Constitution, or take a cue from Singapore's model of development, or even unveil a 'United States of India' where the spirit of cooperative federalism is paramount.
It is too early to discuss all this, but maybe, just maybe, his dream of leading a pre-election coalition may give KCR the chance to change India's agenda, and take it far from the current rhetoric.
The author is a senior journalist and columnist based in Hyderabad.
Get the PrintEssential to make sense of the day's key developments