The Andhra Pradesh amendment simplifies the land acquisition process into a singular agreement with the district collector.
Naidu said that the state suffered heavily because of the bifurcation in 2014.
Galla, who initiated the no-confidence motion against Modi govt, is a battery baron and Telugu actor Mahesh Babu's brother-in-law.
Diwakar Reddy says TDP whip to attend Parliament just 'routine', adds govt not going to fall anyway.
Things have come a long way in the last few months since KCR was trying to spearhead a non-Congress, non-BJP front, and Naidu was a member of the NDA.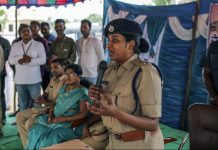 Police officer Rema Rajeshwari has a local antidote, an education campaign, to fight fake news.
BJP unlikely to tie-up with Jagan Reddy's YSR Congress, believes it should build on Narendra Modi's popularity for growth and expansion.
Two TDP MPs said the party would rather be a 'kingmaker' than the king, ruling out Naidu's projection as a potential prime ministerial candidate for the proposed alliance.
Experts weigh in on the allegations made by AV Ramana Dikshitulu, the former head priest of India's richest temple, Tirupati. He has accused the state-run trust of corruption and demanded an open audit of the temple's riches.
Expenditure of several political parties and candidates in the Karnataka polls were more than twice spent during the last assembly poll in 2013.