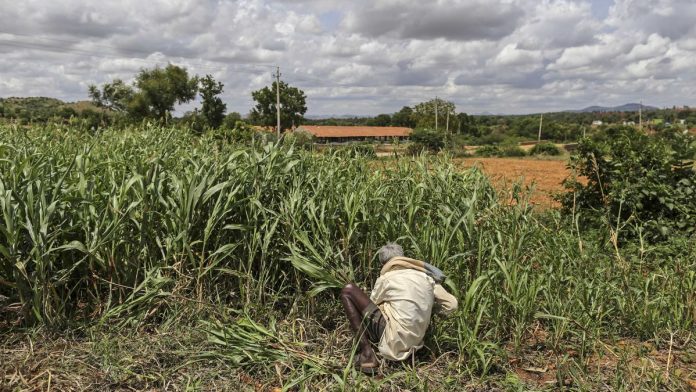 Text Size:
The new GDP data makes it clear that potential growth of Indian economy is now a lot lower than earlier expected.
"When the global crisis occurred in 2008, we said it would be a V-shaped recovery. When it persisted, we said it would be a U-shaped recovery. When the sovereign debt problem caused another dip, we said it would be W-shaped. Thank goodness, English has 26 alphabets. This will end"
To begin with, we are now particularly concerned of a global growth slowdown, the timing of which looks uncertain, but 2019 could be the inflection point. We believe, beginning with talks of a V-shaped recovery, then a U-shaped recovery, followed by a W-shaped recovery, the global economy has gone through much turbulence. Perhaps, economies across the world are witnessing a Z-shaped recovery with significant scale down of potential growth.
After registering a growth of 8.2 per cent in Q1, India's gross domestic product (GDP) growth in Q2 decelerated sharply to 7.1 per cent. The gross value added (GVA) growth stood at 6.9 per cent in Q2 compared to 8.0 per cent in Q1. There are several concerns with the latest GDP print.
First, the core GVA has slowed down significantly from 8.6 per cent to 6.6 per cent. This indicates that there is a perceptible demand slowdown for the private sector. This trend might have continued in Q3 because of market volatilities.
Second, nominal non-agricultural GVA has remained buoyant at 13.4 per cent, but nominal agricultural GVA has expanded at just 2.8 per cent. The growth rate in nominal agricultural is lower than real agricultural growth implying a negative agriculture deflator, for the first time since June 2017. The growth in agricultural price deflator has now more than halved from the mid-2000s. While this clearly indicates effective food supply management by the current Narendra Modi government, the flip side is that it's worrying and portends significant lack of rural purchasing power.
---
Also read: On GDP, it's time to construct an Indian version of the Li Keqiang index
---
Third, a lower growth in the agricultural credit indicates a slowdown in farming activity. Interestingly, agricultural NPA (as percentage of agriculture advances) of the Sep'18, Jun'18 and Mar'18 quarters for select banks shows that the NPA problem continues to plague the sector. This problem is further compounded by the promise of loan waivers in election-bound states and hence farmers reneging on payments.
Fourth, the growth of agriculture was mostly driven by "livestock products, forestry and fisheries" component (6.7 per cent growth). The sub-segment crops, including fruits and vegetables, has a weightage of 45 per cent in overall agriculture.
Fifth, the services GDP grew by 7.5 per cent in Q2FY19, compared to 7.3 per cent in Q1FY18 and 6.8 per cent in Q2FY18. The service sector is stuck in a low-growth phase for long as the "financial, real estate and professional services" and trade hotels sub-segments are stuck in 6-6.5 per cent for the past couple of quarters.
---
Also Read: Under Narendra Modi, India is in danger of joining the ranks of data manipulators
---
Overall, there are now definite signs of a slowdown becoming all-encompassing. The incremental growth this fiscal in non-food credit is Rs 3.2 lakh crore, while that in food credit is Rs 29,500 crore between Apr-Oct'18. The worrying sign is that incremental credit, though positive, has slowed down in October compared to September, across all segments, including NBFC, services and even retail loans. In fact, incremental gross bank credit in October is merely 15 per cent of incremental bank credit growth in September. The signs are, therefore, not rosy.
We believe that the biggest lacuna in the system is the lack of a systematic approach towards the subject of agricultural marketing. To this end, we believe the promotion of farmer producer organisations (FPOs) could be a good alternative. FPOs are more like a collective association of self-help groups (SHGs) and the government has already made a beginning with such a model.
Apart from this, we maintain that the agriculture sector also needs an immediate price intervention and subsequent better price discovery for the farmers. Agriculture prices continue to remain depressed and it is not clear how the MSP may lift prices in the absence of an effective procurement scheme. The recent procurement scheme launched by the government seems to have made a very sedate beginning. Our estimates show that an income support scheme like in Telangana may be rolled out in states like Bihar, Assam, Chhattisgarh, Haryana, Punjab, Jharkhand and Uttarakhand where the cost is not prohibitive.
---
Also Read: Modi raj is the most anti-farmer regime in India's history
---
So, what can we expect in the current fiscal? The positives are that investment growth continues to remain healthy, although consumption has slowed down. We believe H2GDP growth could be below 7 per cent. However, the good thing is that with the release of the new GDP data, it is clear that potential growth of the Indian economy is now a lot lower than earlier expected. From that point of view, future GDP growth rates, even at 7 per cent, could still mean a decent number by any standards.
 The author is Group Chief Economic Advisor, State Bank of India. Views are personal.
Get the PrintEssential to make sense of the day's key developments