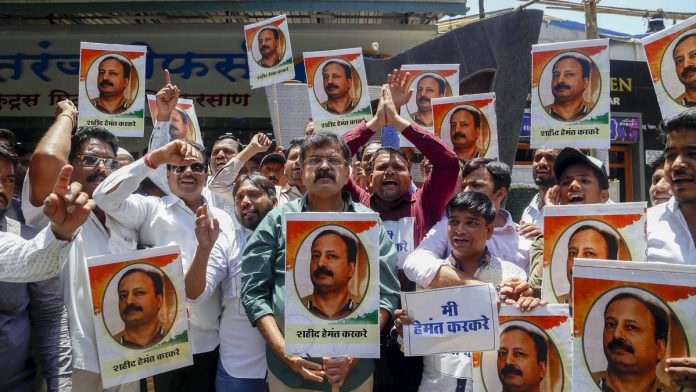 Text Size:
Lok Sabha candidate from Bhopal, Pragya Singh Thakur, has made coarse remarks against former anti-terrorism squad chief Hemant Karkare, who was killed in the terrorist attack on Mumbai in 2008. The remarks could even be interpreted as a threat to the family of the officer. While there are reports of the remarks having been withdrawn, the fact that someone running for a public office articulated such views, calls for a need to examine the narrative towards police personnel killed in the line of duty moving beyond electoral politics. That there are people on social media platforms trying to justify such remarks through twisted logic, instead of unequivocally condemning it, is even more appalling.
Since the Independence, more than 34,000 police personnel of various ranks, belonging to the state and central police organisations, have lost their lives in the line of duty. In 2018, more than 400 police personnel lost their lives while doing what they were mandated by law to do. These figures are among the highest in the world. Unfortunately, we are a nation where many of our elected public leaders and political 'wannabees' have serious criminal background. Our polity and social space provides influence to a lot many persons with criminal pasts. It is then natural that their relationship with the law enforcement machinery, which is the police, cannot be cordial and makes them curse the police.
---
Also read: 4 years ago, NHRC gave clean chit to Karkare on Thakur's allegations of police torture
---
With recognition in the socio-political sphere and thus, the system, comes a false sense of entitlement. We often witness this in action when police personnel on duty are intimidated and obstructed, names are dropped and 'weight' is thrown about even in routine policing activities, most common being enforcement of traffic rules and vehicle checking. It is this false sense of entitlement and invincibility that suffers a severe blow during investigation of serious offences by police officers. Holding those grudges and insulting personnel who are killed in the line of duty is unacceptable. Police is subject to democratic controls and there are various mechanisms to address issues related to police excesses, wherever they happen. Dishonouring a man who laid down his life doing his duty and therefore cannot defend himself or his family has taken the level of our public discourse to a new low.
There is a reason why societies give importance to remembering those who sacrifice their lives and honouring them. It is more for the living than for the dead. The morale of the serving police personnel is enhanced when a grateful nation says the right things about the deceased, even if tokenistic. Their confidence is increased manifold when they see the families of their fallen colleagues well taken care of. Their pride in their work swells when the sacrifice of their ilk and their families is recognised. The National Police Memorial in New Delhi is a step in the right direction. Initiatives like 'Bharat ke Veer' also play an important role. It is now time for the society at large to give due recognition to police personnel killed in the line of duty. It is imperative that civil society stands up in unison at the insult caused to the memory and the personnel's family to remind that this honour is not tradable at the altar of political expediency.
---
Also read: Modi & Shah have turned India into 'Jingostan' & are out to conquer the paranoid country
---
The next time a police person is faced with a choice of putting himself or herself in a dangerous situation to save the lives of citizens, he or she should proudly take that calculated risk. Remember, the person always has a choice. A choice to look the other way and later blame the system. And when that choice is exercised because the officers on the ground feel that their work is not valued or their families will not be taken care of, the curse will be on the nation.
The author is an IPS officer. Views are personal.
Check out My543, our comprehensive report card of all Lok Sabha MPs.