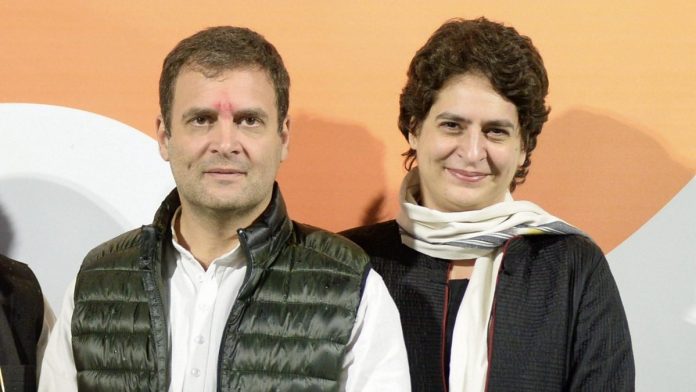 Text Size:
Fans of Priyanka Gandhi Vadra who expected her, howsoever unreasonably, to take Indian politics by storm may be a tad disappointed. The new Congress general secretary, in charge of east Uttar Pradesh, has shown no hurry to stamp her mark; she would rather follow in her brother and party president Rahul Gandhi's footsteps.
Six weeks is no time to judge a politician but Priyanka Gandhi has shown traits that are usually associated with her brother — sudden bursts of energy followed by a period of hibernation.
She was all over TV screens and newspapers for days after her entry into politics on 23 January, with commentators describing her as the Congress party's 'brahmastra' and 'game-changer'. People had to wait for two weeks to get her first glimpse when she dropped her husband, Robert Vadra, off at the Enforcement Directorate office in Delhi and stopped by the Congress headquarters to take charge.
For the next five days, Priyanka Gandhi was not to be seen or heard — until her visit to Lucknow. When she emerged from her night-long meetings with party workers in the state capital, Congressmen and reporters alike sang paeans. The apparent reason for their excitement: it was the first time in decades that someone cared to hear UP Congressmen. She noted down everything they said: the party's weaknesses, caste equations, internal squabbles and whatnot.
---
Also read: The new UP Congress — Priyanka Gandhi Vadra holds meetings till 5 am
---
For the next two weeks, Priyanka again wasn't seen or heard. She showed up at Rahul's residence at Tughlaq Road on Saturday for a photo-op with rebel BJP MP Savitribai Phule who joined the Congress. The party office in Lucknow gives a deserted look again. As it is, six weeks after Priyanka joined politics, people don't know her politics — apart from standing in support of her family, as she quipped while dropping off Vadra.
Rahul Gandhi had a similar start in September 2007 when he was appointed party general secretary. He would be seen and heard after gaps of weeks. Seven weeks after his appointment, he presided over a four-hour-long meeting of the UP Congress in Lucknow and spoke about his party's "inability to connect with the people."
Like Rahul, Priyanka is curious about the state of affairs in her party. Like him, she is also looking at long-term goals; the complete lack of activity in UP Congress is testimony to that.
There are some incorrigible optimists in the Congress who believe that if the party could win 21 Lok Sabha seats in Uttar Pradesh in 2009 Lok Sabha elections, it can certainly replicate, if not better, the results under Priyanka. The 2009 result was a surprise to then Congress president Sonia Gandhi, too. At a meeting at 10, Janpath, she wasn't ready to believe when then general secretary in charge of UP, Digvijaya Singh, said he was hoping for 15 seats.
---
Also read: Priyanka Gandhi can be to Congress what Sunil Gavaskar was for India in West Indies
---
The Congress had a plan in 2009. It had sounded out 30 winnable candidates and asked them to start campaigning a year in advance. Each of them had been asked about her choice of candidates in adjoining constituencies, who could influence the castes and religious mix in her area. By the time the tickets were announced, the groundwork was complete.
But 2019 polls are a different ball game — and not just because of the Modi factor. The Congress is in worse shape. The Congress was left badly bruised after Rahul chose to ride piggyback on the Samajwadi Party (SP) in 2017 Assembly elections. But he didn't give up — not until the SP and the Bahujan Samaj Party (BSP) dumped the Congress. It was certainly not an ideal time for Priyanka to test her personal appeal or political acumen in UP. But since she did take the plunge, the least she could have done was to declare candidates or sound them out.
But she has other plans.
Priyanka is not starting from where her brother left in UP but from where he had started; these two inflection points happen to be the same. Rahul became a Member of Parliament from UP in 2004 but could never come to terms with the complexity of Hindi heartland politics despite prolonged discourses with party men — many more than what Priyanka had in Lucknow last month. He was personally supervising the party affairs in UP but failed to capitalise on 2009 momentum. In every election after that, the Congress kept losing badly and Rahul kept attributing it to "organisational weaknesses" every time without specifying why he failed to address it all these years. And that's probably why Priyanka is now starting from the scratch.
Rahul Gandhi had figured out the crux of the problem within weeks after he took over in 2007: the Congress' inability to connect with the people. But, he couldn't find an answer, and has now left it to Priyanka to find one. And that's exactly why she should be doing things differently, instead of trying to be her brother's sister.
Get the PrintEssential to make sense of the day's key developments