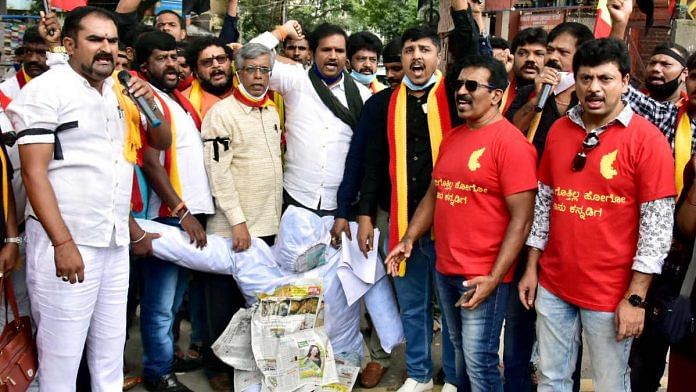 Text Size:
Bengaluru: Kannada organisations have been protesting against Hindi imposition in Karnataka since the launch of the 'Hindi beda' (we don't want Hindi) campaign in 2017. And now, after the 'Hindi theriyathu, poda' (I don't know Hindi, go away) campaign in neighbouring Tamil Nadu, the clamour against Hindi imposition has gained fresh momentum in Karnataka too.
Pro-Kannada activists, backed by supporters on social media, have popularised T-shirts with the slogan 'Hindi gotthilla hogo. Naavu Kannadigaru, naavu Dravidaru' (we don't know Hindi, go away. We are Kannadigas, we are Dravidians).
Their campaign has also got support from former chief minister and Janata Dal (Secular) leader H.D. Kumaraswamy. On Hindi Diwas, 14 September, Kumaraswamy asked why the language should be imposed on people who speak other languages, and warned that Karnataka's cordiality cannot be misconstrued as "weakness".
He also termed Hindi Diwas celebration as an "under-handed method" to impose the language on people who speak other languages, and demanded its cancellation.
"India is a land of diverse language, culture and traditions. There have been several attempts to impose Hindi on people speaking other languages including Kannada. Celebrating Hindi Diwas is one such under-handed method. Proud Kannadigas are opposed to this day as it is a symbol of linguistic arrogance," Kumaraswamy said in a tweet in Kannada.
ವಿವಿಧ ಭಾಷೆ, ವಿಭಿನ್ನ ಸಂಸ್ಕೃತಿ, ಪರಂಪರೆಗಳನ್ನು ಒಡಲಲ್ಲಿಟ್ಟುಕೊಂಡ ಭಾರತದಲ್ಲಿ, ಕನ್ನಡಿಗರೂ ಸೇರಿದಂತೆ ಅನ್ಯ ಭಾಷಿಕರ ಮೇಲೆ ಹಿಂದಿಯನ್ನು ಬಲವಂತವಾಗಿ ಹಲವು ಮಾರ್ಗಗಳ ಮೂಲಕ ಹೇರಲಾಗುತ್ತಿದೆ. ಇಂದಿನ #HindiDiwas ಕೂಡ ಅಂಥದ್ದೇ ಅಪಮಾರ್ಗ. ಭಾಷಾ ಅಹಂಕಾರದ ಸಂಕೇತವಾದ ಹಿಂದಿ ದಿವಸಕ್ಕೆ ಸ್ವಾಭಿಮಾನಿ ಕನ್ನಡಿಗರ ಪ್ರಬಲ ವಿರೋಧವಿದೆ.
1/10

— H D Kumaraswamy (@hd_kumaraswamy) September 14, 2020
Activists like Arun Javgal, who led the 'Namma Metro — Hindi beda' campaign challenging Hindi imposition in Bengaluru metro announcements and station name boards, said their campaign has been gaining momentum for a few years now. People have begun to realise the importance of preserving one's mother tongue, he told ThePrint.

"The campaigns were largely limited to social media and creating awareness about respecting one's mother tongue. Now, common people have begun facing issues like being forced to speak in Hindi in banks and central government offices. People have begun supporting us from across other states as well," said Javgal of Banavasi Balaga, an organisation that has been campaigning for language equality since 2006.
---
Also read: Imposing Hindi like giving Bible or Quran to Brahmin — Tamil IRS officer slams Hindi cell posting
---
Celebrities join in the chorus
Celebrities such as actors have also joined in the anti-Hindi imposition campaign — many have worn T-shirts that say 'Nange Hindi baralla, hograppa' (I don't know Hindi, scoot) and posted images on social media.
Sandalwood (the informal name given to the Kannada film industry) actors like Darshan and Dhananjaya have supported the campaign and even sported T-shirts.
ಸ್ವಾಭಿಮಾನಿ ಕನ್ನಡಿಗರಿಗೆ ಕನ್ನಡವೇ ರಾಷ್ಟ್ರ ಭಾಷೆ.
ನಮ್ಮ ಕೊನೆಯುಸಿರಿರುವವರೆಗೂ ಕನ್ನಡ ಪರವಾಗಿ ನಿಲ್ಲುತೇವೆ. ಕನ್ನಡವೇ ಸತ್ಯ, ಕನ್ನಡವೇ ನಿತ್ಯ pic.twitter.com/YfnGUaTToL

— Darshan Thoogudeepa (@dasadarshan) September 15, 2020
ನನ್ನ ದೇಶ ಭಾರತ
ನನ್ನ ಬೇರು ಕನ್ನಡ
ಎಲ್ಲ ಭಾಷೆಯನ್ನು ಗೌರವಿಸುತ್ತೇನೆ
ನನ್ನ ಭಾಷೆಯನ್ನು ಹೆಚ್ಚು ಪ್ರೀತಿಸುತ್ತೇನೆ
ಯಾವುದೇ ಹೇರಿಕೆ ಸಲ್ಲದು.#StopHindiImposition #ServeInMyLanguage @dr_bhushana @PoornaMysore @baadalvirus @ImSimhaa @SathishNinasam pic.twitter.com/Ro3nPwaktg

— Dhananjaya (@Dhananjayaka) September 14, 2020
Prakash Raj, a native Kannada-speaking actor who has earned fame in multiple languages, has also joined the campaign.
ಹಲವು ಭಾಷೆ ಬಲ್ಲೆ.. ಹಲವು ಭಾಷೆಗಳಲ್ಲಿ ಕೆಲಸ ಮಾಡಬಲ್ಲೆ..ಆದರೆ ನನ್ನ ಕಲಿಕೆ..ನನ್ನ ಗ್ರಹಿಕೆ..ನನ್ನ ಬೇರು..ನನ್ನ ಶಕ್ತಿ…ನನ್ನ ಹೆಮ್ಮೆ..ನನ್ನ ಮಾತೃಭಾಷೆ ಕನ್ನಡ #ಹಿಂದಿ_ಹೇರಿಕೆ_ಬೇಡ ..NO #HindiImposition #justasking pic.twitter.com/B8RWHt8dVC

— Prakash Raj (@prakashraaj) September 13, 2020
Speaking to ThePrint over the phone, Raj talked about how he feels immensely proud of his mother tongue.
"It is our identity. Our language and what we speak shows the richness of our culture, our soil, our upbringing, and brings in happiness in every word spoken," Prakash Raj said.
"Why do they want us to learn Hindi? Is it for us to understand what they are saying, or for them to understand what we are trying to convey? Whatever it be, one should be proud of our mother tongue. All languages are beautiful and we should respect all. How can you say one language is greater than the other? How can one claim Hindi to be a superior language? Does that mean other languages are inferior?" he said.
While organisations like the Kannada Rakshana Vedike hit the streets to protest against Hindi "imposition", many who have been actively involved in the anti-Hindi campaign said they will ensure the mother tongue of every state is respected, and will not stop until their "goal is reached".
Government response
T.S. Nagabharana, chairman of the Kannada Development Authority (KDA), a state government body that is tasked with ensuring the use of Kannada in disseminating information about government schemes, took a diplomatic stand.
He said B.S. Yediyurappa's state government has sought clarification from the Centre on whether the three-language policy will be applicable in all information provided by central ministries.
---
Also read: Hindi is not a language of knowledge anymore. Mediocrity has stifled its soul
---
Subscribe to our channels on YouTube & Telegram
Why news media is in crisis & How you can fix it
India needs free, fair, non-hyphenated and questioning journalism even more as it faces multiple crises.
But the news media is in a crisis of its own. There have been brutal layoffs and pay-cuts. The best of journalism is shrinking, yielding to crude prime-time spectacle.
ThePrint has the finest young reporters, columnists and editors working for it. Sustaining journalism of this quality needs smart and thinking people like you to pay for it. Whether you live in India or overseas, you can do it here.