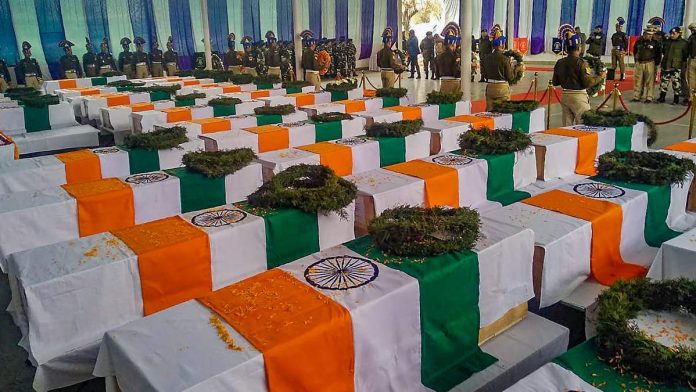 Text Size:
New Delhi: Paying tribute to the 40 Central Reserve Police Force (CRPF) personnel who were killed in a terror attack in Kashmir's Pulwama on 14 February, National Security Advisor Ajit Doval Tuesday said India "has not forgotten and will never forget" the sacrifices made by Indian soldiers.
"We salute the soldiers who have sacrificed their lives for the nation. The country has not forgotten and will never forget," Doval said at the 80th Raising Day event of the CRPF.
"The country's leadership is capable to determine what should be done ahead, what will be our path, our plan of action, our target, timing and the procedure," he added.
"Be it terrorists, or the ones helping them, all will be brought to book. We have the courage to face all challenges, crisis situations and react when required."
Saluting the families of the slain personnel, Doval said the entire nation stands with them.
"Today, I salute the families of those martyrs. Nothing can be done to make up for the loss but the entire nation and CRPF is with them in this hour of grief," said Doval.
"The nation will always be indebted and will be honoured to help them in any way possible."
---
Also read: Not just rest of India, Pulwama attack also left Kashmiri students out of schools back home
---
The 'credibility' of CRPF
The NSA praised the central force for its credibility and the reliability it has earned over the years.
"During meetings while discussing deployment, we always bank upon CRPF as it is a credible force. And this credibility does not come with mere words, it takes a whole life to make it. To gain that trust," said Doval.
"Capability, bravery, discipline, leadership, patriotism — this is what makes the CRPF."
The NSA said a force that started with two battalions has 242 battalions today across the country.
"It is the only force that has been responsible for securing over 32 lakh kilometers of borders at some time. There is no place that CRPF has not been deployed. May it be election, law and order or anything, CRPF is always there and we are proud of it," he said.
"May it be Northeast, terrorism and insurgency-struck areas, all problems where India has faced a security threat, CRPF has been there to protect, secure and counter," he said.
He said that as the NSA, he feels happy that India's security is in robust hands.
Doval added he has been associated with uniform and India's security for the past 51 years, and an up-close look further entrusted his confidence in the force.
Importance of internal security
Stressing on the importance of internal security, Doval said that after World War II, "37 countries" disintegrated or lost their independence or saw a constitutional degradation. Of the 37, "28 countries" suffered because of a failure of their internal security.
Doval said the responsibility to maintain internal security lies with the Central Armed Police Forces.
"There are very few examples of taking over a country through war. If a country breaks, becomes weak, its development stops, then it is because of poor internal security," he said.
"And the responsibility to maintain it lies with central armed police, so you know you have such a big responsibility," Doval told the soldiers at the event.
---
Also read: Kashmir suicide bomber a class 11 dropout who 'trained 6 months for CRPF attack'
---
Check out My543, our comprehensive report card of all Lok Sabha MPs.