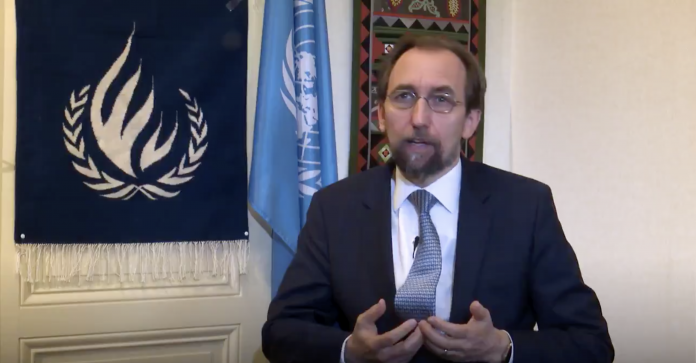 Text Size:
The report talks of the killing of Hizbul terrorist Burhan Wani in 2016 that triggered massive protests and the use of pellet guns.
New Delhi: India Thursday rejected the United Nations report on the human rights situation in Jammu and Kashmir, terming it "fallacious" and "overtly prejudiced".
"The report violates India's sovereignty and territorial integrity. The entire state of Jammu and Kashmir is an integral part of India. Pakistan is in illegal and forcible occupation of a part of the Indian state through aggression," the ministry of external affairs said in a strongly-worded statement.
The UN made history by coming out with its first-ever human rights report on the situation in Jammu and Kashmir and Pakistan-occupied Kashmir.
After decades of avoiding the issue, the international body has released the report which highlights abuses and human rights violations on both sides of the Line of Control (LoC) with a special focus on conditions in the state of Jammu and Kashmir between July 2016 to April 2018.
India's statement said it rejected the existence of entities such as "Azad Jammu and Kashmir" and "Gilgit-Baltistan" mentioned in the report.
The 49-page report published by the UN Human Rights Office urged Pakistan to end the misuse of its anti-terror legislation that is used in prosecuting those engaging in peaceful political activities or expressing dissent.
The report talked about killing of Hizbul Mujahideen terrorist Burhan Wani by the Indian forces in 2016 which triggered unprecedented protests in the Valley. The report also mentions the use of pellet guns by security forces that led to the deaths of about 17 people between July 2016 and August 2017, and another 6,221 injured by metal pellets between 2016 and March 2017.
Targeting the "exploitation" of the people in the name of the Armed Forces Special Powers Act (AFSPA), the report urged India to repeal the act on an immediate basis and conduct impartial investigations to probe all civilian killings since July 2016.
Calling it 'long overdue', Ravi Nair, director of the South Asia Human Rights Documentation Centre, welcomed the report and congratulated the UN for it.
Talking to ThePrint, Nair said the report will "help build pressure on both India and Pakistan to address the abominable human rights violations that Kashmiri people endure".
UN high commissioner for human rights Zeid Ra'ad Al Hussein further urged the UN Human Rights Council to establish a commission inquiry to conduct a "comprehensive, independent international investigation into allegations of human rights violations in Kashmir."
Pakistan has not made a comment on the UN report so far.
Given that India has maintained that people in Jammu and Kashmir were victims of cross-border terrorism emanating from Pakistan, which was training and arming militants and helping them infiltrate across the LoC, the UN report may not go down well with New Delhi.
– With PTI inputs
Get the PrintEssential to make sense of the day's key developments