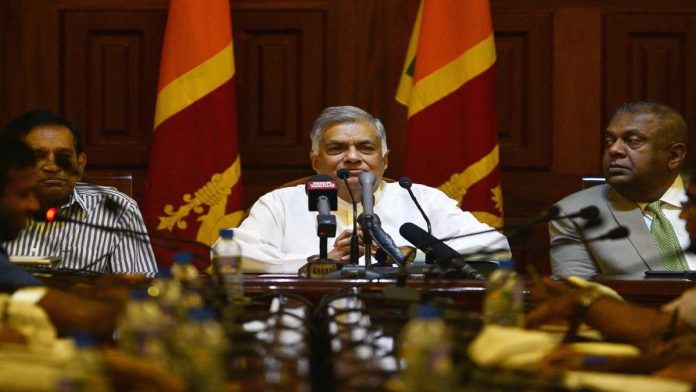 Text Size:
On Monday, Wickremesinghe's United National Party and the opposition Tamil National Alliance filed formal petitions in the Supreme Court challenging President Sirisena's decision. 
Colombo/New Delhi: Sri Lanka's ousted prime minister Ranil Wickremesinghe is mounting a legal challenge against President Maithripala Sirisena's decision to dissolve the island nation's parliament and call a snap general election.
On Monday, the deposed prime minister's United National Party and the opposition Tamil National Alliance filed formal petitions with the Supreme Court challenging the dissolution of parliament, according to party member Harsha De Silva and Tamil leader R. Sambanthan.
"We are prepared to go for an election, but this is illegal," said De Silva, who was state minister of economic affairs under Wickremesinghe's government.
The 225-seat parliament, which had already been suspended in the political chaos, was dissolved at midnight Friday with a vote scheduled for 5 January and a new parliament set to reconvene on Jan. 17.
The formal legal challenge is the latest twist in a constitutional crisis that began 26 October when Sirisena unexpectedly fired Wickremesinghe, who served since 2015 as prime minister in a unity government with the president. Sirisena attempted to install Sri Lanka's former strongman president Mahinda Rajapaksa as the new prime minister.
News of the election hit investors on Monday. Sri Lankan dollar bonds led declines in a Bloomberg Barclays index of Asian sovereign and corporate notes in early trading. The nation's sovereign bonds due in 2025 dropped 2.1 cents on the dollar to 87, the biggest decline in two weeks, while the country's bond maturing in 2022 fell to a record low.
Unpopular Move
Sirisena said in a statement on Sunday that he dissolved parliament because he feared the eruption of "widespread violence" when the house was due to reconvene on Nov. 14. He also referred to allegations of bribery by saying members of the legislature now had "price tags" on them.
Although Rajapaksa enjoys widespread support for his role in bringing an end to Sri Lanka's brutal 26-year civil war in 2009, some like Jehan Perera, executive director of the National Peace Council of Sri Lanka, said the controversial move to reinstate him has been unpopular.
"The premature dissolution, the perceived unfairness of sacking Wickremesinghe, this will generate sympathy for" the former prime minister, Perera said in an interview. "Even among the general population, among thinking people, the feeling is that this is unfair and dangerous."
Holed Up in Colombo Mansion, Ousted Prime Minister Vows to Fight
The call for a fresh election came after it seemed unlikely Sirisena could prove a majority of lawmakers support his newly appointed prime minister. The move drew strong international condemnation and stalled about $2 billion worth of projects and grants.
"President Sirisena's decision to dissolve parliament poses a vital threat to Sri Lanka's democratic institutions," the U.S. Embassy in Colombo said in a statement posted to Twitter on Saturday. "There is much at stake and such actions jeopardize Sri Lanka's economic progress and international reputation."
'People's Will'
Rajapaksa, who led Sri Lanka for a decade before he lost to Sirisena and Wickremesinghe in 2015, defended the push for a new election.
"A general election will truly establish the will of the people and make way for a stable country," Rajapaksa said in a post on Twitter late on Friday.
Sri Lanka's Strongman Is Back, And He's Brought His Family Too
On Sunday, Rajapaksa, who was previously a member of Sirisena's party, announced he was joining the Sri Lanka Podujana Peramuna, or People's Front, the party he created to defeat the Sirisena and Wickremesinghe in local elections earlier this year. However, that doesn't mean Rajapaksa has abandoned Sirisena, and on Monday state-run media said the two leaders were planning to fight the election as an alliance.
"We will strive to create a broader coalition with many stakeholders under the leadership of Sirisena and Rajapaksa to face the upcoming General Election and come out victorious," said Rajapaksa's lawmaker son Namal, who also joined the party over the weekend, on Twitter.
Relations between Wickremesinghe and Sirisena became strained this year after their coalition was defeated by the Rajapaksa-backed party. Sirisena said he had to fire Wickremesinghe for mismanaging the economy and because of a cabinet minister's alleged involvement in a plot to assassinate Sirisena.
While Wickremesinghe may get some sympathy from the recent developments, Rajapaksa, who comes from rural southern Sri Lanka, retains a strong degree of support among the Sinhala ethnic majority by espousing a fiercely proud Buddhist nationalism.
Many ordinary Sri Lankans support Rajapaksa, National Peace Council's Perera said. "The voting masses go with, and have greater affinity for, Rajapaksa's type of politics and his persona," he said.
Both China and India are watching the events closely. Analysts see Rajapaksa likely favoring China for funding costly infrastructure projects. New Delhi will probably keep working in the background unless there is overt Chinese intervention, said Constantino Xavier, a foreign policy fellow at Brookings India.
Wickremesinghe's decision to hold on to power despite Sirisena replacing him created "an embarrassing stalemate," said Paul Staniland, an associate professor of political science at the University of Chicago.
"This showdown is putting extraordinary stress on Sri Lanka's political institutions in ways that will be very difficult to recover from," Staniland said.-Bloomberg
Get the PrintEssential to make sense of the day's key developments