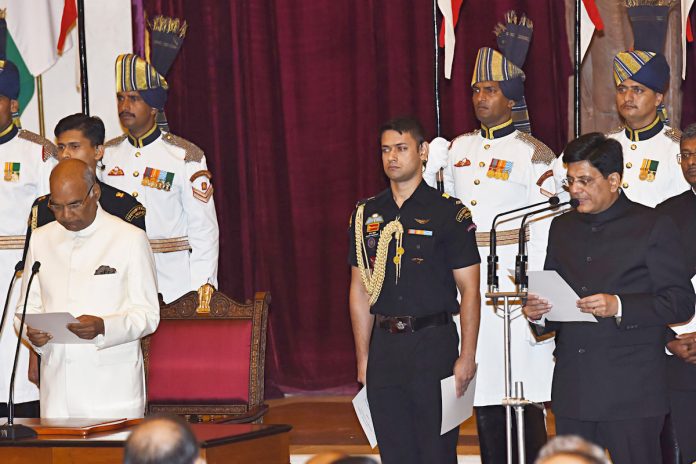 Text Size:
The challenge for Goyal would be to manage the unions who put obstacles in bringing in big-bang reforms.
India has so far seen only two railway ministers completing a full term in office — Jagjivan Ram and Lalu Prasad Yadav. The latter was in charge of the railways during UPA I, from 2004 to 2009.
Employing more than a million people and with a network spanning the length and breadth of the country, the railway ministry has been one of the most sought after ministries. For a large number of Indians, trains are still the most preferred mode of long-distance travel and hence, the performance of the railways is a strong parameter for any government to measure its success rate.
Piyush Goyal, one of the most efficient ministers in the Union Cabinet, has been chosen by Prime Minister Narendra Modi to put the railways back on track. The image of the railway ministry under Suresh Prabhu had suffered considerable damage following a series of major accidents.
As power minister, Goyal had achieved targets of improving electricity production and supply across the country. But what has helped Goyal getting the railways was his ability to manage trade unions as coal minister. He brought various unions to the table and convinced them to support e-auctions in coal block allocations.
The challenge for Goyal will be to use these skills to manage the railways, a labour intensive sector, where unions have set up obstacles to big-bang reforms.
What are the challenges that India's new railway minister #PiyushGoyal will have to face? @anshumanscribe explains pic.twitter.com/n0xq47v3tP

— ThePrint (@ThePrintIndia) September 3, 2017

A major problem has been that most railway ministers used the ministry as a tool to secure their political fortunes in the region they hail from. For instance, it wasn't unusual to have new trains, stations and factories in the minister's home state or in states where elections were due.
On 8 July, 2014, Sadanand Gowda, the first railway minister in the Modi government, said in his maiden budget speech: "Perhaps railways is the only enterprise, which has demand for its service; in fact demand is always higher than supply and still it is incurring heavy losses."
Under UPA-I, Lalu Prasad Yadav never raised the passenger fares and preferred to nudge the freight rates a bit. Yadav created AC trains for the  poor called Garib Raths, which has been cited as a successful experiment. Yadav also claimed to have generated revenues while he was minister, despite the ministry having only incurred losses in the past. His tenure became a case study for management students.
In 2009, Mamata Banerjee, the Trinamool Congress chief and present CM of West Bengal, became the railway minister. The first thing she did was to reject all Yadav's claims, saying the ministry was incurring heavy losses. Polls were due in West Bengal and the ministry was used as a tool to woo voters of the state. A non-stop service, called the Duronto Express, was launched by Banerjee with many other new initiatives and trains.
Banerjee passed on the baton to her party colleague Dinesh Trivedi after becoming the chief minister of West Bengal. Trivedi took the task seriously and immediately formed two committees — one headed by Dr Anil Kakodkar on railway safety and another headed by Sam Pitroda on rail modernisation.
The Kakodkar committee said the railways would require an infusion of Rs 20,000 crore annually for five years to revive it. In his budget speech in 2012, Trivedi took the risk of raising passenger fares, which had been left untouched for the past eight years.
This cost him his job. Once he was gone, all the suggested reforms were dropped.
When Modi came to power in 2014, he gave the railways portfolio to Gowda with high hopes. Railways always figured high on Modi's agenda during his campaign and he promised to set up bullet trains in India.
The rail budget presented by Gowda was quite a reformist one with no new train routes or services being  announced. It said a feasibility study on the bullet train project would be carried out. Despite these promises, Gowda failed to deliver.
He was replaced by Suresh Prabhu, who had migrated to the BJP from the Shiv Sena in 2014. Prabhu fast-tracked reforms and raised train fares in all categories by more than 50 percent during his three-year tenure.
Emphasis was laid on cleanliness and better passenger amenities in trains. With the rationalisation of train fares, the much-needed reforms were expected to take off, but Prabhu's initiatives lost steam midway.
The biggest worry for the Modi government is the rising number of train accidents. In Prabhu's tenure alone, more than 650 people have lost their lives in mishaps. As of April 2017, there were 1.24 lakh vacancies in the safety wing of the railways. Prabhu drew criticism for a number of derailments and it was quite obvious that he would be replaced in the cabinet reshuffle.
With Goyal taking charge, his job will be to ensure the safety of passengers and carry forward reforms. Earlier this year, when the NITI Aayog recommended private investment in the railways, the many unions within it opposed this move. The government later clarified that there was no such plan.
The government has pushed the reform process this year by scrapping a separate rail budget and the onus now lies on Goyal to take the process forward. He has too much on his plate, and he has to deliver in a limited time.
Get the PrintEssential to make sense of the day's key developments