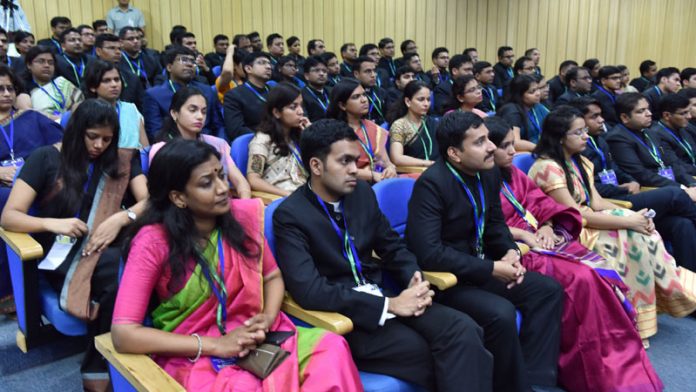 Text Size:
The Uttar Pradesh IAS Association is seeking more transparency in the process of empanelment of IAS officers for central deputation.
New Delhi: The Modi government's corporate-style 360-degree evaluation for civil servants is like "an opaque black box," which is extremely vulnerable to misuse, chairman of the Uttar Pradesh IAS Association Pravir Kumar has said.
Asking for more transparency in the process of empanelment of IAS officers for central deputation, the UP IAS Association Saturday passed a resolution urging the Centre to make the process less opaque.
"It is a very non-transparent process, which goes against the principle of natural justice because no officer knows why they are being empanelled or rejected," Kumar told ThePrint.
"With the ACR (annual confidential report), you could at least see the score you have been given, and if you felt it was unfair, you could protest, and put your side of the story out," Kumar said.
"But with this feedback, you don't know who has said what about you, so you have no basis to protest."
Asked if there have been any cases of misuse, Kumar said, "I can't comment on whether there have been cases of misuse or not, but this system is like an opaque box, and is vulnerable to misuse.
"We are not against getting feedback, but against the opaqueness with which it is used," he added.
---
Also read: Second push for lateral entry into IAS sees applications fall by half
---
'Anyone can say anything about you'
In 2015, the Modi government introduced a 360-degree appraisal system meant to supplement the existing system of ACRs.
The ACR is based on the submissions of an expert panel which would review officers' full service records and all previous annual reports along with reports from the vigilance department.
However, soon after coming to power, the Modi government added another element to this system.
According to the approved changes, a panel of experts would collect views from the candidate's colleagues — both senior and junior — as well as from people outside the government.
The panel would collect the views of these people described as "stakeholders" on a prescribed form. Both their feedback and the people themselves would remain anonymous.
"You don't know who is giving this feedback — are they retired officers, MPs, MLAs? Nobody knows," Kumar argued.
The association is all set to forward the resolution the Department of Personnel and Training (DoPT).
More criticism
While the system was brought into place as a means to seek a comprehensive review of an officer's performance, this is not the first time it is being challenged for being arbitrary.
In 2017, a Parliamentary Standing Committee on personnel, public grievances, law and justice highlighted serious flaws in the way the 360-degree appraisal system was being applied.
"The feedback received from subordinates and stakeholders may be biased and lack objectivity, particularly if the officer had to discipline his subordinates or he was unable to meet the unjustified demands of stakeholders," the panel had said.
Making the same point as the one made by the UP IAS Association, it had also said, "Acting on feedbacks so received puts the concerned officer in a disadvantageous position as the remedies available to him in case his annual appraisal report has not been written objectively are not available to him in this process.
"Acting on such feedback behind the back of the officer may not be legally tenable."
The provision, the panel also observed, was brought about through an executive order and not any regulations or law.
The 360 degree review also violates provisions of the Right To Information Act by denying information on the feedback received under RTI, explained Punjab IAS Association president K.B.S. Sidhu.
"The government's empanelment scheme based on the 360 degree review also seems to be repugnant to the aforesaid provisions of the RTI Act, where all administrative and quasi-judicial decisions must be given reasons," he said.
Later that year, 1982-batch IAS officer Vineet Chawdhary filed a plea in the Central Administrative Tribunal, questioning the legal validity of the system.
After his plea, Chawdhary, who had been denied promotion to a secretary-level position under the system in August 2017, was appointed the chief secretary of Himachal Pradesh the same year in December.
---
Also read: This is why UPSC has invited fresh applications for lateral entry into IAS
---
'Even the ACR is managed'
However, an IAS officer currently on central deputation said on condition of anonymity that the 360-degree evaluation is actually a way to deal with the already arbitrary ACR system.
"The ACRs are always managed and are totally subjective… If your reporting boss thinks you are good, you will get a good ACR, if he thinks you are bad, he will jeopardise your ACR," the officer said.
"With the 360-degree system, even if the ACR is managed, what others think about you cannot be managed."
Moreover, relying on ACRs alone also throws up the issue of state IAS lobbies, explained the officer.
"Some states have a strong lobby, and are liberal with giving good ACRs, so a lot of officers will come on empanelment from those states…Other states, which are conservative, will send very few officers."
This report has been modified to add Sidhu's response.
Check out My543, our comprehensive report card of all Lok Sabha MPs.