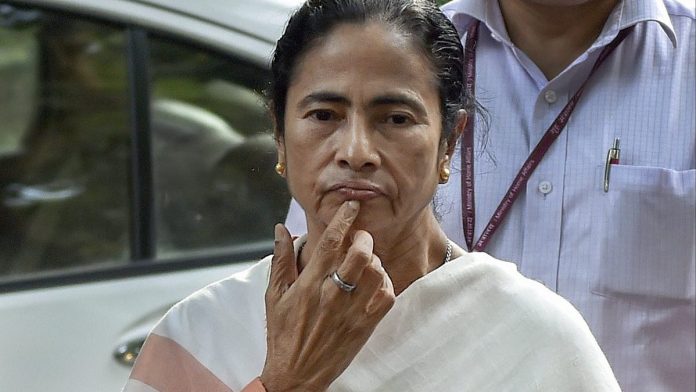 Text Size:
New Delhi: A retired Indian Police Service (IPS) officer from the West Bengal cadre who committed suicide earlier this week has accused Chief Minister Mamata Banerjee of abetment in his suicide note, which was accessed by ThePrint.
Gaurav Dutt, a 1986-batch IPS officer, was suspended and sent on compulsory leave in 2010 following allegations of sexually abusing a male constable. The son of a Padma Shri-awardee IPS officer of the 1939 batch, Gopal Dutt, he retired last month.
Dutt was reportedly found in a pool of blood, with a slit wrist, at his house Tuesday. He was taken to hospital, but succumbed to excessive blood loss.
In his note, he said the "present CM WB" was responsible "for my action inform (sic) of abetment".
"All that is noted above has been written in perfect mental condition," he added.
While West Bengal director general of police (DGP) Virendra and Gyanwant Singh, the police commissioner of Bidhannagar, Salt Lake, where Dutt lived, did not respond to ThePrint's calls for comment, the officer's wife Sreyanshi Dutt confirmed that the letter was indeed written by her husband.
"My husband's death is a protest against the government for all the torture and humiliation he had to go through," she told ThePrint. "He was disturbed for the last 10 years, but I had no idea that he was so deeply depressed and wounded that he would take his life," Sreyanshi said.
"I'm alone and devastated now. Everything is over… The government has taken my husband's life."
---
Also read: How Mamata Banerjee leveraged the CBI-police ruckus into a 'political victory'
---
'CM victimised me for 10 years'
In his letter, Dutt has accused the Mamata Banerjee dispensation of serial harassment. Extracts from the letter quoted in this report have been reproduced verbatim.
"CM refuses to close my 2 pending proceeding [sic] cases. One case file is lost deliberately by WB govt. In 2nd case no corruption charge could be substantiated," wrote Dutt. "Even DG [director general] requested CM but she refused to close cases.
"Present CM WB has victimised me for 10 years and went all out to demoralise me due to her single-minded vendetta against me for reasons best known to her," the letter said.
According to the letter, Dutt's pension was blocked by the state government.
"So, now, after taking extreme step, govt will be bound to release my saving thus our family can survive with dignity. That amount that they have blocked just to teach an officer a lesson even after retirement," he added.
'Petty' and 'vindictive'
Dutt alleged that nobody spoke up in the state fearing "instant revenge from ruling party", a reference to Banerjee's Trinamool Congress party.
"All are prisoners here as no one is allowed to go on deputation also. It's a Kafka situation in Bengal," he added.
"This toxic evil hellish environment created by CMWB [chief minister of West Bengal] – seems never to end."
Accusing Banerjee of having her own "favourite officers", Dutt said that he and another IPS officer had been punished by her for not taking "course to crass sycophancy".
"This pettiness, vindictiveness and revengeful attitude for no apparent reasons are not qualities a leader should have to be on the national stage," he added.
Dutt also took a shot at what he described as the lack of solidarity among IPS officers.
"The IPS fraternity is such that if the Govt detests you at personal level, then all officers toe govt line and will treat you like a pariah street dog," he wrote.
"Thus there is hardly any self esteem left in one's own house hold. It is difficult to face one's family and explain to them why one IPS officer is being singled out or targeted for no rhyme or reason by a gargantuan sinister, evil, predatory Govt," the letter reads.
'If one can't live with honour, better to die with honour'
In his letter, Dutt expressed hope that his suicide would "highlight genuine problems of honest officers in Bengal and other parts of India who have no one beside them".
The government, he added, would probably now "think twice before tormenting, torturing and destroying honest officers like me who stand desolate, abandoned, homeless and humiliated beyond repair".
"…If one cant live with honour, it is better to die with honour," he said.
---
Also read: Congress' mega opposition rally now a solo Rahul show as Mamata & Naidu decide to skip it
---
For ThePrint's smart analysis of how the rest of the media is doing its job, no holds barred, go to PluggedIn