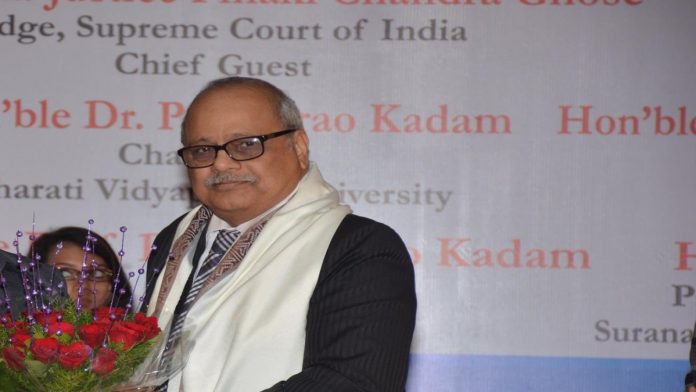 Text Size:
New Delhi: Barring any last-minute hitch, former Supreme Court judge Pinaki Chandra Ghose is set to be the first Lokpal of India.
A senior source in the government told ThePrint that the notification about Justice Ghose's appointment as chairman of the Lokpal — as well as the selection of eight others as members of the national anti-corruption ombudsman — is likely to be finalised early next week. It may be made public before the next date of hearing on the matter in the Supreme Court, which is scheduled for later this month, the source added.
The Lokpal and Lokayuktas Act was notified in early 2014, but no one has been appointed to the post. The Supreme Court, hearing a PIL filed by NGO Common Cause, represented by advocate Prashant Bhushan, has been pushing the government to make the appointments.
On 7 March, a bench headed by Chief Justice of India Ranjan Gogoi had asked the Modi government to inform the court within a fortnight by when it would finalise the names.
On 17 January, the Supreme Court had pulled up the Centre for repeatedly delaying the appointment of the Lokpal.
Justice Ghose retired in May 2017
Justice Ghose, who is a member of the National Human Rights Commission (NHRC) since June 2017, retired from the Supreme Court on 27 May 2017.
He is a former judge of the Calcutta High Court and former chief justice of the Andhra Pradesh High Court.
A source said his name was finalised at a meeting of the Lokpal selection committee comprising Prime Minister Narendra Modi, Lok Sabha Speaker Sumitra Mahajan, Chief Justice of India Gogoi, and senior advocate Mukul Rohatgi Friday evening.
Congress' leader in the Lok Sabha Mallikarjun Kharge, a special invitee to the selection committee meeting, had refused to attend, saying a special invitee would not have any rights of participation in the process of selection and he couldn't accept the "opposition being made voiceless in a critical matter".
As first reported by ThePrint, the eight-member search committee headed by former Supreme Court judge Ranjana Desai had decided against recommending any former Chief Justice of India for the post of Lokpal. It subsequently put forth more than 20 names, including those of retired judges of the Supreme Court, former high court chief justices, and several former civil servants.
---
Also Read: No ex-CJI or sitting SC judge on Lokpal shortlist as Modi-led panel meets to pick members
---
Get the PrintEssential to make sense of the day's key developments