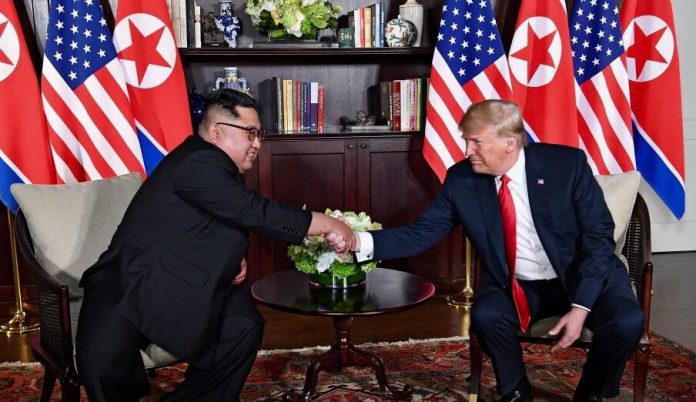 Text Size:
In his third State of the Union address to the US Congress, President Donald Trump announced that he would be meeting North Korean leader Kim Jong-un later this month in Vietnam for their second summit.
"As part of a bold new diplomacy, we continue our historic push for peace on the Korean peninsula," he said.
In his usual style, he went on to boast, "If I had not been elected President of the United States, we would right now, in my opinion, be in a major war with North Korea."
There have been many contradictions in the President's policies towards North Korea. ThePrint tells you how these are likely to emerge as major challenges going forward.
#1: America and North Korea are not on the same page
It has become amply evident that the final foreign policy aims of both North Korea and the United States do not coincide.
At the first Kim-Trump summit in Singapore last year, America and North Korea agreed to the "complete denuclearization of the Korean Peninsula".
While this is the preferred course for Washington, North Koreans are not even remotely on the same page. Since the Singapore summit, North Korea has continued to enrich its uranium stockpiles and work on its missiles, as suggested by US intelligence reports.
More importantly, the North Korean policy continues to remain the same. They insist that they will denuclearise only on the condition that the US follows up with reciprocal denuclearisation.
#2: Kim put all his eggs in one basket
Since the emergence of Kim Jong-un as the leader of North Korea a few years ago, we saw a rapid acceleration in the development of North Korea's nuclear programme.
Beating the expectations of veteran nuclear weapons analysts, North Korea managed to emerge as a nuclear power in 2017.
For Kim, a successful nuclear capacity is necessary for his regime's survival. As long as his country continues to have this capacity, they are unlikely to see serious exertion from the American side.
As mentioned before, Trump said it was because of him that there was no war with North Korea. In all fairness, it is more plausible that there is no war because North Korea is a nuclear power.
#3: The US has to accept a deterrence relationship
This is perhaps the biggest sticking point in this relationship, and may continue to be so. The US has insisted on the complete denuclearisation of North Korea. Given that this is unlikely, the more appropriate scenario is to develop a mutual-nuclear-deterrence relationship with North Korea.
The problem is that this would require the US to go back on its demands of "denuclearisation" and accept North Korea as the newest nuclear state.
Given these three factors, it is unlikely that the Trump-Kim Vietnam Summit will be anything more than another photo-op.
The Broader Context: Global Nuclear politics is back!
The North Korea-US tussle over nuclear power cannot be seen in isolation. There is a clear upward trend in the salience of nuclear politics. Iran and the US remain locked in a dispute centred on Iran's nuclear programme.
On the other side, the collapse of nuclear-weapons-control agreements such as the INF treaty between Russia and America is bringing back nuclear instability.
Unlike our expectations a decade ago, it is safe to say, the salience of nuclear power is back at play in global politics.
Further reading:
Three Crises Washington Could Face in 2019, Foreign Affairs 
North Korea and America's Second Summit: We Asked 76 Experts to Predict the Results, National Interest
In other news
Climate Change: World is heading for the warmest decade in more than 150 years of recordkeeping, The Independent 
European Council president Donald Tusk's warning of "special place in hell… for those who promoted Brexit without even a sketch of a plan how to carry it out safely" has Brexiteers seething, The Guardian
Nigerian President Muhammadu Buhari faces a steep re-election challenge on 16 February, BBC 
Check out My543, our comprehensive report card of all Lok Sabha MPs.