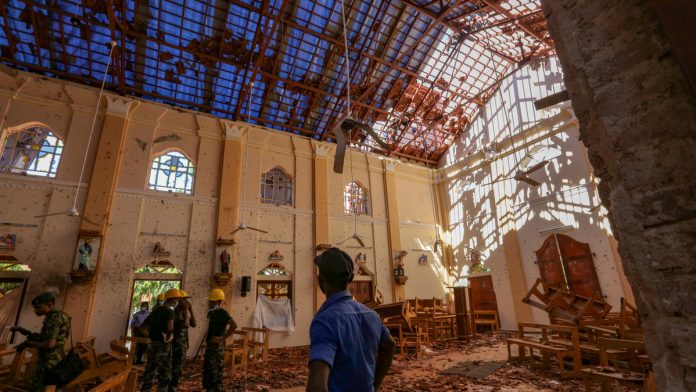 Text Size:
Sri Lankan PM wasn't informed about intelligence inputs over possibility of attacks: reports
Days after the Easter bombings in Sri Lanka that killed 290 people, reports suggest the island country's government is far from united in the time of crisis.
A BBC report said Prime Minister Ranil Wickremesinghe and his cabinet were not informed about the possibility of National Thowheed Jamath conducting such attacks, despite intelligence inputs.
On Sunday, Telecommunications Minister Harin Fernando tweeted images of an internal police memo dated 4 April which had warned about possible terror attacks.
Some intelligence officers were aware of this incidence. Therefore there was a delay in action. What my father heard was also from an intelligence officer. Serious action need to be taken as to why this warning was ignored. I was in Badulla last night pic.twitter.com/ssJyItJF1x

— Harin Fernando (@fernandoharin) April 21, 2019
At a press conference, cabinet spokesman Rajitha Senaratne said Wickremesinghe had not been invited to any meeting of the the country's top security body, the National Security Council, since October 2018.
The National Security Council is headed by the president and the prime minister is just a member.
The relationship between Sri Lankan president Maithripala Sirisena and Wickremesinghe have been tense since October last year when the former fired the PM and his entire cabinet, only to reinstate him weeks later under pressure from the Supreme Court.
Senaratne said the PM convened the National Security Council meeting Sunday, but no one showed up — a first "in history", said a Reuters report.
Later, even the cabinet summoned the council, but yet again, none of the members showed up.
On Monday, Wickremesinghe declared a state of emergency, giving the security agencies sweeping powers to arrest and interrogate suspects without any court orders. The security agencies had enjoyed such powers during the civil war period.
US announces end to sanctions exemptions on Iran oil
US President Donald Trump has decided to end sanctions exemptions for countries still importing Iranian oil, reported BBC.
The waivers for China, Japan, South Korea, India, and Turkey will expire in May, according to the latest Trump administration move.
With the exemptions lifted, these countries would struggle to continue importing oil from Iran. In case the countries and their companies still persist on importing Iranian oil, they face the risk of being blacklisted by US financial and banking institutions.
There has been a steady decline in the US-Iran relations since Trump assumed power in 2017.
Since then, the US has withdrawn from the Joint Comprehensive Plan of Action — the Iranian nuclear deal with the five permanent members of the UN Security Council and Germany. Last year, the Trump administration even reapplied sanctions on Iran, with the aim of economically isolating the country and forcing it to negotiate a new nuclear deal.
In other news:
China Signals Less Stimulus, Undermining World's Hottest Stocks, Bloomberg
Herman Cain withdraws as contender for Federal Reserve board, Financial Times
Fatal swine fever ravages China's pig farms and shakes global food markets, Financial Times
Graphic Truth: Coups Ain't What They Used To Be, G Zero Media
Get the PrintEssential to make sense of the day's key developments