Demonetisation didn't weed out black money but there's been some widening of tax base, an increase in digital payments and drop in fake notes.
New Delhi: India's shock move to ban high-denomination currency notes almost two years ago caused much hardship, with limited benefits.
As the dust settles on the demonetization episode, the data show it didn't weed out black money or cash gained through illegal means, which was a key objective of Prime Minister Narendra Modi's plan. On the plus side, there's been some widening in the country's dismal tax base, an increase in digital payments and a drop in fake notes.
Modi invalidated 86 percent of India's currency in November 2016 in the hope that people who had stashed away illegal cash wouldn't be able to exchange it for new notes at banks. The 
return
 of 99.7 percent of the banned 500 rupee and 1,000 rupee notes — the highest value currencies before demonetization — shows that didn't happen.
Here's a look at some of the few hits and many misses that followed the cash ban:
Economic Growth
The economy took a sharp knock from the cash crunch, with growth sliding to as low as 5.6 percent in the quarter through June 2017. More than 100 lives were lost in the panic to exchange old notes for new ones, millions of daily-wage earners lost their livelihood for several weeks, and thousands of small businesses were shut down, former Finance Minister P. Chidambaram said last month.
Another growth setback came last year when the government introduced a nationwide consumption tax, which was marred by glitches and disrupted business activity. Since then growth has bounced back to reach 8.2 percent last quarter, the fastest pace of any major economy.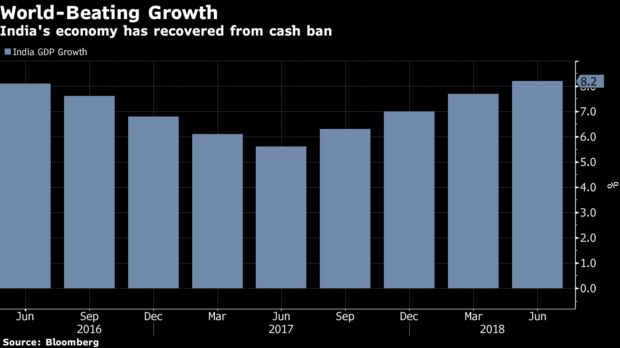 Tax Revenue
India saw a whopping 27 percent increase in personal income tax collections in the year to March 2017, the biggest jump in the past decade, and a solid 21 percent gain in the past fiscal year. That's helped to underpin overall government revenue, but not enough to plug a budget shortfall as the government picks up spending in the lead up to an election due by May. The deficit target is 3.3 percent of gross domestic product for the current year, a goal that Finance Minister Arun Jaitley recently said will be met, given that revenue and asset sale targets are likely to be exceeded.
Revenue Boost
Income tax mop-up rose sharply in the year of cash ban.

Part of the gain in tax income is due to the increase in new taxpayers that followed demonetization. Government data shows 10.1 million new taxpayers were added to the system in the year through November 2017 compared with an average of 6.2 million in the preceding six years.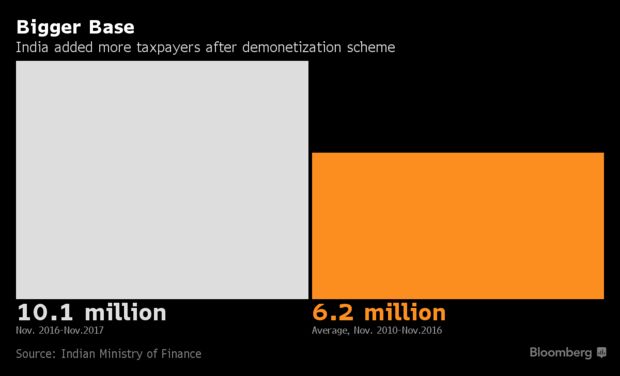 India still has a way to go though. While the number of taxpayers increasedalmost 30 percent to 82.7 million in the first three years of Modi's rule, as a proportion of the $2.6 trillion economy, that base remains low. Even after the introduction of the goods-and-services tax and sophisticated tools to nab tax evaders, India's tax-to-GDP ratio lingers around the levels seen a decade ago and is lower than the global average.
Small Base
India's tax-to-GDP ratio remains one of the lowest in the world

Black Money
Black money, the local term for income that escaped taxes or was earned illegally, was the buzzword in India's federal elections in 2014 and one of the key reasons Modi took the step to demonetize. Many Indians were initially convinced of the need for the cash ban, ignoring the inconvenience of waiting in long bank queues because they believed the billions of rupees stashed by corrupt or errant fellow Indians would be made worthless.
But that didn't happen. The income tax department found higher undisclosed income from fewer raids last year, indicating the government hasn't been able to put a lid on corruption and generation of black money.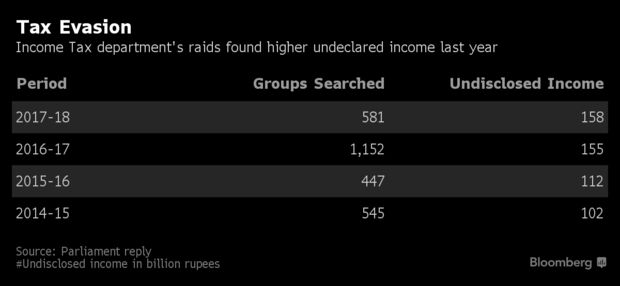 Digital Payments
Another objective of demonetization was to formalize an economy where more than 90 percent of payments were made in cash. Electronic transactions went up sharply in November 2016 since most people had no option but to use digital wallets, credit cards or debit cards. It has lost steam since then.
Electronic Mode
Cash ban prompted digital payments, though transaction value stays low

Catching Duplicates
No high quality counterfeit new currency notes have been seized by any agency post demonetization, and those seized in the recent past are scanned or photocopied notes, the government told Parliament last month. The "short-term benefit" of the cash ban was the elimination of the existing stock of fake and counterfeit currency, it said.
Counterfeit Currency
Fewer fake notes were detected after demonetization

–Bloomberg wire