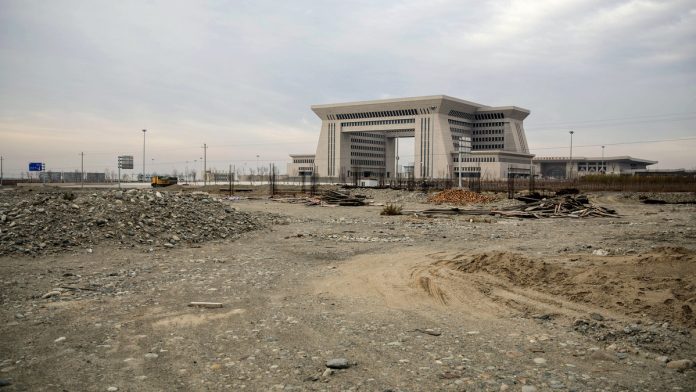 Text Size:
New Delhi: China is trying to leverage Jaish-e-Mohammed (JeM) chief Masood Azhar's listing as a global terrorist last week to bring India on board the Belt and Road Initiative (BRI) bandwagon, ThePrint has learnt.
China has increased pressure on India to bring the long-pending Bangladesh-China-India-Myanmar (BCIM) rail corridor under Beijing's ambitious BRI, urging New Delhi to take a call before President Xi Jinping arrives for an "informal summit-level" visit in July-August, according to diplomatic sources.
Beijing, the sources said, has intensified its lobbying in the matter since it allowed Azhar's listing as a global terrorist at the United Nations Security Council last week. It was China's serial "technical hold" that had kept Azhar out of the list, and the sanctions it entails, since 2009.
The BCIM corridor was conceptualised in 1999, and an agreement to this effect signed between former prime minister Manmohan Singh and Chinese Premier Li Keqiang in 2013, four years before the BRI took off.
The BRI is a pet Xi Jinping initiative inspired by the ancient Silk Road, meant to serve as a network of land and maritime trading routes connecting Europe and Africa with Asia.
---
Also read: What China's Belt and Road Initiative is, and why India gave it a miss again
---
India has so far cold-shouldered the project because of the China-Pakistan Economic Corridor (CPEC), a Beijing-Islamabad initiative that runs through Gilgit-Baltistan in Pakistan-occupied Kashmir (PoK), which New Delhi sees as its own territory.
According to the sources, the Chinese have told India that while New Delhi is opposed to the CPEC, it should not have any issues in a project spanning over India.
However, an Indian official told ThePrint that New Delhi is "not keen" on bringing the BCIM under the BRI as it feels any such move may compromise the country's security arrangement in the northeastern region.
China expert Srikanth Kondapalli, professor of Chinese studies the JNU, explained why: "India is concerned that China supports the insurgents that are present in the northeastern states and hence the BCIM is not a feasible idea."
The matter is likely to come up when External Affairs Minister Sushma Swaraj meets her Chinese counterpart Wang Yi during the Shanghai Cooperation Organisation (SCO) Foreign Ministers' meeting on 21-22 May in Kyrgyzstan capital Bishkek.
During PM Narendra Modi and Xi Jinping's informal summit at Wuhan in April last year, the two countries had resolved to speed up the BCIM project, which envisages the creation of a 2,800-km long rail link between Kunming in China and Kolkata in West Bengal, passing through Mandalay, Yangon and the Rakhine state in Myanmar and Dhaka in Bangladesh.
India is planning to host a second version of the informal summit this year, although it would depend on the outcome of the ongoing Lok Sabha election and whether the next government wants to follow this dialogue format, the sources said.
---
Also read: Two phrases critics of China's BRI must not use – debt trap & threat to sovereignty
---
India opposed to BRI
After the BRI was launched in 2017, China had asked the Modi government to bring the BMIC corridor under the project, but New Delhi has not relented so far.
India's opposition to the CPEC has seen New Delhi shun the two big-ticket BRI summits hosted by China since 2017, including the one held last month.
New Delhi believes Pakistan is in illegal occupation of PoK, and thus sees CPEC as a challenge to "Indian sovereignty" in the region.
The BMIC project itself has been played down by the Modi government, which has instead promoted the BIMSTEC (Bangladesh, India, Myanmar, Sri Lanka and Thailand Economic Cooperation) framework.
Meanwhile, the Chinese have also gone ahead and signed a separate China-Myanmar Economic Corridor (CMEC) with Myanmar, which may serve as another impediment to the progress of BCIM may suffer.
---
Also read: How China is defending its detention of Muslims to the world while selling the BRI dream
---
Get the PrintEssential to make sense of the day's key developments