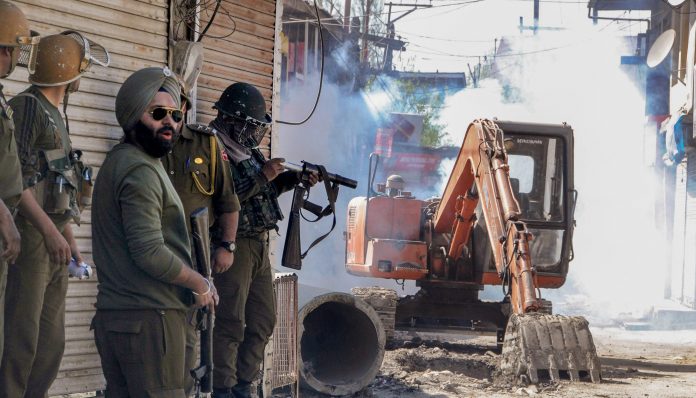 Text Size:
The officer was killed in Shopian last year while visiting family; GOC commander A.K. Bhatt says Army has 'avenged' his death by slaying two of his murderers.
New Delhi: Twelve militants, including two involved in the murder of Army Lieutenant Ummer Fayaz Parray last year, were killed in three separate encounters in South Kashmir Sunday.
One more man was captured in a joint operation launched by the Army, the Jammu and Kashmir Police and the Central Reserve Police Force. Three soldiers and four civilians also lost their lives.
Army spokesperson Rajesh Kalia told ThePrint: "Seven militants were killed in Draged, Shopian, in an overnight encounter, while one militant was killed in another encounter at Dialgam, Anantnag."
Four militants were later confirmed dead in an encounter in Kachdora near Shopian.
The civilians included Mushtaq Thoker, a man near whose house the police caught up with the militants in Shopian. According to J&K DGP Shesh Paul Vaid, stone-pelting caused the deaths of the civilians. He also tweeted that one more militant's death was "being ascertained", which would bring the total number up to 13.
The series of encounters is one of the biggest anti-militant operations in a single day since a fresh wave of militancy started in South Kashmir about two years ago, after the killing of Hizbul Mujahideen commander Burhan Wani.
Lt Ummer Fayaz 'avenged'
Two of the militants slain in Draged have been identified as Zubair Ahmad Turray of Shopian and Ishfaq Ahmad Malik of Pinjoora, who were allegedly involved in the killing of Lieutenant Ummer Fayaz in Shopian in May 2017.
The Rajputana Rifles officer was abducted from a wedding ceremony at his uncle's house while on leave and unarmed, and his body was found the next day with two bullet wounds.
At a press conference in Awantipora, Lt Gen. A.K. Bhatt, corps commander of the GOC, said the Army had "avenged" Lt Ummer Fayaz's killing. He also appealed to locals not to get carried away.
The five others killed in the Draged encounter are also locals – Rayees Thoker of Padderpora, Yawar Itoo of Safnagri, Nazim Nazir Dar of Nagbal, Aadil Thoker of Homhona and Ubaid Shafi Malla of Trenz.
The identity of the militants killed in Dialgam and Kachdora have not yet been confirmed, but another was reportedly captured in Dialgam, while arms and ammunition were also recovered.
Many civilians with bullet injuries have been sent to hospitals in Srinagar.
Reactions across the valley
Speaking about the encounters, DGP Vaid said the police had tried their best to make the militants abandon the path of violence.
"The Anantnag SSP made a special effort; he spoke to family members of militants to convince them to leave the path of violence. But they did not listen," Vaid told ThePrint.
On the political front, the Joint Resistance Leadership, including Hurriyat leaders Mirwaiz Umar Farooq, Yasin Malik, and Syed Ali Shah Geelani – who was released from house arrest on 30 March and allowed to address a Friday prayer congregation after eight years – have called for a two-day shutdown in the wake of the encounters.
Updated with new information about Lt Ummer's alleged killers. 
Separate fact from fiction, the real from the fake going viral on social media, on HoaXposed .