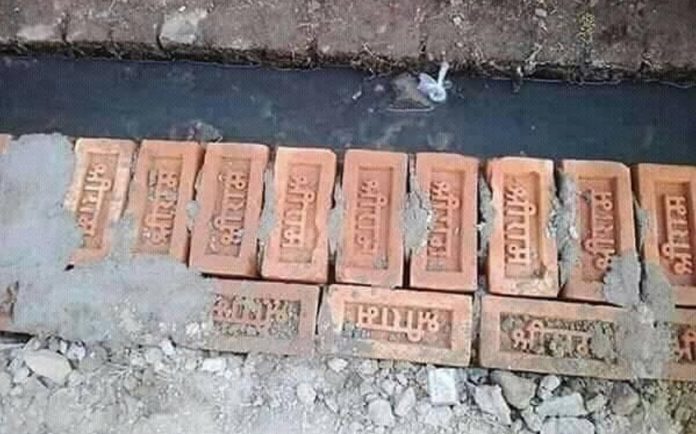 Text Size:
The VHP was responding to a viral post claiming that bricks, sent to the disputed site in 1992, were being used to build a drain in UP. 
New Delhi: The Vishwa Hindu Parishad (VHP) has denied claims that bricks, with 'Shree Ram' inscribed on them and used to build a drain in Uttar Pradesh, were from the ones kept for the construction of a Ram mandir in Ayodhya.
The claim, with a photograph of a drain being constructed, has gone viral on social media, particularly on Facebook and Twitter.
Reacting to the row, Surendra Jain, joint general secretary of the VHP, told ThePrint that no bricks from Ayodhya (temple site) have been utilised to construct the drain in question.
"The bricks situated at Ram Janmabhoomi are sacred and aren't taken away that easily," Jain said. "There are occasions when devotees take bricks elsewhere, but people pray to those bricks. Nobody has taken those bricks to construct the drain."
The bricks were sent to the disputed site during the 1992 Babri Masjid demolition. They have been lying there since and are "sacred" and "invaluable", according to the VHP leader.
---
Also read: Sena says not building Ram temple before 2019 polls a betrayal by Modi govt
---
The viral post
 A Twitter user named Aastha Tripathi shared the images of the bricks where Shree Ram was written in Devanagari script.
"The bricks that were collected to construct the Ram Temple, now are being used to construct a naali (open drain) in Uttar Pradesh," her tweet reads.
जो ईंटे राम मंदिर के नाम पर इकट्ठा की गई थीं… वह अब उत्तर प्रदेश में नाली बनाने के काम मे ली जा रही है ।

हिन्दुओ को भावनाओ के नाम पर ठगना तो कोई बीजेपी से सीखें।

कितना गिर गए ये नीच और महानीच भक्त जो इसकी अनदेखी करके चुप्पी साधे बैठे हैं। pic.twitter.com/8edKWMf0mU

— Aastha tripathi (@Aastha9305) January 5, 2019
A simple search on Twitter reveals that this image is going viral on the social media platform with the same text.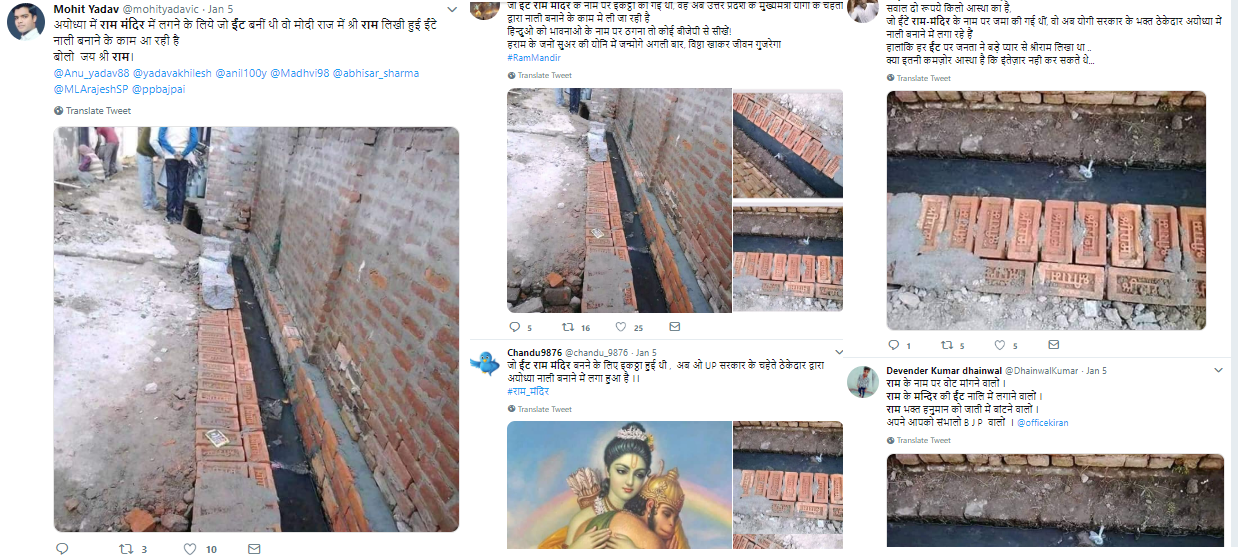 The image is also doing rounds on Facebook. A Facebook account named Swati Rawat posted the pictures Friday. This was shared so widely that a web portal named Teesrijung News even published an article on it.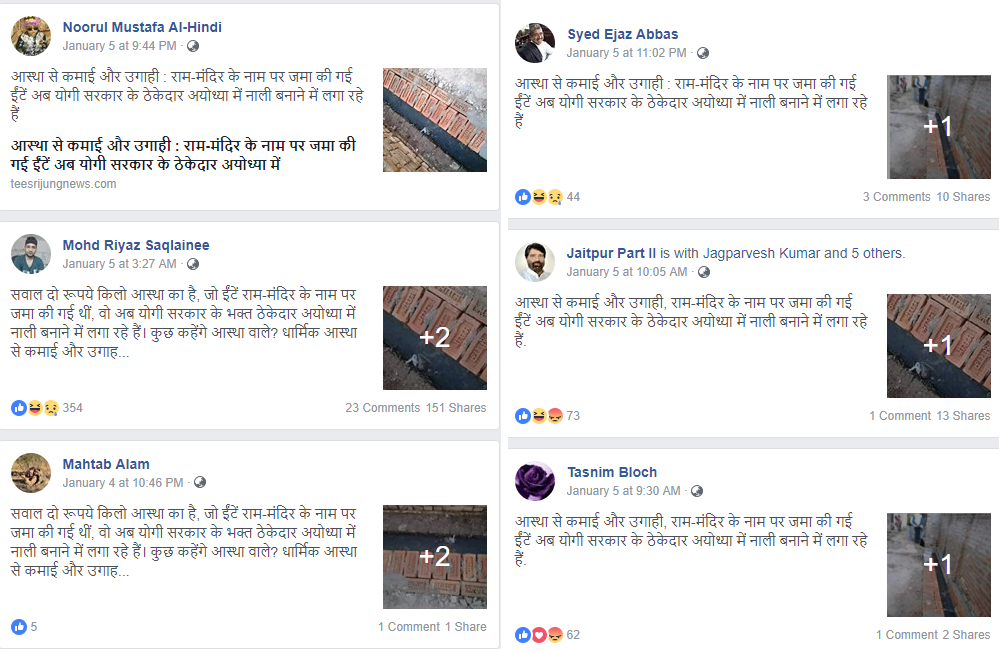 However, the article at the end had a disclaimer saying that it hadn't verified if the images were from Ayodhya.
Read Global Pulse for a sampler of the big international stories, and why they matter.