Text Size:
On 2 September 2009, YS Rajasekhara Reddy's chopper went missing somewhere above the Nallamala Forest in the Eastern Ghats, between Andhra Pradesh and Telangana. The next morning, it was found to have crashed, with all five on board, including the CM, dead.
A decade later, ThePrint revisits the life and political career of the CM of what was then Andhra Pradesh via his famous Walk The Talk in May 2005 with Shekhar Gupta.
SG: You are one of the particularly fortunate CMs for two reasons. One, you lead one of the very few governments which are entirely dependent on the Congress's own MLAs. They don't have any coalition partners to worry about. And second, you ran this campaign and won and you built it over many years.
YSR: The first part is right. We have 190 MLAs. We don't need to depend on anyone else. Out of 294, if we have got 191 MLAs, we have more than two-thirds MLAs. But the other part, running the campaign and all that, yes I did my best, but it was the Congress party's campaign along with all of us in the state and, of course, our leader Sonia Gandhi.
SG: So, you can't take the credit yourself, although I'm sure many of your colleagues will give it to you.
YSR: No, that's not right. No one in the Congress party can say that it is all because of me. The Congress party's approach is different, the party's culture is different, the heritage is different. We believe in working together, taking the credit or even the discredit together.
SG: A very different thing about you and your political career is that in a party which is sometimes run by very senior people, you became a party president at a very young age of 32.
YSR: I was 33. It was because of Rajiv Gandhi. Rajiv's eyes fell upon me, he recognised me.
SG: And how did that happen? Do you remember?
YSR: In one or two interactions with him, he thought that I'll be a proper person at that time to head the state Congress party because I was quite young. He was impressed with my age, with the way I put things. My educational background. Somehow, Rajiv got impressed with me. I would not give myself all the credit, but he got impressed and he made me the state president. And since then, I have never looked back.
SG: And this in a state which had so many 'senior' leaders. In fact on a Walk The Talk with Sonia Gandhi, I had mentioned that sometimes her front row in Parliament looks like the ICU without the tubes. So, did you feel a generation gap?
YSR: That way, the Congress party is definitely better than the BJP or Communists. Well, national parties do have this problem. We can't ignore experienced people, the elderly. But at the same time, we don't shy away from bringing in new blood into the system.
SG: But did you feel a generation gap in the state? Because all your leaders were in their 70s.
YSR: Yes, I did. A generation gap was there.There was a little resentment in the beginning. People thought, how can a PCC president be only 33 years old? But Rajiv was a totally different kind of a person. He encouraged the youth and because of that a new generation came into the party.
SG: But the interesting thing is that your rival in the state is also your age, Chandrababu Naidu.
YSR: Yes, we are of the same age. In fact, we were together in Youth Congress, right from 1975 till 1983. When Chandrababu's father-in-law became the CM, he left the party to join his father-in-law.
SG: And do you think, until then he believed in Congress values?
YSR: From 1978 to 1982, we were MLAs. Between 1980 and 1982, we were also ministers in the Congress party. We contested the 1983 elections as Congress nominees. I won and he lost. And in that election, Telugu Desam won the state. His father-in-law, N T Rama Rao, became the CM and three days after that he told [me] that there was pressure from home front and he wanted to change his party affiliation. I was really taken aback when he said that. I said, 'What is this, Babu, till three days back, you were a minister in Congress party. The power is lost, fine, but it doesn't mean that you go along with the power'.
SG: So, was it a pressure of power or pressure of the family?
YSR: I don't know. He said that there was pressure from the party. I advised him against leaving the party but on the third day he left the party.
SG: But he said something very interesting lately. He's now explaining his own loss of power to you. He is saying that the alliance with the BJP cost them a great deal. Do you sympathise with him, agree with him?
YSR: Maybe, he's now thinking that the BJP is not that important for him. But in the last elections, in 1999, when he won, the BJP won that election. There was a pro-Vajpayee wave in the country. And he did win because of the BJP at that time.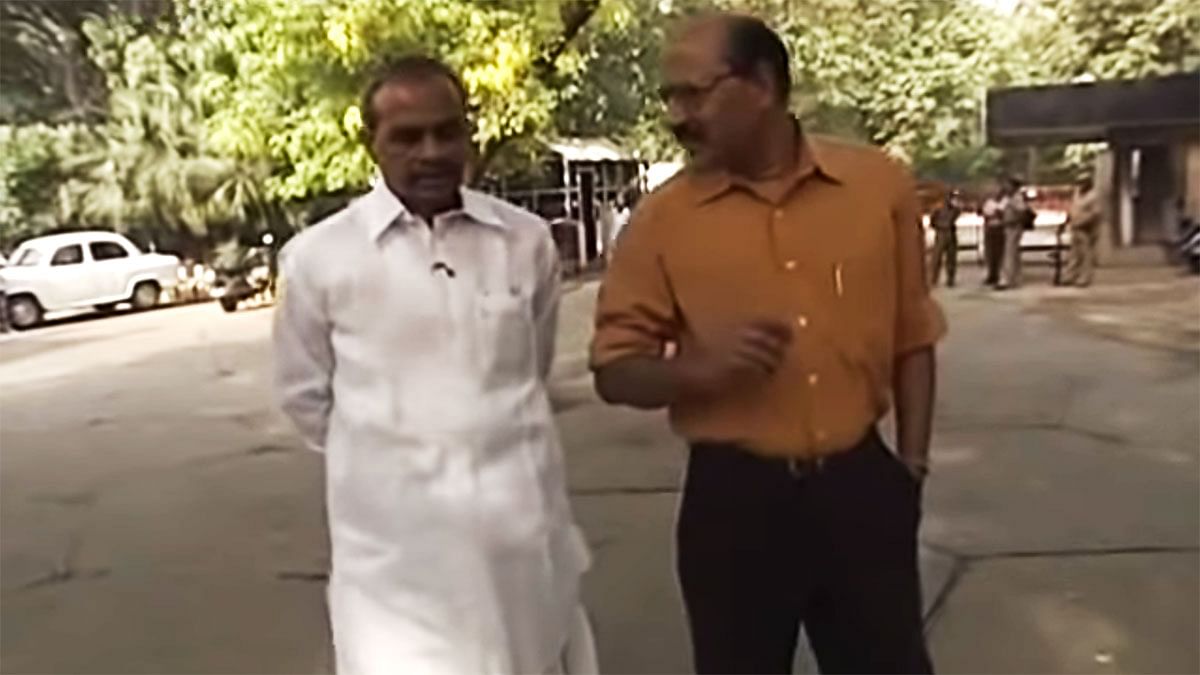 SG: When will you roll back free power to farmers? Vilasrao Deshmukh offered free power after you did and then he rolled back in Maharashtra.
YSR: Unfortunately, Maharashtra doesn't have a system like ours in the power sector. In spite of the free power, Andhra Pradesh Electrical Utilities have got the best of Crisil ratings.
SG: Some of it might be because of the reforms that Babu talked about?
YSR: Fine, reforms are good if they can do things like bringing down transmission and distribution losses. We are not against reforms. We never said that we are against reforms.
SG: But this was a good thing he did?
YSR: Bringing in reforms in the power sector was a good thing he did. And we are following it up in a more dynamic way.
SG: So, how much free power are you giving and to how many people? Is it really benefitting people or is it just a slogan?
YSR: It definitely benefits people. In the last one year, we gave free power to 23 lakh farmers. Since there was demand for more connections, we thought that we'll zero in on those who actually need it more — those paying income tax, the big farmers, about 5 per cent of these people need not get free power. So, this year we are giving free power to 95 per cent of the farmers.
SG: You must be the only chief minister who says he can afford to give free power?
YSR: We are able to give them free power and there's absolutely no problem. And it is really helping the farmers.
SG: And Maharashtra is no lesson to you?
YSR: Maharashtra has got its own problems and we have got our own problems and our own strengths. So, ultimately what we have to see is that if a farmer needs free power at a particular time, we have to help him.
SG: It's like NTR's Rs 2 per kg rice scheme.
YSR: No, it's not that way. If by next polls, the conditions of the farmers are a lot more improved and at that time we feel that we can charge the farmers, we will tell the people that this is what we will do in the next term if and when we get re-elected.
SG: But still you don't see it as a permanent thing, subsidising agriculture through free power. It is unsustainable?
YSR: Basically, as and when it is necessary, it has to be subsidised.
SG: So, you will keep reviewing it?
YSR: Yes, we will keep on reviewing it.
SG: But in my book it is like Rs 2 per kg rice.
YSR The basic difference is that that's an unproductive sop. This is a productive sop.
SG: How much extortion is now going on in your countryside by Naxalites?
YSR: In the first five or six months, we gave them an opportunity to talk and
police action was suspended. A rough estimate is that about Rs 50-60 crore has been collected by them and they procured good weapons, they planted landmines in a number of places. Well, it's part of life and you get used to it.
SG: But are you feeling let down that they misused your ceasefire?
YSR: To some extent, yes.
SG: Was it a betrayal?
YSR: You can call it that if you want but originally when the talks started, we did say that the issue of arms has to be discussed. It was included as item number five in the agenda. They did discuss other aspects, but when it came to arms they said that we'll discuss it the second round. But in the meantime, they tried to arm themselves. Okay, that's what they thought. They wanted to use this opportunity to strengthen themselves. But in a democracy, for a strong government like ours, it's not difficult. We'll be able to maintain the law and order situation.
SG: So, what's the solution now? Will you go after them or will you maintain a status quo?
YSR: Well, it's not a matter of going after them. It's a question of trying to win them over, win their cadres and ultimately if some kind of a situation can be managed where they will not have a breeding ground.
SG: Why did you let go of their leadership when the police had them surrounded? It is a mysterious incident. You had them in a jungle, you had them surrounded and you let them go. It gave the impression that your government was in league with them and there was some kind of a secret understanding.
YSR: It was not a question of letting them go. But the situation was such that if we would have gone ahead, the senior Naxalite leader, he would have perhaps got killed. But when the process of dialogue was still not discontinued, we thought let's give them a chance.
SG: But it did demoralise the police because they thought, once we had them in our bag the politicians let them go.
YSR: Nothing like that. In a democracy, we have to find ways and means of how we can get the best out of a situation.
SG: But did you take that decision?
YSR: In fact, it was not mine. The home minister was contacted. At that time, I was in China.
SG: You were not contactable then?
YSR: I was not contactable then. But the government, by and large, stands by whatever he did.
SG: But law and order being a state subject, in a crucial situation like this, how could the decision be left to the Centre? If you were a non-Congress CM, you would never have allowed this.
YSR: I'm talking about my home minister not the Central government.
SG: Our impression was that the PM's office was contacted. It was decided politically that it would be very uncomfortable if the entire top Naxalite leadership got wiped out in one operation.
YSR: It was not that way. The Centre had nothing to do with that.
SG: There was an article by K Gopala alleging that you gave your blessings to many killings and violence and your father himself was a victim of political violence. He died because of that.
YSR: That article is completely concocted. I don't want to comment about it. My father getting killed in factional violence is totally different. Two years earlier to that, some Telugu Desam people were attacked by some Congress people in a neighbouring village and the Telugu Desam people wanted to take revenge on the Congress leadership.
SG: But there is a lot of political violence in Andhra, between Congress and TDP workers.
YSR: Unfortunately in the area called Rayalaseema, factional violence has been there for the past 80-90 years.
SG: Are you trying to control that now?
YSR: Yes. Totally in control now.
SG: Is that a priority now? To take away this shadow of violence — Naxalite or factional .
YSR: I'll definitely try and do my best in this regard.
Subscribe to our channels on YouTube & Telegram
Why news media is in crisis & How you can fix it
India needs free, fair, non-hyphenated and questioning journalism even more as it faces multiple crises.
But the news media is in a crisis of its own. There have been brutal layoffs and pay-cuts. The best of journalism is shrinking, yielding to crude prime-time spectacle.
ThePrint has the finest young reporters, columnists and editors working for it. Sustaining journalism of this quality needs smart and thinking people like you to pay for it. Whether you live in India or overseas, you can do it here.