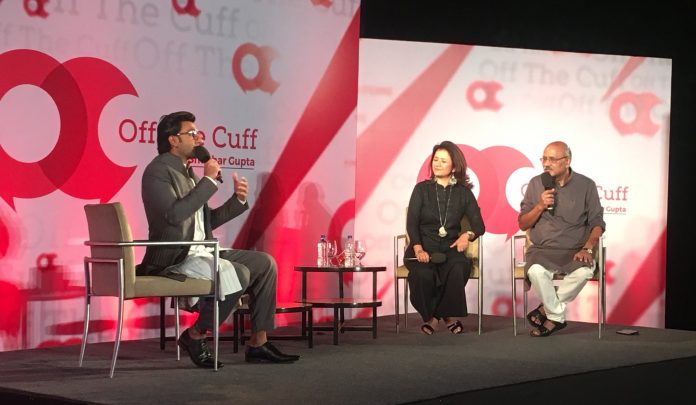 Text Size:
The actor says he chose to channel his anger towards preparing to play the dark, negative role of Alauddin Khilji; makes case for incentivising writers.
Mumbai: Actor Ranveer Singh, whose latest release Padmaavat ran into controversy over a group of people alleging distortion of history, has said the violent protests against the movie infuriated him, but his producers restrained him from reacting fearing it might make matters worse.
Speaking at ThePrint's 'Off The Cuff' in Mumbai Tuesday, Singh said it was also enraging to see Padmaavat director Sanjay Leela Bhansali, who he considers his 'guru', attacked and humiliated.
"When the first incident happened in Rajasthan, I was personally shocked that something like this could happen and I was infuriated beyond control," he said.
"To see disturbing images of a person I consider my guru to be brutally attacked was infuriating," the actor added.
Singh was in conversation with ThePrint's Editor-in-Chief Shekhar Gupta and Contributing Editor Mahrukh Inayet.
"As an artiste, to see people come and break the set, break the film equipment was enraging for me. I literally had to be held back," Singh, who played the role of Alauddin Khilji in the film, said. "My friends and producers said we are asking you categorically to not do or say anything because if you do anything it will only make matters worse."
The actor said he chose to channel his anger towards preparing to play the dark, negative role of the 14th century Muslim ruler.
During moments when it seemed difficult to go on during the shoot of the film, this pent-up rage over the violence surrounding Padmaavat would give him that extra gear, Singh said.
The release of Padmaavat which was supposed to hit the screen on 1 December last year, had to be postponed until 25 January after Rajput groups resorted to violent protests across the country. The Rajput Karni Sena had demanded a ban on the film, claiming the movie distorts history.
While Haryana, Rajasthan, Madhya Pradesh and Gujarat wanted to prevent the movie's release, the Supreme Court eventually cleared the way for Padmaavat. Singh said that social media had also compounded problems for actors as it gives every person a mega phone and an easy way to judge and point fingers.
"Social media is a big old beast. Of the 6 billion people in the world, about 15 might oppose something that you say and unfortunately that is what gets highlighted," the actor said.
Batting for the scrapping of Section 377, which criminalises homosexuality, Singh said he had no apprehensions playing the bisexual Alauddin Khilji.
"I am a very liberal-minded person and think Section 377 should be scrapped," he said.
The actor also made a strong case to incentivise and bring up writers in the Indian film industry and hinted that he has some plans for the same.
"In our industry there is an absolute dearth of writers. We don't incentivise our writers enough," Singh said. "Every filmmaker is writing his or her own material. I feel like if I owe anything to the industry I want to bring up writers."
The actor is of the view that although writing is the spine of a film, it is also, unfortunately, the most undervalued aspect.

Get the PrintEssential to make sense of the day's key developments