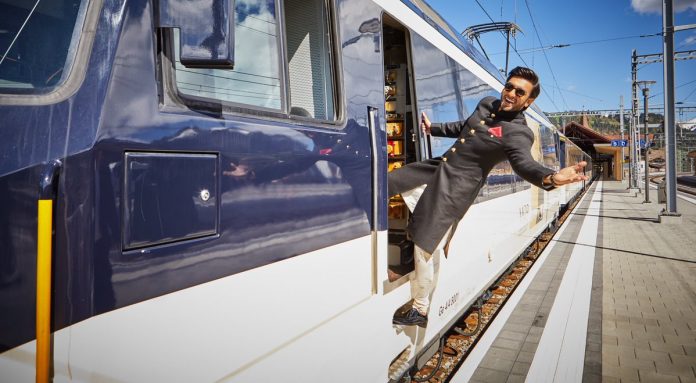 Text Size:
From being an outsider in the film industry to being excited to see who his on-screen bisexual lover will be, actor Ranveer Singh talks about it all.
In an industry that has been criticised for nepotism, actor Ranveer Singh is proud to have made it as an outsider. "I had been selected to be a leading man in a Yash Raj film. A guy from nowhere… that moment will be with me forever," said actor Ranveer Singh.
Singh was in conversation with ThePrint's Editor-in-Chief Shekhar Gupta and contributing editor Mahrukh Inayet at an 'Off the Cuff' event hosted in Mumbai.
From the controversy over his latest film Padmaavat to the validity of Article 377, Singh addressed a spectrum of issues at the event.
How he made it to Bollywood
Singh spoke about relentlessly pursuing actors and film-makers for a chance to get noticed as a fresh face in the film industry.
"I made a kickass portfolio and I used to go from office to office. I used to sometimes ambush film-makers at restaurants and at nightclubs," he said.
His efforts eventually bore fruit when Ranveer Singh was offered a part by Yash Raj Films, one of Bollywood's premier production houses.
"I understood that this was the opportunity I was waiting for all my life," he said.
The actor also revealed that when he succeeded in landing the part in his debut film Band Baaja Baaraat, he was so overcome with emotion that he fell to the floor bawling.
The film emerged as a critical and commercial success, earning Singh a Filmfare Award for Best Male Debutant.
How he prepared for the role of Alauddin Khilji
Ranveer Singh's latest film Padmaavat was mired in controversy and violence after many right-wing groups claimed that it was a distortion of history. Singh said he was not at all prepared to play the role of a 13th century sultan.
"At first I was very apprehensive… I understood that this is a very dark and evil character that I have to play and at that point in my life I wasn't prepared to play a part like that," he said.
Singh was eventually convinced by the film's director Sanjay Leela Bhansali to take the part.
The actor said he had to study a lot about tyrants and dictators in history and unearth his own demons to get into the right headspace to prepare for the role.
"It was very difficult for a year and a half to harbour this kind of spirit inside my being," he said.
On homosexuality and scrapping Section 377
The actor said that he did not have any apprehensions when he learnt that Alauddin Khilji would be portrayed as bisexual and felt that it added more depth and nuance to the character.
"I am a very liberal-minded person and I honestly think Section 377 should be scrapped, like yesterday," Singh said about playing a bisexual role.
He joked about being eager to see who would play his lover in the film.
"I was quite excited. I was like who's playing my love," he said.
The actor also spoke about being blown away by fellow actor Jim Sarbh's performance in the film Neerja that his was the first name Singh suggested to play the part of Malik Kafur, Khilji's slave-general and lover.
Singh performs the monologue from Deewaar
"The only thing I ever wanted to do is become an actor, and around grade 10, I realised that the way the film industry is structured is very nepotistic. The only people who are getting breaks were sons of actors, directors, producers… Everybody had a lineage," Singh said, speaking about his struggle to become a Bollywood actor.
Singh added that the examples of outsiders making it big in the film industry were so few and far between that he had almost abandoned his dream to become an actor and decided to work as a copywriter instead.
He was drawn back to the profession by chance, when he was asked to perform a scene in an acting class he had joined in college.
Choosing to perform one of Bollywood's most iconic dialogues— 'Mere paas maa hai'— from the Amitabh Bachchan and Shashi Kapoor-starrer Deewaar, the actor realised how drawn he was to acting.
"I felt this immense rush… I was like, this is when I feel most alive," he said.
Interacting with Brussels Blasts Survivor Nidhi Chaphekar
Ranveer however, was not the only star at Off the Cuff, as 2016 Brussels blast survivor Nidhi Chaphekar shared her own inspiring story.
Chaphekar, who was in the audience, said she did not let the tragedy bring her spirits down and forged ahead, telling the audience that she was just like the actor in that regard.
"Jidhar bhi jao dhamal kar do (create an impact wherever you go)," she said.
Chaphekar, a flight attendant with Jet Airways at the time, became the face of the twin blasts at the Brussels Airport. The blasts claimed the lives of 32 people, and injured over 300. After the incident, Chaphekar was put in a medically-induced coma.
"I did not relate to my family for a few days. He was saying 'I'm your husband', and then I got up with my daughter's voice that they used to make me hear," she said.
"Kudos to you ma'am, I doff my hat to your bravery," said Ranveer Singh.
Check out My543, our comprehensive report card of all Lok Sabha MPs.