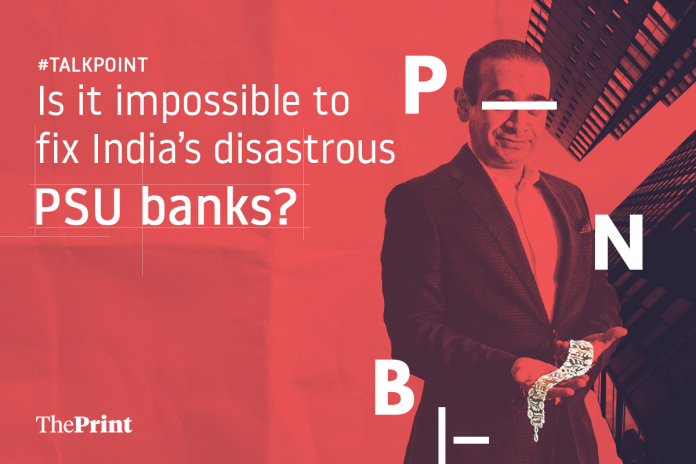 Text Size:
With PNB's astounding failure to detect a fraud of Rs 11,000 crore, India's public sector banks have, once again, come under the scanner. Aside from mismanagement and inefficiency, PSBs periodically go through a debt crisis and have a 47-year long record of scams. Their NPA crisis had earlier propelled the government to inject Rs 2.11 lakh crore into the banking system.
ThePrint asks: Is it impossible to fix India's disastrous PSU banks?
---
Privatisation is not politically feasible, try quasi-privatisation instead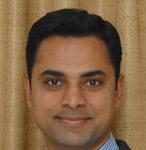 K.V. Subramanian
Associate Professor of Finance, Indian School of Business
 The governance problems in public sector banks represent the quintessential malaise that manifests through a repeated cycle of similar symptoms: indiscriminate lending followed by burgeoning non-performing assets (NPAs) and eventual recapitalisation of the banks using the taxpayers' money. Unless the governance malaise is eradicated, the symptoms will again resurface: lending will again become indiscriminate when the economy booms, which will bite again as NPAs when the economy suffers a downturn. Again, taxpayer money will be wasted in another round of recapitalisation.
At the heart of the reform lie various corporate governance problems originating from the umbilical cord linking the government and PSBs. Has anyone ever witnessed a run on a distressed PSB? In contrast, remember Global Trust Bank (GTB), where we saw depositors queued up outside its branches when it became distressed? Readers may think that such a guarantee enhances the safety of PSBs and is a good thing. However, the pernicious effects of such a guarantee are a lot more malignant than any benefit from safety. When the taxpayer pays for PSBs' indiscretions, bankruptcy is remote. But the moral hazard this creates represents a significant negative.
The problem is that this moral hazard is rarely observed directly; it can only be inferred by comparing performance. The P.J. Nayak committee report did this exercise by providing a plethora of evidence of such moral hazards affecting the performance of PSBs.
As privatisation may not be politically feasible or economically wise at the current valuations of the PSBs, the set of steps amounting to "quasi-privatisation" recommended in the Nayak committee must be implemented.
---
Privatisation is not a panacea, but it facilitates market discipline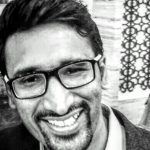 Mandar Kagade 
Public policy consultant focusing on financial regulation
Impossible? Nope. Improbable, yes. Across geographies, public sector banks appear to fare poorly on conventional financial metrics (e.g. RoE, RoA).
The India public sector bank story appears to follow the pattern. So, the way to fix the public sector banks is to shed their 'public' tag through structural reform of their capital structure, organisational design and privatise them.
I hasten to add that privatisation is not a panacea; the banking business model engenders the same type of risks, whether public or private. But on balance, privatisation facilitates market discipline to react to less than ideal management, imprudent asset-creation much more sharply than is the case with public sector ownership.
The improbability I mentioned earlier lies in the political economy that has developed around public sector ownership for the past five decades. The political class has a vested interest in retaining state ownership of banks because capital structure facilitates an 'off-the-books' way of 'bribing' politically powerful voting constituencies, including through directed credit and loan waivers.
On the other hand, and this is significant, the voters electing the political class (that determines banking and divestment policies) have little or no skin in the bank bailout game. The taxpayers are on the hook for the 'perpetual TARP' that Indira Gandhi institutionalised and successive governments perpetuated, yet India has a mere seven taxpayers among 1,000 voters as the Economic Survey for FY 2017 points out.
This decoupling of taxpayers and voter base inevitably makes banking privatisation a poor choice politically. To summarise, it is not impossible to fix public sector banks. But a higher taxpayer-voter ratio, than that exists presently, among other sectoral reforms appear to be the key.
---
It'd be 

an error to let the PNB scam lead to knee-jerk castigation of the entire sector
Rajesh Chakrabarti
Professor and Vice-Dean at the Jindal Global Business School, O.P. Jindal Global University
Public sector banks in India definitely have several problems and at multiple levels. Broadly these can be grouped into governance and efficiency buckets.
However, it would be a mistake in light of the PNB disaster to think that all public sector banks are horribly managed. Given their relative size and reputation, even with processes similar to the private sector banks, they are more likely to end up with the proverbial bad apples. Both private and public sector banks are regulated by the RBI. There is no difference in the standards imposed on public and private sector banks.
Such a disaster can happen in privately owned banks as well. The BNP Paribas scandal in Europe, a few years ago, is a case in point, not to speak of the infamous Nick Leeson story.
Some last mile issues certainly persist, though hopefully reducing. In 92/93 Harshad Mehta was able to push around crores by bribing a low-level bank clerk. All he had to do was make a delayed ledger entry, which led to the transfer of crores from the bond market to the stock market. Better systems with less human discretion are needed there.
All scams are not the same. One major hurdle public sector banks face is assessing borrowers, so they lend to the Mallyas of the world among other undeserving persons. But these problems occur more because of political interference than internal reasons.
This raises the complicated question: was the PNB case a failure of internal management or was it an issue of governance?
PSBs need a lot of improvement, like many other sectors. But it would be an error to let this instance to lead to any knee-jerk overarching castigation of the entire sector.
---
Politicians treat PSU banks as their fiefdoms, milking and misusing them for political gains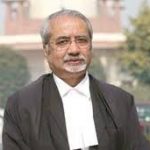 Bishwajit Bhattacharyya
Senior Supreme Court advocate and former Additional Solicitor General of India
Fixing PSU banks means fixing the government, and fixing the RBI. They are owners and regulators respectively. They are responsible for effective functioning of PSU banks and must be held accountable first. Charity begins at home and some heads must roll. Otherwise, PSU scams will continue.
Politicians treat PSUs and PSU banks as their fiefdoms. Milking and misusing PSUs for political gains have been rampant. This culture continues. PSU banks were paralysed in the immediate aftermath of demonetisation. Bank officials left every other seat except counting notes. Jan Dhan scheme also caused huge strain to PSU banking. 'Know-your-customer' norms were dumped. The corresponding gain to the poor was laudable, but why didn't private banks share the burden?
On 1 February, 2018, the finance minister announced an expenditure of Rs 16.38 crores from 'extra' budgetary resources during his budget speech. Who pays such an astronomical sum? Only PSUs and SPVs. This shows the independent functioning of PSUs is being severely compromised.
It has become fashionable to bash PSU banks for all the ills in the system, but only a person who has worked and is working in a PSU bank knows the stress and strain that politicians cause to them. It is high time PSU banks be allowed to function completely independently. Vigilance and training system must also be strengthened.
Interference by the government and abdication of responsibility by regulators have landed PSU banks in this sad state of affairs. Total business of PSU banks is about 80 per cent of India's GDP of 2.5 trillion dollars. PSU banks constitute the backbone of India's economy. Let's strengthen it, and the surest way to do is to fix the errant politicians and regulators. Once this is done, PSU banks would be automatically cleaned.
---
Reduce the number of public sector banks and disinvest those that are constantly underperforming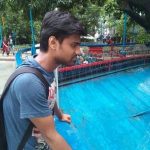 Subrata Panda
Journalist at ThePrint
The PNB/Nirav Modi scam has again brought to limelight the dismal state of affairs in government-owned banks. PSBs (Public Sector Banks) account for more than 55–60 per cent market share in the Indian banking industry, even though they collectively have a smaller market cap than the largest private sector bank in India – HDFC.
The NPA crisis, which has caused a huge uproar in the country, added fuel to the question: should the state-owned banks be privatised altogether so that there is more transparency?
However, this is not a plausible solution. We already have a banking system, which is owned mostly by foreign investors. Privatisation can lead us to a situation where the majority ownership of Indian banking industry will be with foreign investors.
The government should also take a large part of the blame for the sorry state of affairs in these state-owned banks. PSBs, unlike their private counterparts, have to cater to priority sector lending and other government initiatives which puts pressure on their balance sheets.
Yes, we can definitely come out of this mess. The Reserve Bank of India (RBI) has taken a lot of steps to steer the PSBs out of this mess and the recent norms to identify NPAs is a welcome step. The bank recapitalisation of Rs 2.11 lakh crore is another positive. However, only the better performing banks should be a beneficiary of this scheme and the weaker ones should be allowed to clean up their books before they become a beneficiary. Moreover, the government should reduce the number of PSBs and disinvest the banks which are constantly underperforming.
---
Compiled by Deeksha Bhardwaj, Journalist at ThePrint.
For ThePrint's smart analysis of how the rest of the media is doing its job, no holds barred, go to PluggedIn