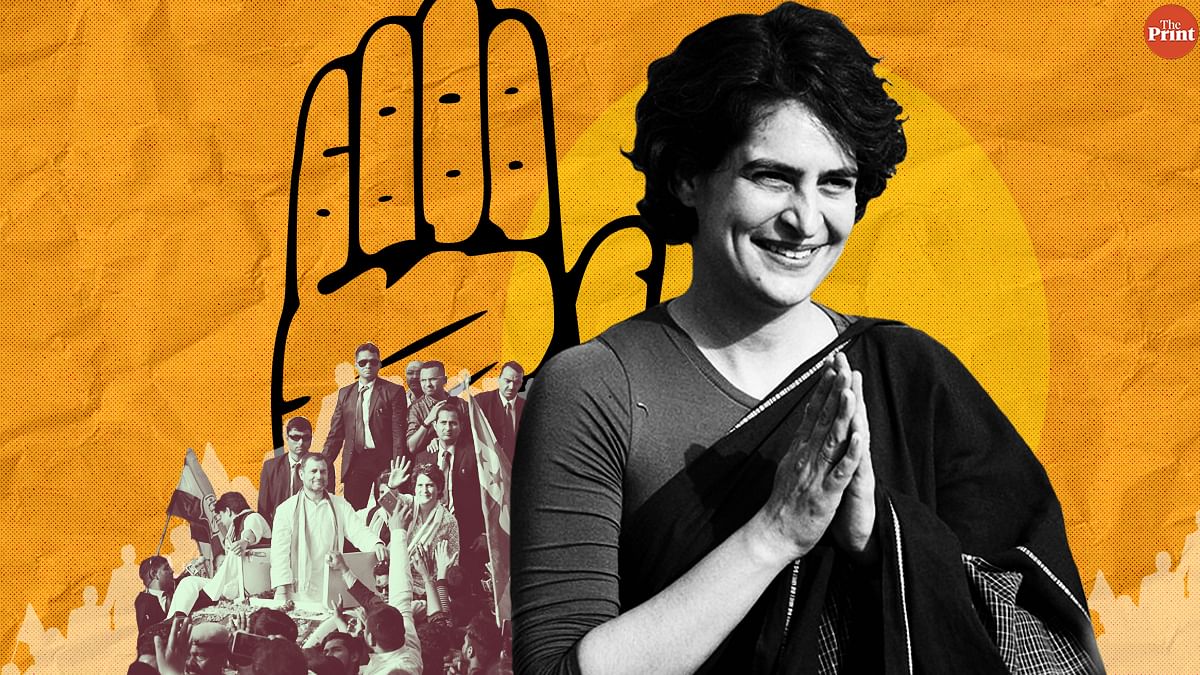 Priyanka Gandhi Vadra was appointed Congress' general secretary of Uttar Pradesh (East) on 23 January 2019. Since then, she has become active on social media and held multiple roadshows in Uttar Pradesh. Priyanka Gandhi has at least twice said she would challenge Prime Minister Narendra Modi from Varanasi if the party asks her to, fueling wide speculations.
ThePrint asks: 3 months of Congress' Priyanka Gandhi in active politics: Has she lived up to the hype?

---
Buzz on the streets is that if Priyanka contests from Varanasi, Modi will lose there
Archana Dalmia
Chairperson, Grievances Cell, Congress
Who built the hype? The media. As for Priyanka Gandhi? She got to work.
She has energised the cadres and infused energy into the Congress party. So much so that the BJP has become insecure and tried to put hurdles in her path. But Priyanka Gandhi is unstoppable and dignified. She thinks clearly and brings ease to any interaction — whether personal or in front of huge crowds. Her style is effortless and natural. She is a genuine person and anyone who listens to her speeches or talks to her in person can see that.
How can you assess work in progress? Her contributions to the party are ongoing – she has been vital to the party ever since she came on board actively. There was a desire for her to come into active politics – people expressed it extensively. She gave everyone what they wished for. Kudos to Congress president Rahul Gandhi for bringing her in.
When it came to the opposition alliance or gathbandhan, she did not sell her soul. It is unnatural to expect the Congress to not field candidates in a state so vital to the politics of the country. It is after all the primary opposition party.
Her impact is such that there is a buzz on the streets of Varanasi that if Priyanka jumps into the fray and takes on Modi there, he will lose. Priyanka Gandhi has brought a lot of hope with her in politics.
---
Also read: Why Priyanka Gandhi can be BJP's best friend in 2019 Lok Sabha elections
---
Initial media hype around Priyanka Gandhi proved to be of no help because she lacks mettle
Sudhanshu Mittal 
National spokesperson, BJP
If one were to go by the kind of marketing and hype that was built around Priyanka Gandhi Vadra when she was made the Congress general secretary for UP east, one would think she was bringing about some sort of a revolution. Of course, three months since her appointment, we now know that the reality is a far cry from what was promised.
Instead of bringing an upsurge in the Congress' fortunes, she has proven to be nothing but a damp squib.
It is evident that Priyanka Gandhi lacks political acumen as well as a serious political understanding of the country. Her entry into active politics has had no impact whatsoever on how citizens of this country perceive the Congress. Neither her campaigning nor her appearance in TV headlines has managed to capture India's imagination.
The media tried its best to market her as the next big politician. But as the saying goes, "you can't market a bad product". At the end of the day, the product needs to be of good quality for it to sustain itself. Initial media hype proved to be of no help because she lacks mettle.
If the Congress does decide to field her from Varanasi, it would be purely symbolic and have no real value. We would've thought that the Congress would field a tough contender against PM Modi, but clearly, they just want to make a hollow populistic move.
---
Also read: Is Priyanka Gandhi Congress' brahmastra for 2019 or will Vadra scandals weigh her down?
---
Priyanka Gandhi gives a sense in Congress that worst is over and her presence will pay dividends soon
Rasheed Kidwai
Political analyst
Priyanka Gandhi Vadra is the Congress' and Nehru-Gandhi family's insurance policy. The party is not in a hurry to fret away long-term benefits of Priyanka Gandhi's charisma, oratory skills, body language and leadership style. Away from public glare, she has provided enough confidence to the Congress rank and file, giving hope that the worst is over and that her presence in the grand old party will pay dividends sooner than expected.
Priyanka Gandhi's story has a flip side too. Her understated role in the organisation, her utmost regard for perceived hierarchy within the Congress, and her reluctance to overshadow brother and Congress president Rahul Gandhi since 24 January 2019 has reflected badly on her. Priyanka's disinclination to grant interviews to TV news channels and newspapers is a major hurdle in projection of brand Priyanka. In the event of her not taking on Narendra Modi from Varanasi in the Lok Sabha polls, the AICC general secretary's credibility will fall further. Regardless of the outcome, a contest on the other hand, will showcase her as a warrior, one among millions of Congress workers fighting shoulder-to-shoulder against Modi-BJP-Sangh parivar.
Priyanka Gandhi is getting plenty of advice and inputs from wise and crafty Congress politicians. But she needs to act as per her own political instincts and appear adventurous. In the middle of elections, she is required to win minds and hearts of voters than the Congress workers.

---
Also read: Why Priyanka Gandhi must take Modi head-on in Varanasi

---
Priyanka Gandhi seems to be as status quoist as Rahul and lacks fire in the belly
Shivam Vij
Contributing editor, ThePrint
Except perhaps for her comment taunting Narendra Modi for having gone to Pakistan to eat biryani, no comment or speech of Priyanka Gandhi's has stuck. Nothing has gone viral. No political action of hers has been seen as a disruption. No, she hasn't turned out to be a mesmerising speaker, only one standing out in contrast with Rahul Gandhi.
At least she can speak without using English words before rural voters. What she says is indeed a lot more coherent and politically shrewd than Rahul Gandhi, but the competition is with Modi.
She has not changed the Congress party's fortunes in Uttar Pradesh, instead openly conceding defeat by talking about the 2022 assembly elections. To do so she will need to take her job as East UP general secretary seriously. But she's in Wayanad one day and in Gujarat another. Her Uttar Pradesh visits appear episodic just like Rahul Gandhi's.
She can't decide if she wants to take on Narendra Modi in Varanasi. Neither can her brother. They don't seem to think such decisions need to be made well in advance because you don't wage a battle without preparing for it. Priyanka and Rahul are a great team. They are both equally indecisive and lack fire in the belly to take on the BJP. No guts, no glory. Like Rahul, Priyanka is not seeking glory either. She's as status quo as him, it seems, waiting for power to fall back in the Congress lap one day whenever people get bored of Modi.
---
Priyanka Gandhi's lackadaisical approach at peak election time sends confusing signals to voters
Aditi Vatsa
Special correspondent, ThePrint
Priyanka Gandhi Vadra's roadshow with her Western UP counterpart Jyotiraditya Scindia and brother Rahul Gandhi may have amassed widespread attention, it was the crowd around her entourage that told the real story. "We have just come to see what she looks like. People say she looks like Indira Gandhi," said a middle-aged man in Lucknow. During her three-day-long stay, Priyanka Gandhi had shown a new avatar of Congress leadership with marathon meetings ending late at night.
The enthusiasm and her party's renewed attention on ground-level workers, however, seems to have been dissipating with Priyanka Gandhi going missing from UP for over three weeks.
This lackadaisical approach by Priyanka Gandhi at peak election time against a formidable alliance of SP-BSP-RLD and ruling BJP, which is known for its organisational strength, has sent confusing signals to voters and Congress workers.
Does the Congress consider itself a serious player in the Lok Sabha polls? In Lucknow, Rahul Gandhi had said the party won't back "helicopter" candidates — does this apply to his sister Priyanka Gandhi as well?
Priyanka Gandhi's focus seems to remain on two high-profile seats – Amethi and Rae Bareli – which she has visited at least thrice in past three weeks. Maybe it could be the bold move of contesting from Varanasi against PM Narendra Modi that could garner voters' attention towards the Congress. But will the Congress take a risk with a Gandhi family member or does the party know its limitations too well?
---
By Fatima Khan, journalist at ThePrint.