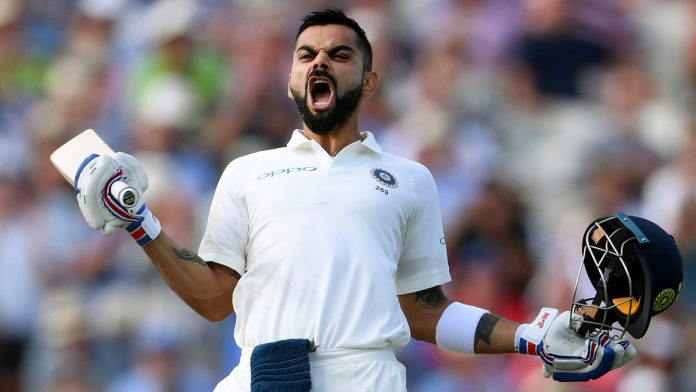 Text Size:
Sportsmen aren't statesmen, argues Shekhar Gupta, and says he'd rather have India be the No.1 team in the hands of arrogant cricketers like Virat Kohli.
Indian captain Virat Kohli recently found himself mired in controversy for suggesting to a cricket fan that he should not live in India if he likes foreign cricketers more than their Indian counterparts.
In a video recorded by Kohli for his newly-launched official app, he is seen bashing the man for praising English and Australian batsmen over Indians.
ThePrint's editor-in-chief Shekhar Gupta answered fans' questions on the incident in a live video. This is a transcript of the session, partially edited for clarity.
Question: Is the spirit of being a sportsperson defeated when one of them looks at sports in such a parochial manner?
Shekhar Gupta (SG): Sport is parochial. Sport is polarising. Now that polarisation can be between countries, it can also be between clubs. Look at European football. The countries are rivals but sometimes the clubs are also rivals. The same players who are big bitter rivals for their countries then go and play for the same club.
And the same thing now applies to cricket. Many of the foreign batsmen who Kohli might object to you admiring, particularly in an argumentative frame of mind, he will pay top dollar for them to come and play for Royal Challengers Bangalore or any team that he is captaining. So these are different things.
I don't want to use the word 'hate', but when you competitively enter the field against a rival — another country, another club, another state as in Ranji Trophy — then nice guys win nothing. You could only afford to be nice guys when you were losing everything. The other guy thrashed you, you applauded him for boundaries. You were happy that the English press praised some Indian batsmen — Mankad at one point, or Nawab of Pataudi.
The equation has now changed. It is parochial but not negative. Sport, once again, is polarising and it is parochial.
Question: Should media refrain from showcasing player tantrums or rants?
SG: No, why should the media censor anything? Players are public figures. They have public fan following. Because they have fan following, they get endorsements. Because they get endorsements, they get their money. Why do people go and buy the shampoo or phone that a sportsman or sportswoman tells them to buy? They trust and like their sportspersons.
Tantrums are part of the personality. If fans like tantrums, then maybe somebody's brand value goes up. If fans don't like tantrums — see what happened with Tiger Woods, see what happened with so many other sportspeople who have lost their endorsements. See what happened with Maria Sharapova when she was called for dope.
Fans have a way of judging their sportsmen, but for that they must get full information about their sportsmen. So, if their favourite sportsman is caught cheating, ball tampering in cricket, they must know it. And you see the kind of actions that the Australians have now taken against Steve Smith and David Warner.
Question: Does this show lack of humility and maturity on Virat's part as the Indian captain?
SG: Please don't confuse maturity with humility. As I said earlier, today's competitive sport is take-no-prisoners. You can have humility vis-a-vis your players, you can have humility vis-a-vis outsiders as well. But you still want to beat them. I think to demand humility from competitive sportsmen, particularly when you are the No.1 team in the world, is tough. I think it's a big ask.
If you ask me to choose, what would you prefer: An Indian team which is number 5 or 6 in the world with really humble cricketers, or number 1 in the world with really arrogant cricketers? Obviously I'll take an Indian team which is number 1 in the world with arrogant cricketers.
Would I like to have both? I would love to have both. But I don't think it goes with the character of competitive sport. Remember Kapil Dev, who we thought was an aggressive player? In 1992, during India's first tour of South Africa after apartheid was lifted, he was hit on the shin deliberately by Kepler Wessels. Kepler Wessels was fined just half his match fees. Kapil did not even make a big protest or noise about it.
Can you imagine today a member of Virat Kohli's team, or even before that a member of Ganguly's, or Dhoni's or Dravid's team, being hit by a foreign cricketer deliberately in the shin with a bat? Kapil was hit so badly it left a big ugly bruise on his shin; it will never happen now. And because it will never happen now, no one would dare to do it.
That era of humility in Indian cricket is over because we are not losers anymore. Look at Virat Kohli like that. You are not looking at him as your brother or brother-in-law, or son or son-in-law. Look at him as a world-beating cricket player. Every fast bowler, every spin bowler in the world is trying to get him out. And it's for him to not get out and score runs. So you admire him. Because if he does get out, or if he doesn't answer those guys, then you'll not admire him. A competitor's mind only a competitor knows.
---
Also Read: Bananas and biwis: The two things Virat Kohli wants for cricket World Cup 2019
---
Question: Kohli supported the German football team on social media. How fair is it to criticise fans who support foreign sports teams or personalities?
SG: Frankly, it is easier for all of us. Indians have some other country's football team to support. Some support Brazil, some support Argentina,some support Germany, few might support England. Also, that's because we don't have our own team doing very much. So if you had a dog in the race, you would look at it very differently, you would want your team to win all the time. So I don't think that question is relevant or fair.
If India is not playing ice hockey, particularly at a competitive level, you might support another country's team. But if India was in top 5 or 6 in the world in ice hockey, you would have a very different view.
Question: Do we have a problem expressing admiration for Imran Khan and Wasim Akram, but not for Viv Richards and Andy Roberts?
Answer: No. In fact, if you see Imran Khan and Wasim Akram, they both have encashed their celebrity status much more in India than their own countries. Look at Richards and Roberts; Roberts maybe not so much. But Richards, he has encashed his celebrity status a lot more in India than his own country.
I was at the stadium in Delhi when India defeated South Africa in a Test match. And as the teams came back, the entire crowd was chanting "ABD, ABD", so it doesn't mean that Indian fans cannot like players from other side. But I also don't get outraged if you are telling a very aggressive Indian captain that I don't like any Indian batsman, I only like foreign batsmen. So he can say that you can support foreign teams; in this case, he went a step further and said "go overseas". But remember, he is not a statesman, he is not a diplomat, he is a tough cricketer who is paid to win.
You like him, you retweet anything he puts out because you love him for his attitude and because he has taught India how to win.
Question: I have been living here for the past 21 years and supporting India, should I start supporting Australia now as I am an Australian?
SG: Well, if you are an Australian, and you supported Australia, I don't think anyone would complain. That was, in fact, the Tebbit Test in England. It said that South Asians and West Indians support countries they came from when England plays against their teams. So I don't think anyone would complain in India if you support Australia but maybe, in another universe, if you carried your Australian identity on your forehead, some Australia fan might ask you what's wrong with you.
So you can support the country you belong to, you can also support other countries, but at the same time, somebody can speak his mind, it doesn't mean that you will leave India because Virat Kohli is asking you to leave India. So this is a big reaction. Don't make too much of it.
---
Also Read: Whatever he does, Virat Kohli won't be India's greatest in England. It'll still be Dravid
---
Question: Is it unfair to expect a sportsman to also be a statesman?
SG: It is a big ask. Very few sportsmen are statesmen, particularly in their playing time. They might reinvent themselves as statesmen later. But if you look at great statesman around the world, and I am just quickly thinking, maybe Arthur Ashe, but he had peculiar circumstances, Sebastian Coe but he also became a professional manager of sport and athletics. Sport is a full-time profession now.
Just see the contrast between cricket teams. In cricket teams of the past, almost everyone was a graduate. In India, up to a certain point, in Pakistan to a certain point, in England, there were always one or two players who were sophisticated, Oxbridge types. In one of his interviews with me, Imran Khan said he was only accused of ball tampering by people who were the 'belowstairs' type — which is the lower class in England — and that people who were Oxbridge types had no problems with it. There was this class distinction in cricket. Now it's gone.
Today's cricketers are full-time professional sportsmen by the age of 10 or 11, they know they are going to play cricket, as with football overseas. They have limited formal education and a very limited time to think. In fact, if you see your team's bus after a match, the moment they get in the bus, they go back and are all on their Playstations. So, these are minds and bodies that work like machines; the same kind of coordination. They don't have much time to be statesmen. They can be statesmen, they can endorse good ideas and good things.
Before I go away, I should tell you something. India had the most decent cricketers in the world. We had such decent cricketers that, as I said earlier, Bedi, Prasanna — they would applaud the opposition batsman if he hit a good cover drive on their bowling.
Some facts for you: Between 1932, when we started playing Test cricket, to 1967, in 35 years we played 100 Test matches, we only won 10 of those. That compares exactly with Bangladesh's record today. Then we became a little bit tougher, and a few more working class people came into our team.
In the next stage, out of the 233 matches, we won 71 matches. Earlier, in first phase, the winning record was 10 percent, in the next 25 years, it became 21.8 percent. And then what happened? And this is now really coming into the post-Kapil phase in a way. And really the big spike comes when 'bad boy' Ganguly comes in. The 21.8 winning percent has now come to nearly 45 percent. If anything, it's just a little below Australia.
A team of nice guys, statesmen that won only 10 percent Test matches is now today winning 45 percent Test matches. It is number 1 in the world for quite some time, and for the second time in Test cricket. So what would you rather have? Would you have a team of nine statesmen and two performers which is number seven or eight in the world, or would you have a team of a few nasty cricketers who will call Steve Smith a cheat when he is caught in his "brain fade" instead of swallowing it like Bishan Singh Bedi swallowed John Lever's ball tampering incident in Delhi?
This is the changed nature of sport. You like it or you don't like it. You are free to watch or not watch, or support what team you want. But please do not expect your competitive sportsmen to keep winning and at the same time be good boys. Because remember what I said earlier: You are not looking for a son or a son-in-law, or a brother or a brother-in-law. You are looking at a winning Indian sportsperson.
Remember the kind of aggression you have seen from Sania Mirza, Leander Paes. They have both achieved way more than their more talented predecessors. Leander Paes achieved more in Davis Cup than his predecessors. Why? Because when they went out to play for India, you can call them parochial, you can call them nationalist, they played for the flag.
So learning to play for the flag, or the logo, is also part of competitive sport, and then you very often cease to be statesmen or nice guys.
(This article has been updated to reflect that Kepler Wessels had attacked Kapil Dev's shin, not chin. The error is regretted.)
Transcribed by Achyut Mishra and Ajinkya Mujumdar.
For ThePrint's smart analysis of how the rest of the media is doing its job, no holds barred, go to PluggedIn