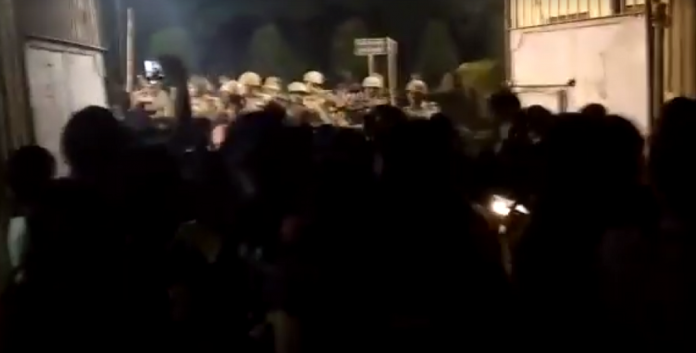 Text Size:
Women students from BHU describe how they were ruthlessly 'trampled and shoved' during the 23 September protest, where the police lathi-charged them.
The Banaras Hindu University administration is today a bundle of contradictions, losing credibility in a way that even those whom it points to for obtaining more "objective versions" of what transpired in the past few days are flatly denying the official line.
In this case, the standard line from the administration is that this protest was fuelled by "outsiders" and those lathicharged were not BHU students. Ask the students and they cry foul, many women students go on record to describe how they were ruthlessly "trampled and shoved".
But when ThePrint contacted the BHU spokesperson Rajesh Singh, he not only contested the narrative but said, "You are talking to the wrong people. These are outsiders. I will give you the number of a woman student…please speak to her. She will tell you the real story."
Ekta, the name handed out by the spokesperson, is a law student at BHU who claims to have been involved in the protests since 22 September and was locked inside Triveni Hostel on the night of lathicharge.
Far from seconding the BHU spokesperson's claims, Ekta said while there may have been outsiders, "Most of the students lathicharged were from BHU".
She then went on to add: "Our movement was a peaceful protest and we had managed to put pressure on the university officials. Then outsiders also came and joined the protesters from BHU, shouting slogans of 'Lal Salaam, Zindabad', etc, but none of this would ever have been an issue had the administration just listened to our demands in the first place."
While siding with the administration's allegations of "outsider influence" she cited video evidence being circulated online as proof of who the actual victims of the attack were.
खुद देखे और समझे… लड़कियों पर भी लाठी बरसायी जा रही हैं —————————- काशी हिन्दू विश्वविद्यालय के कुलपति गिरीश चंद्र त्रिपाठी के समय का काला अध्याय,देख कर लग रहा है कि लोकतंत्र की बलि चढ़ा दिए हैं कितनी क्रूरता से लड़कियों पर धड़ाधड़ लाठी बरसायी जा रही है।#bhuआभार – ओमकार नाथ भैया

Posted by Insight Facts – BHU on Saturday, 23 September 2017
"Where is their evidence? How did (they) even manage to give the orders to lathi-charge? And before taking action this way, why did the police not ask for identification proof first? It was our own BHU students who were beaten up," she said, refuting the version of the spokesperson who told ThePrint to contact her.
The protests were triggered after a first-year student was allegedly groped by three men on a bike while walking from her department's classes to her hostel at 6pm on 21 September. The incident allegedly took place despite the presence of the university security guards. The victim is said to have received no redressal from the proctorial office.
Aishwarya, a student who had been closely involved in organising the agitation, said that the victim was told, "These things keep happening (here), why were you out at 6pm when you know it gets dark by then?"
News of this sexual assault, which occurred a day before Prime Minister Narendra Modi's visit to Varanasi, prompted the wardens and proctor to impose a 6pm deadline for women leaving the hostel.
A small group of students decided to stage a protest against this order at the Lanka Gate on the campus.
"All that we wanted was for the VC to come and talk to us. Our VC had put his own conditions, saying that our protest had male students and he wanted to address us separately. On the 23rd, he declared that he would address us at Triveni Women's Hostel at 8 pm. But after anticipating his arrival until 8.45pm, we discovered they had locked us inside. As we gathered to force the gates open, we saw that the VC was outside. He said he would not address us claiming that 'You are a mob, raising slogans against me' and alleged that we were threatening him despite the fact that he was the one with police protection, and cars," she told ThePrint, adding that the VC then decided to address students at the Mahaila Mahavidyalaya (MMV) women's hostel.
"But students at MMV hostel were similarly made to wait for quite some time, and had their hostel gates locked after which they gathered together to force it open aided by protesters from the outside the gate. As soon as the gates got opened, policemen came and started lathicharging the protesters at MMV women's hostel. People in the men's hostel allege that tear-gas was also used against them."
Get the PrintEssential to make sense of the day's key developments