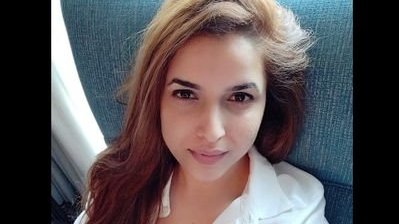 Text Size:
Pre-Truth — snappy, witty and significant snippets from the world of politics and government.
Zainab Sikander defends Rahul Gandhi, chides PM Modi

With Congress spokespersons staying away from Times Now and Republic TV — the two channels the party believes are the ruling BJP's porte parole — some "political observers" are making hay. They are appearing on these channels and attacking the BJP and its governments at the Centre and in the states, giving the impression of being Congress spokespersons. One such individual is Zainab Sikander, who describes herself as a writer, explorer, observer, poetry junkie and aspiring farmer in her Twitter profile. Like a Congress loyalist, she regularly retweets what is posted by senior party leaders.
Reacting sharply to Prime Minister Narendra Modi's dig at Congress president Rahul Gandhi for the latter's gaffe — referring to Congress leader Kumbharam Arya as Kumbhakaran — she tweeted Thursday: "Says the man who said weed energy & Maut mein Mutthi.Narendra Modi has also made a no. of gaffes like calling Trophy 'Toffee' & calling Gandhi ji 'Mohanlal' instead of Mohandas. Gaffes are made by everyone. Stop behaving like 5 yr olds. Act like a PM, not a karyakarta scoring points." The Congress maintains that it has nothing to do with Sikander. But the party doesn't seem to mind it either.
---
For once, Amit Shah trashes the idea of President's Rule
BJP president Amit Shah was at his oratorical best at a press conference at the party headquarters Friday when he launched a scathing attack on the Mamata Banerjee government in West Bengal for what he said was creating hurdles to his proposed 'Rath Yatra' in Cooch Behar. Asked whether the BJP would cooperate with the Left parties, which have also accused the Trinamool Congress government of targeting political rivals, he said, "If there is a horse, everybody will call it a horse only, not a donkey." To another query if he would favour the imposition of President's Rule given the instances of alleged lawlessness he was citing in West Bengal, he said, "Rashtrapati shahsan tab dale jaate hain jab jeetne ka dam nahin ho (President's Rule is imposed when one has no capacity to win). I am confident the people will bring parivartan (change) here." His remarks brought smiles in the audience as it was seen as a Freudian slip by the president of a party that has been under attack from its political rivals for the imposition of President's Rule in many states such as Arunachal Pradesh and Uttarakhand.
---
Now, 'NaMo' merchandise available on Amazon, Flipkart
The decision to sell 'NaMo' merchandise on Prime Minister Narendra Modi's official app clearly seems to be working for the PM and his team, who have sensed there are enough enthusiastic buyers out there. Besides the phone covers, pens, mugs and T-shirts already on offer, it has now been decided to also add 'Modi masks' to the list. The masks will not be the usual paper or plastic ones seen at political rallies, but will be made of high-quality rubber. But this is not all. So far, the merchandise was available for sale only on the NaMo app, but will now also be found on shopping portals such as Amazon, Paytm, Flipkart and Snapdeal as well. Clearly, the PM doesn't believe in expanding his presence just electorally and politically, but also in other spheres.
---
Also read: Just like UP and Gujarat, Narendra Modi gives last-minute push to Rajasthan campaign
---
Retirement parties keep Justice Kurian Joseph busy
It's been more than a week since Supreme Court judge Kurian Joseph officially retired. But there has been no end to his retirement parties. The official farewell by the Supreme Court Bar Association was quickly followed by another hosted by a group of Malayali lawyers. A day later, the judge invited journalists to his official residence. Since it also coincided with his 65th birthday, the casual chat ended with a cake. In the same week, he also appeared on several news channels and gave over a dozen interviews, which is quite unusual for a judge. On Thursday, another private event was hosted for the judge in Kerala House and it was attended by Union minister K. Alphonse. Senior advocate Indira Jaising is hosting the judge at another event Friday where the who's who of the legal fraternity is expected to be in attendance. Joseph has announced that he will be in Delhi for the next five years and take up commercial arbitration and mediation. Lawyers seem to be queuing up to ensure they remain in his good books.
---
When Sharad Pawar chose to travel in granddaughter's car
Usually important political personalities are always surrounded by their party workers and senior leaders, and drive away in chauffeur-driven cars. That's why Nationalist Congress Party (NCP) chief Sharad Pawar's exit from his party's Mumbai office Friday was a tad bit special. When he stepped out, there was a Honda City waiting for him with not a chauffeur, but his granddaughter at the wheel. Revati, MP Supriya Sule's daughter and Pawar's granddaughter, insisted that her grandfather travel with her instead of in his usual car. Without any protests, Pawar opened the pillion door and got in next to Revati while not just mediapersons, but even party workers tried to capture this rare moment on their cameras.
---
Also read: UP BJP boasts that Yogi Adityanath is next only to Amit Shah
---
Saravjeet incurs woman judge's wrath over 'sexist' remark
A lower court woman judge hearing the Saravjeet Singh-Jasleen Kaur case was vexed after Jasleen's lawyer brought to her notice a sexist comment that Singh had made about her on his Facebook wall. "May be judge on leave, pregnancy chal rahi hai. Kash male judge Hota toh pregnant na Hota :P" — Saravjeet had said this while the judge was on maternity leave. The remark not only went against Singh as the judge asked her assistant to put the same on record but he also had to incur her wrath. "If this is your problem, then why don't you approach the high court and tell them to not appoint female judges in lower courts," the judge told Saravjeet.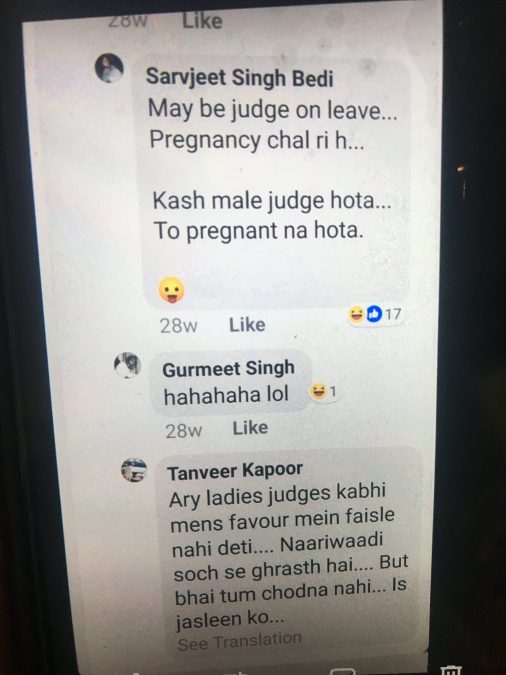 The case had captured the nation's imagination in August 2015, when Jasleen, in a Facebook post, accused Saravjeet of verbally harassing her at the Tilak Nagar traffic signal in west Delhi. Arguments in the case are yet to begin as Jasleen had not attended even a single hearing. She, however, turned up for the 14th hearing, three years later and got her statement recorded in court.
---
Maneka thanks media for making WCD a 'relevant & vibrant' ministry
Woman and Child Development Minister Maneka Gandhi Friday hosted a final lunch for journalists before the Lok Sabha elections next year, during which she thanked the reporters for making WCD — a traditionally low-profile ministry — vibrant and relevant. This, she said, was her most significant achievement in the past five years. The ministry had a zero tolerance policy on the issue of sexual harassment, in particular, and laid the foundation of the #MeToo movement in the country. The minister is, however, concerned about sexual harassment laws going down the road of the anti-dowry law — with a sexual harassment complaints being seen as a solution to every transfer, every unpleasant exchange between a male boss and a female subordinate.
(Contributors: D.K. Singh, Ruhi Tewari, Apurva Vishwanath, Manasi Phadke, Ananya Bhardwaj and Sanya Dhingra)
Get the PrintEssential to make sense of the day's key developments