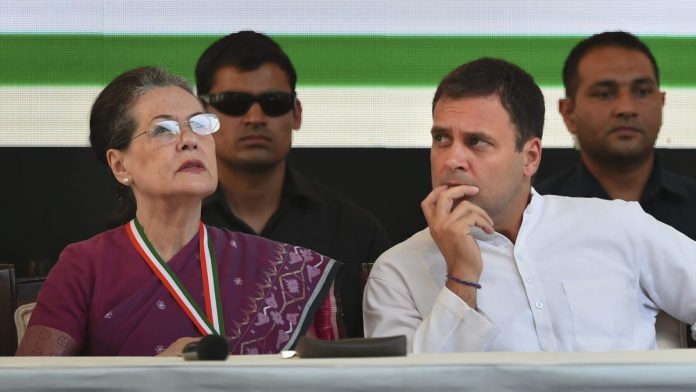 Text Size:
Congress surveys peg big poll gains, but party would rather not discuss them
The Congress is expecting big gains in this Lok Sabha election. Its internal surveys, claim party leaders, predict up to 150 seats for the party, five more than what it got in 2004 to dislodge the Atal Bihari Vajpayee-led Bharatiya Janata Party (BJP) government.
It's also over three times the 44 seats the opposition party got in 2014. Congress leaders would, however, only share details of their "conservative estimates", which put the tally at 101.
According to this estimate, the party is predicted to win two of Uttar Pradesh's 80 seats, 14 of Kerala's 20, 10 each in Karnataka [28], Rajasthan [25], Madhya Pradesh [29], Maharashtra [48] and Punjab [13], seven in Chhattisgarh [11], and five each in Gujarat [26], Jharkhand [14] and Tamil Nadu [39].
The party's so-called conservative figures in other states include three in Bihar [40], four in Assam [14], two in Haryana [10], and one each in West Bengal [42], Goa [two], Meghalaya [two], and Puducherry [one].
Congress leaders maintain that 101 seats are "the minimum" they are expecting and the tally, they hope, will go much higher on 23 May, when the election results are out.
---
Also read: KCR floats his 'federal front' again, is even willing to sail with Congress now
---
In Urban Affairs Ministry, civil servants set for NDA-II
The opposition party may be predicting a near-repeat of its 2004 performance, but civil servants in Delhi seem to be expecting the NDA to get a renewed mandate.
D.S. Mishra, secretary, Ministry of Housing and Urban Affairs, suggested as much at a recent meeting of senior officials.
Mishra directed them to plan for the next round of new urban renewal programmes only after going through what has been proposed in the BJP's 2019 manifesto. This, he said, will help ensure that the ministry's proposals are in sync with what the ruling party has in mind for the urban sector.
Vote for AAP-Congress alliance even if didn't come through
A WhatsApp message being circulated in Delhi states that even if the Aam Aadmi Party (AAP) and the Congress couldn't agree on a 4:3 seat-sharing arrangement in the national capital, "why can't the voters not reach that formula?" Giving a break-up, it says 43 per cent of voters are Muslims, Christians, Sikhs, Dalits and South Indians — all of whom are purportedly anti-BJP.
"Besides this, the progressive sections in the society who do not agree to Modi's decisive [sic] ideology can also come together. As a bloc, you can defeat the BJP in all seven seats in Delhi," reads the message.
Then it recommends the parties the recipients of this message should vote for — the Congress in Chandni Chowk, New Delhi and North-East Delhi, and the AAP in the remaining four seats. It exhorts the recipients to forward it widely — an appeal that some AAP leaders have taken quite seriously.
Why PM Modi's day-long break was cancelled 
A bit of respite was squeezed into Prime Minister Narendra Modi's packed campaign schedule, with Saturday kept as a day free of rallies. However, perhaps realising that even a one break day in this high-stakes election would be a waste, the schedule was suddenly changed Thursday noon and two public meetings have now been scheduled for Saturday as well — at Robertsganj and Ghazipur in Uttar Pradesh.
BJP leader and Minister of State (Independent Charge) Manoj Sinha is seeking re-election from Ghazipur, and is up against a united opposition in the form of a joint SP-BSP candidate, Afzal Ansari.
In 30 years, no incumbent has been re-elected in this constituency. Modi's last-minute decision to hold a rally here is being seen as an attempt to give one final push to Sinha's re-election bid.
---
Also read: Tamasha TV for a tamasha PM: How Indian media covered Modi this election
---
Mumbai lawyer's strange request to CJI Gogoi
There are days when the drama in the courtrooms is at its best. On Thursday, a Mumbai-based lawyer who mentioned a matter before a bench of Chief Justice of India Ranjan Gogoi made a peculiar request.
He asked the bench to record exactly which "Sanjay Parekh" made the mentioning. When the court asked why, the lawyer replied, "There are two Sanjay Parekhs in Mumbai".
Amused, the CJI asked how the lawyer knew there were only two. Last time, the lawyer said, a notice "went to another Sanjay Parekh and not me".
"So, which Sanjay Parekh are you?" the top judge asked. "I am the Fort Mumbai one, My Lord," the lawyer replied. The CJI then said: "Why don't you also give us his photograph? We will put it along with our order."
(Contributors: Neelam Pandey, Moushumi Das Gupta, Ruhi Tewari and Ritika Jain)
Get the PrintEssential to make sense of the day's key developments