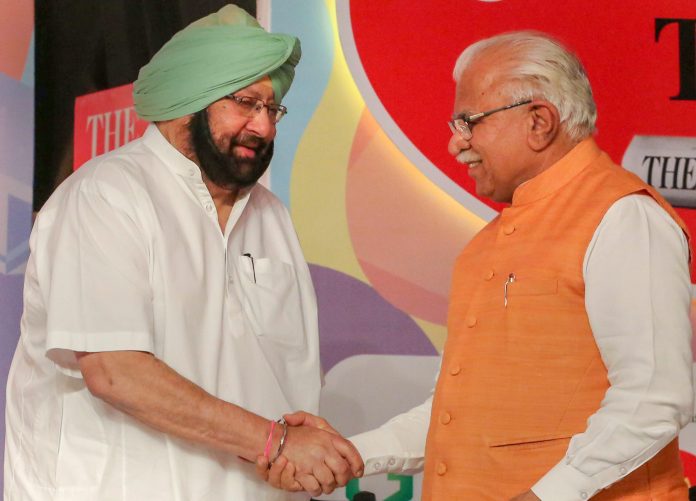 Text Size:
Amarinder Singh also rejected Khattar's proposal to create 'Tri-city Planning Board' for development of Chandigarh, Mohali and Panchkula.
Chandigarh: A fresh and unexpected war of words has erupted between Punjab chief minister Capt. Amarinder Singh and his Haryana counterpart Manohar Lal Khattar over claiming Chandigarh as the capital of their respective states.
The two CMs were together during a panel discussion on holistic development of Chandigarh Tuesday evening. Punjab governor and Chandigarh's administrator V.P. Singh Badnore was also present.
Speaking first, Amarinder Singh said Punjab had a historical right over Chandigarh. "Various accords in the past had given Chandigarh to Punjab but they were not implemented," he said.
"Haryana being a new state, it should be assisted to set up its own capital, and Chandigarh, being the capital of Punjab, should be given to Punjab," he added.
Water war?
The two leaders also hardened their stance on sharing of river waters.
Singh said territorial and water issues between Punjab and Haryana would have to be addressed before other matters could be taken up. He said Punjab's groundwater levels were fast depleting and claimed Haryana had more water despite having only 40 per cent of the total land of the two states.
Singh and Khattar also locked horns over the creation of a 'Tricity Planning Board' for the development of Chandigarh and its satellite towns — Mohali (in Punjab) and Panchkula (in Haryana). Khattar insisted that such a board be created but Amarinder Singh rejected his proposal outright.
He rejected Khattar's proposal to create a statutorily empowered board for the homogeneous development of the tri-city.
Khattar had Monday written to the union home minister Rajnath Singh stressing the need for such a board. However, Amarinder Singh said "there was no question" of agreeing to Khattar's proposal as all coordination issues of tri-city's development were already being taken care of.
Shocked Khattar recovers quickly
Taken aback by the frontal attack launched by the Punjab CM, Khattar admitted that he was not prepared for the onslaught. He, however, went on to rebut every charge made by Singh.
Though in his communication to Rajnath Singh, Khattar had referred to Chandigarh as the "joint capital of Haryana and Punjab", he reiterated Haryana's claim on Chandigarh following Amarinder Singh's declaration.
"Punjab can make 'New Chandigarh' its capital, leave Chandigarh to Haryana, and co-operate in solving the waters issue by sitting across the table," he said.
"Punjab should not make it a prestige issue. I did not want to refer to the waters issue on this platform as the development of tri-city was the main focus of today's panel discussion but the remarks made by Capt. Amarinder Singh, have forced me to make a comment on this", Khattar said.
Describing Punjab as Haryana's elder brother, Khattar said Haryana faced a more serious water crisis compared to Punjab. More area under the dark zone falls in Haryana than in Punjab, and, at some places, the groundwater level has gone down to 1,500 feet.
He suggested that an advisory council comprising people from Panchkula, Chandigarh and Mohali be constituted to give suggestions for the development of the tri-city.
No consensus
The two chief ministers disagreed on other issues as well. On the suggestion that revenue of Chandigarh be shared between Punjab and Haryana in 60:40 ratio, Khattar said it would not be inappropriate as citizens of Chandigarh had the first right on it.
On the issue of granting central university status to Punjab University in Chandigarh, Khattar said Haryana had made a request to be a partner in the university.
He said civic bodies of the three cities could take up issues of common interest such as waste management and metro connectivity, and also share the cost of such projects. Amarinder Singh made it clear that Punjab would not give up any more of its resources to Haryana.
Both complained to Badnore
As Singh and Khattar quibbled over various issues, Bandore sitting between the two chief ministers said he and his city were sandwiched between the two.
Singh said Chandigarh was eroding 60 per cent of Punjab's share in the administration. Responding to his concern, Badnore offered to order an audit of the employees in Chandigarh to ensure that the 60:40 ratio between Punjab and Haryana is maintained.
Khattar also wanted proper connectivity between Panchkula and Chandigarh.
Read Global Pulse for a sampler of the big international stories, and why they matter.