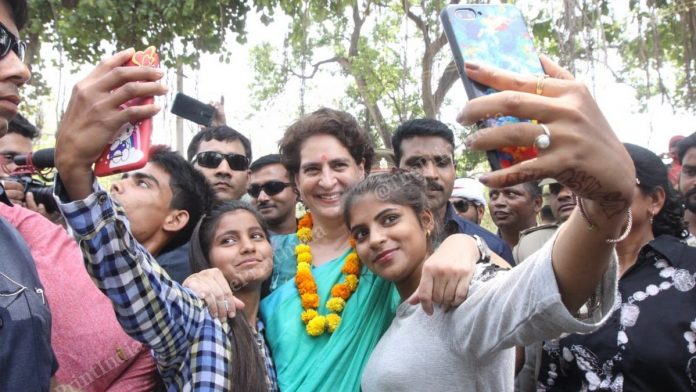 Text Size:
Amethi: Priyanka Gandhi Vadra, the Congress general secretary in-charge of eastern Uttar Pradesh, has denied the charge that her party will eat into the votes of the Samajwadi Party and Bahujan Samaj Party, or that it has a tacit understanding with the alliance, which it was kept out of.
In an exclusive interview to ThePrint at Chatto village in Amethi, Priyanka said the Congress was confident of winning seats where it had fielded strong candidates in UP.
"There is no tacit understanding (with the alliance), I have absolutely not said that. It is an absolutely wrong statement. I have never said that. I want to be extremely clear — I was asked what our strategy is. My clear answer to this was that we are fighting to win. Where our candidates are in a strong fighting position, our candidates are winning," she said.
She also claimed that Congress candidates will only cut BJP votes and not that of the alliance.
"The interviewer said 'your candidates are cutting the alliance vote'. I said please point three places in eastern UP where my candidates are cutting the alliance vote, because there is no such place. My answer to him was exactly this. Very specifically, I said where my candidate is not in a strong position to be in the fight, he is cutting the BJP vote, he is not cutting the alliance vote," Priyanka said.
Rebutting Modi's terror claim
Questioning the track record of the Narendra Modi government on terror attacks, Priyanka said the prime minister is "grossly misinformed" when he claims that there has been no terror attack in the last five years.
PM Modi said at a rally near Ayodhya Wednesday that under his government, there has been no terror attack in the country.
On nationalism and Balakot
Priyanka expressed concern that the Modi government was stifling the voices of the people who didn't agree with it, and maintained that her nationalism is different from that of the BJP, as it means working for the people.
Asked specifically if the Balakot air strikes and nationalism were going to impact the elections, she said: "I have said this before too, that nationalism to me is working for the people. It means that you allow, that a government listens to the voice of the people, it does not try to (stifle them)."
Priyanka cited the example of a teacher who was slapped with the National Security Act after she asked for her wages.
"What I have seen in Uttar Pradesh and we have all seen in the country anyone who raises their voice against the government, anyone who asks for their rights, anyone who has a different view, is being squashed," she said.
"I met a teacher against whom the NSA was invoked because just because she asked for her wages. It's ridiculous and obviously very undemocratic. It is very clear they (BJP) are not nationalistic, because the first thing a nationalistic government does is understand that the people are more important than the people who are sitting in government. This, I think, they have completely failed to understand."
---
Also read: 3 months of Congress' Priyanka Gandhi in active politics: Has she lived up to the hype?
---
People's issues and NYAY
Priyanka said the narrative during elections should be about issues that concern the people. "I do believe that during elections we need to talk about issues which concern the people. The concern of the people in UP is the fact that farmers are in debt. The farmers have had a terribly rough time in the last five years. There has been absolutely no support from the government," she said.
The Congress general secretary, who has been visiting brother Rahul Gandhi's constituency Amethi and mother Sonia Gandhi's Rai Bareli to campaign for them, also stressed on the issue of stray cattle.
"They have a huge issue here as stray cattle eat up their fields, and they have to sit here all night guarding their fields. Nothing has been done for them. To add insult to injury, the government has come up with a ridiculous scheme in which they are professing to give them some money just before the elections, which the farmers themselves find offending," Priyanka said.
Asked about the Congress' NYAY scheme, which the BJP claims has failed to find resonance among the voters, she said: "It has a lot of resonance. Wherever I go, people know about it. It has a lot of resonance. It is a very important scheme because what it will do is that it will help poor people, people who are below a certain level of poverty to at least stand up on their own feet."
Bridging the North-South divide
The BJP has also hit out at Rahul Gandhi's decision to contest from two constituencies, claiming he is scared of losing Amethi.
"That is absolutely ridiculous. The reason he is contesting from Wayanad is that there was demand from the people of south India, workers of the south, and he felt it would be incorrect to not accede to this demand, because he felt they wanted representation," Priyanka said.
"I think I read it recently that he said he felt for the first time that a north-south divide had been created in the country, and this was a good way to deal with it. People of Amethi love us, you can see and ask them."
On Congress' 'target 130'
Madhya Pradesh Chief Minister Kamal Nath recently said that the Congress will get over 130 seats in the Lok Sabha. Asked about this, Priyanka smiled and said: "I am not an astrologer and not am I a psephologist. I understand the mood of the people. I meet people every day and I am seeing is there's a lot of anger and a lot of suffering. And my understanding of this anger and suffering is that it is going to convert into a strong vote against the BJP."
---
Also read: Why Priyanka Gandhi can be BJP's best friend in 2019 Lok Sabha elections
---
Get the PrintEssential to make sense of the day's key developments