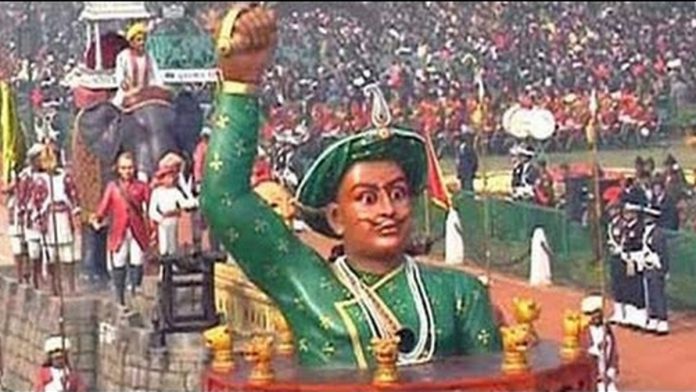 Text Size:
Tipu Jayanti, celebrated officially by the Karnataka government since 2015, has emerged as a flashpoint over Tipu Sultan's legacy of persecution.
Bengaluru: Karnataka once again finds itself on edge ahead of the state government's plans to celebrate Tipu Jayanti on 10 November.
The Bharatiya Janata Party (BJP), which describes its opposition to Tipu Jayanti as "logical and principled", has vowed to organise peaceful protests in all the state's districts to ensure voters understand the "double standards" of the Congress and the Janata Dal (Secular).
Meanwhile, a radical outfit called the Hindu Janajagruti Samiti (HJS) — which withdrew its petition in the high court Friday — has asked the government to stop the celebrations, warning of protests otherwise.
Tipu Jayanti is the birth anniversary of Tipu Sultan, the 18th-century Muslim king of the Mysore region.
In 2015, the Congress-led administration decided to observe the day with state-sponsored celebrations — an initiative that immediately became a flashpoint over Tipu Sultan's persecution of Hindu and Christian subjects of conquered areas.
The main argument of the Congress has been that Tipu Sultan was a secular leader and freedom fighter, while the BJP has labeled him a murderous bigot.
Chief Minister H.D. Kumaraswamy of the Janata Dal (Secular), the Congress' ally in the current state government and the third major player in Karnataka politics, has vowed to go ahead with the celebrations this year.
"If the BJP doesn't like Tipu Jayanti celebrations, let them not participate," he said.
Historians, meanwhile, have largely suggested that it isn't a good idea for democratic governments to celebrate a monarch.
---
Also read: BJP has several Yogi Adityanath wannabes in Karnataka & Telangana
---
'Vote-bank politics'
"From the day it was made official, our party has opposed it (Tipu Jayanti celebrations) and we have protested across the state," said Pratap Simha, the BJP MP from Mysuru.
"The Congress and the JD(S) are using this as a tool purely to play vote-bank politics," he added. "I asked (former chief minister) Siddaramaiah when he took the decision to celebrate Tipu Jayanti, did he not remember how Tipu and his father Hyder Ali stopped Dasara celebrations in Mysore between 1761 and 1799?"
"Tipu means bad omen… We vehemently oppose this move," said state BJP spokesperson S. Prakash, before listing several instances where the "Tipu curse" had caused people to fall on hard times.
"Whoever has associated himself with Tipu, only bad luck has befallen them," he said, "Look at Vijay Mallya — he bought Tipu's sword and today he is running for his life. Sanjay Khan made a tele-serial on Tipu Sultan, and today he has lost all his financial stability. Siddaramaiah declared that Tipu Jayanti will be celebrated in the state, he lost miserably in the assembly elections."
In the May assembly elections this year, the former chief minister lost his stronghold Chamundeshwari, even though he did win a seat in the House from Badami.
---
Also read: BJP launches Op Kamala 3.0 to topple Karnataka's JD(S)-Congress govt
---
'Freedom fighter'
When it sanctioned state celebrations for Tipu Jayanti three years ago, the then Congress government said Tipu Sultan was a "freedom fighter" who not only fought against the British but also brought development to Mysore and surrounding regions.
"Tipu is known as the first rocket man of our country," historian Sheikh Ali said. "He invented missiles and modernised systems of warfare that were very advanced for that age. It's important to understand how Tipu contributed in a big way towards the development of Mysore as well as the country."
However, the BJP wasn't always so opposed to Tipu Sultan. Former chief minister Jagdish Shettar, in fact, wrote a letter praising the work of historian Ali, who authored a book titled Tipu Sultan – A Crusader for Change detailing the king's heroic acts against the British, his scientific and administrative achievements and his annexations.
"So, why is the BJP making the Tiger of Mysore (as Tipu was referred to) more of a predator and less of a freedom fighter?" asked a senior Congress leader about the party's protest.
The BJP, meanwhile, insists that its opposition to Tipu Jayanti was a local issue, which they did not plan to raise during the Lok Sabha elections.
"We will fight our political battle based on development," MP Simha said. "Tipu Jayanti is a non-issue… We have doubled the length of national highways, we are working on a 10-lane Bangalore-Mysuru highway worth Rs 7,000 crore, we are building a new world-class airport and train station in Mysuru," Simha added.
"This is Modiji's vision and we are doing it  without the state government's help. We will go to the people with our development card and not with such divisive issues."
Check out My543, our comprehensive report card of all Lok Sabha MPs.