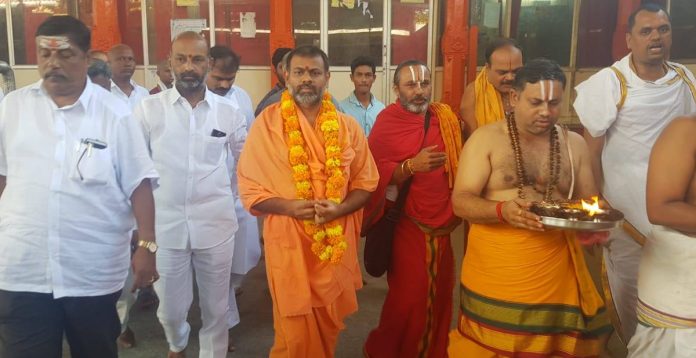 Text Size:
A number of influential Hindu seers have sought tickets for the 2019 Lok Sabha polls and sent feelers to the BJP.
Bengaluru: A number of influential Hindu seers in Karnataka and Telangana are aspiring to follow the Yogi Adityanath route to enter politics.
They are keen to contest the 2019 Lok Sabha elections and have already sent feelers to the BJP. And the party is keen on taking them on board, ThePrint has learnt.
The Madiga factor
One such case is that of the Madara Chennaiah Swami of the Sri Shiva Sharana Madara Guru Peetha in central Karnataka's Chitradurga district. Sources in the state BJP unit said that the party's central leadership is considering fielding him as a candidate in the 2019 Parliamentary elections.
The seer too has made no bones of his leanings towards the RSS and the BJP. During the May 2018 Karnataka assembly elections, BJP president Amit Shah visited the Chitradurga mutt and held talks with the spiritual leader.
The Madara Chennaiah Swami is a young and respected leader of the Dalit Madiga community. The Madigas play a significant role in about 20 Lok Sabha seats spread across the central Karnataka districts of Ballari, Chitradurga, Shivamogga, Davangere and the northern districts of Raichur, Bijapur, Belagavi and Bidar.
---
Also read: BJP launches Op Kamala 3.0 to topple Karnataka's JD(S)-Congress govt
---
"Though the swamiji has not openly come out and said that he will contest elections, it is but natural for all of us to think that he will step in as a candidate when the time is right," said Suresh Kumar, a follower of the mutt.
Madara Chennaiah Swami told ThePrint that as of now, no formal talks have been held. "When they (BJP) approach me, I will seek the opinion of all my devotees and then take a call," he said.
The strategy of the Karnataka BJP has been very clear. A move such as this will help it consolidate its votes among the Madigas. The party had successfully made inroads into the community during the 2008 assembly elections when it came to power in Karnataka.
The 'love jihad' seer
Another seer who has openly expressed a desire to dabble in politics is Rajashekarananda Swami of the Vajradehi Mutt at Gurupura near Mangaluru in coastal Karnataka. He is popularly referred to as the 'Love Jihad Swami' as he had set up a special task force to fight "love jihad' in the communally sensitive Dakshina Kannada district.
The seer claims that he had been contacted by the BJP even during the assembly elections earlier this year.
"I am interested in contesting. There was a proposal to give me a ticket during the assembly elections but then the BJP decided that it will not be able to give any to seers," Rajashekarananda Swami told ThePrint. "They had asked me to wait and now they have begun negotiations with me for the MP elections. My name has been proposed again. We are yet to come to a final decision".
Asked if he was inspired by Uttar Pradesh chief minister Yogi Adityanath, he said: "I definitely feel that I can reach his position, but it would require a lot of work and dedication that I will strive for".
---
Also read: What we're seeing under Narendra Modi is Hindutva 2.0
---
Telangana's political pontiff
Swami Paripoornananda of the Shree Peetham Mutt in Telangana's Kakinada district is another seer who admires the Uttar Pradesh chief minister.
"Saints have to play a role in shaping this country as they are dedicated to bringing dharmic values to society. Dharma is not merely religious from my point of view, it is a value that sustains society," said Swami Paripoornananda. "It is time for saints to take the initiative and establish dharma properly".
According to the religious leader, the BJP has been deliberating about giving him a ticket and talks have reached the party high-command level.
Known for his strong comments against those who oppose Hindutva, he is also known to have said that he hates those who are not ready to say 'Bharat Mata Ki Jai'. The seer is hopeful that the BJP will soon induct him into its fold.
On its part, the Karnataka BJP remained non-committal on specific seers joining the party. Its spokesperson Vaman Acharya, however, said that the party is open to people from all walks of life and that includes religious leaders.
"We are not focusing specifically on sanyasis. If they come our way, we would have no problem," Acharya said. "But we do not oppose or vehemently support them. Politics is a job everybody can do, even beyond religious responsibilities. If they (seers) can work, they are welcome as we live in a democracy".
Get the PrintEssential to make sense of the day's key developments