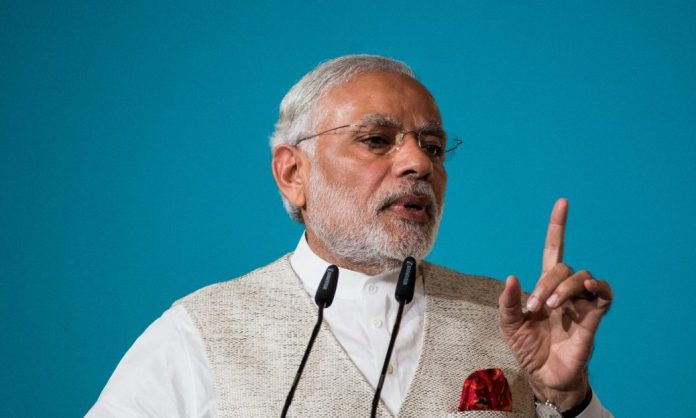 Text Size:
These states are key to Modi's reelection bid in 2019, and the prospects of the Congress party.
New Delhi: Indian assets were volatile, with the initial steep losses narrowing as investors braced for a tight finish in the key Madhya Pradesh state for the ruling Bharatiya Janata Party.
The rupee weakened as much as 1.6 percent and bond yields jumped in the first few hours of trading as investors reacted to the shock exit of the central bank Governor Urjit Patel, who quit Monday hours after equities closed their worst session in two months.
The main opposition Congress party is leading in Rajasthan and Chhattisgarh states, while being locked in a close race with the BJP in Madhya Pradesh. The states are key to Modi's reelection bid in 2019, and the prospects of the Congress party.
Patel's shock exit dealt investors another bout of monetary policy uncertainty when they were already bracing for an electoral test of the ruling party. An adverse result may force Modi to increase populist spending before next year's general elections, undermining the government's aim to stick to its fiscal deficit aim of 3.3 percent of GDP.
"Governor Patel's sudden exit intensifies market uncertainty and is negative for the Indian rupee," Prakash Sakpal, an economist at ING Groep NV wrote in note. "The next central bank chief will be under intense pressure from the government to concede to the latter's demands for more growth-friendly policies ahead of general elections in early 2019."
The currency weakened 0.8 percent against the dollar at 12:36 p.m. in Mumbai, poised for the steepest two-day drop since August. Benchmark yields were steady at 7.58 percent and the S&P BSE Sensex gauge of stocks dropped 0.1 percent, narrowing an intraday decline of 1.5 percent.
Mood Change
Investor confidence in Indian assets had only recently bounced back, helped by a slide in oil prices and a dovish tone from the Federal Reserve. November saw the best rupee gains in nearly seven years, while local stocks saw their best month since July. Foreigners bought a net $868 million of shares in November after three months of selling, and plowed $889 million into local bonds, after avoiding the debt for most of the year.
Indian stocks "will have to discount the RBI governor resignation today," said Sanjay Sinha, founder of Mumbai-based Citrus Advisors. If the BJP loses all the three key states, it will be "a shocker" as Monday's decline had factored in the party losing only two states, he said.
State-owned lenders were seen selling dollars to support the rupee, likely on behalf of the central bank, Mumbai-based traders said.
Here's what other strategists are saying:
Prabhudas Lilladher (Ajay Bodke, chief executive)
Equities had priced a defeat in all three states for BJP in their decline on Monday, and there's a possibility of a rebound if the party is able to hold at least one state. While people vote on different issues in state and national elections, one can't dismiss the results and it needs to be seen how the BJP interprets the outcome and what steps it takes to address the concerns. Investors should brace themselves for a choppy ride in the next six to nine months; they should use declines to build a portfolio of stocks that are leaders in their respective businesses.
Mizuho Bank (Masakatsu Fukaya, emerging-market currency trader)
The market is speculating that the reason behind RBI Governor Patel's resignation is due to some friction with the government and that threatens the independence of the central bank, which is negative for the rupee The RBI is probably intervening in the market, but typically, they don't intervene strongly to change the direction of the move
Nomura (Vivek Rajpal, rates strategist)
Governor Patel's resignation adds uncertainty to markets and hence will be treated negatively by the bond markets Believe it doesn't change the monetary policy dynamics, but could introduce some term premium into rates market. – Bloomberg 
Get the PrintEssential to make sense of the day's key developments