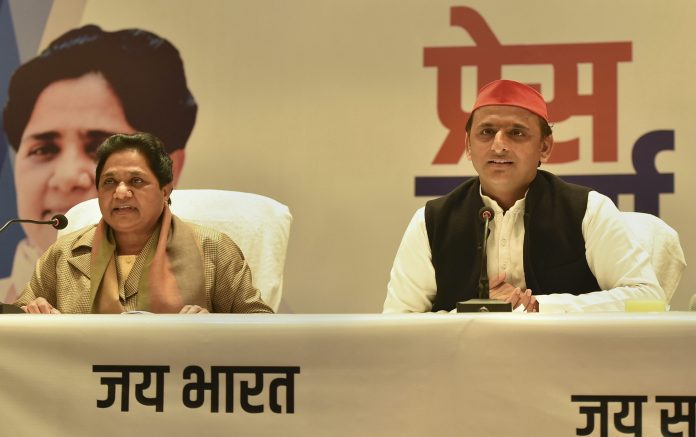 Text Size:
Jaunpur: There was a murder that took place in Usrauli village, in 2012, soon after Akhilesh Yadav became Uttar Pradesh chief minister. A Yadav had kidnapped a Dalit over some dispute. The Dalits went and murdered the Yadav.
The incident was reflective of how Yadavs felt empowered to take the law into their own hands when the Samajwadi Party was in power, but also how UP's Dalits stopped accepting oppression as fait accompli. After having seen their own Bahujan Samaj Party (BSP) in power four times, Dalits in UP became very assertive in just a generation.
We travelled to Usrauli village in Jaunpur district to see if Dalits and Yadavs, with such a history, are voting together. After all, the SP and the BSP have formed an alliance, the 'gathbandhan', this Lok Sabha election. In Jaunpur, the 'gathbandhan' candidate is from the BSP, a retired bureaucrat, Shyam Singh Yadav.
In Usrauli, crops have caught fire in Yadav-owned fields, and Dalits are rushing to help them put it out. Rohit Yadav, 21, a first-time voter, says he's voting for the 'gathbandhan'. His family voted for Narendra Modi in 2014 but since the Yogi Adityanath government came to power two years ago, he has been deeply unhappy. Stray cattle destroy the crops, there are no job prospects in sight, all the things that come with access to power are for upper castes, he alleges.
"We don't have any problem with Modi," he says, "but the Yogi government is against Yadavs".
As for the Yadav youth who was killed, "it happened a long time ago" is what Usrauli's Yadavs tell you. There's no one home in his family, except his widow who starts crying and says she knows nothing about politics. His neighbours, however, say relations between the Yadav and Dalit communities of the village were strained for a year after the incident. "But now we invite each other for our weddings. Relations are fine between us."
The Dalit accused is out on bail, lives a stone's throw away and the case drags on.
Past is past
Yadavs and Dalits in Uttar Pradesh are bonding rather well this election. The word 'gathbandhan' is used as if it was a party by itself. Yadavs have no hesitation voting for the BSP's elephant symbol, and BSP's core voters, Jatav Dalits, have no hesitation voting for the cycle. Ask them about their past rivalry and they say past is past. "Ab to gathbandhan ho gaya na. (But now we have an alliance.)"
Usha, who writes only her first name, is a Dalit activist in Jaunpur. She has been helping Dalits get justice for years. This reporter has known Usha and her group for 12 years now. The group has always given the impression that Dalits always suffer under every government in Uttar Pradesh. What changes is the caste of the oppressor. When the BSP was in power with a Dalit-Brahmin alliance, it was Brahmins who became emboldened against Dalits. In SP years, it was Yadavs. And today it's Thakurs and Brahmins.
But now, Usha says, Yadavs were never oppressors. "Even in SP rule it is the upper castes."
"Historically, people wanted to unite. It is the politicians who came in the way. Mulayam Singh Yadav betrayed Kanshi Ram but Akhilesh is different. He gets it," Usha says.
---
Also read: Congress makes people wait so long they get tired: Akhilesh Yadav on AAP alliance
---
Purification ritual
As we have this discussion in her office, we are soon joined by a neighbour, Phoolchand Yadav, a civil contractor and a Samajwadi Party worker with a 'gamcha' around his neck.
"When Yogi Adityanath became chief minister, he had the CM's residence in Lucknow 'purified' before he entered it. This was because Akhilesh was a Yadav. If we are all Hindu, what was the need for this purification ritual?" he asks.
Yogi also said recently, according to Phoolchand, that had it not been for the Constitution, Akhilesh would have been grazing buffaloes at a landlord's today.
It's another matter that the chief minister was only quoting a past statement by Mayawati, but Phoolchand is clearly hurt by what he sees as a casteist government that is against Yadavs.
Another Dalit activist joins in: "Adityanath did a great job by purifying the house. In one stroke all the Yadavs realised how upper castes see them."
Both Yadavs and Jatavs now jointly worry about the Constitution and reservations, caste discrimination and access to power.
Unlearning upper caste indoctrination
But how can they pretend they weren't at war with each other for a long time?
"We had been indoctrinated by the upper castes against Dalits," says Phoolchand. "But now Yogi has reminded us that we are Shudra after all."
Phoolchand has lost his government contract work to upper castes, he says. The very fact that his business flourished under Samajwadi Party rule, does it not show how SP rule favours Yadavs?
"Look at the records of any police station and you will know," Phoolchand replies.
The police station is the basic unit of politics in Uttar Pradesh. Who gets to go to jail and who stays out depends on which caste group has access to power.
"It is always the upper castes against whom the police refuses to file cases while among the lower castes, even innocent people are found in lock-ups," he says.
Usha, the Dalit activist, agrees. Upper castes can commit crimes against Dalits with impunity because they know the police is with them. She rattles off countless cases in Jaunpur and neighbouring districts.
Shoe on the other foot
Relations between individuals of different castes also change with government. "We always gave respect to upper castes in the village, whether it was SP or BSP that was in power," says Yadav.
Many would contest the claim.
"But today, even if they want to help us, they take us to a government office to get our work done, the government official switches off when he hears we are Yadav or Jatav," Phoolchand says.
Such allegations, real or imagined, are routine in Uttar Pradesh and have often been heard against Yadavs when the Samajwadi Party has been in power. The shoe is now on the other foot.
If Thakurs and Yadavs are as casteist as these Dalit activists and SP's Yadav workers allege, how come non-Yadav OBCs have been with the Bharatiya Janata Party (BJP) so staunchly since 2014?
Another Dalit activist, Uma Shankar, says he has seen the process first hand. "BJP workers and supporters go around telling non-Yadav OBCs the Yadavs have 'SaPa', the Jatavs have 'BaSaPa'. Your own party is BJP."
---
Also read: Dalits vs Hindutva: The story of a 'baraat' in UP reveals what's making BJP sweat
---
A new generation
These Dalit activists are part of a larger network, the Dynamic Action Group, a Dalit rights NGO. Its Lucknow-based chief, Ram Kumar, had been briefly detained by the police in 2017 when he was trying to protest against the government. The protest was to gift the Yogi government a 150-kg soap bar after the chief minister's office had distributed soap and shampoo to Dalits before the chief minister visited them.
Kumar says the BSP-SP 'gathbandhan' is driven not by Akhikesh and Mayawati but by the Dalit and Yadav masses. "It is the people who stood up to their leaders and demanded an alliance," he says. Which is why, he thinks, this time it is not a fragile alliance that could break the way it did in 1995, when SP goons had attacked Mayawati at her guest house.
"Today's backward and Dalit youth are more politically evolved than their previous generation," he says. "The OBC and Dalit youth in UP's universities increasingly talk about forging an alliance to demand their right share of power and resources. They will make sure this alliance lasts long."
Whether it's a new social revolution or just another power-sharing agreement, we should know after 23 May. Will the alliance last if it does poorly, and both parties blame each other? "Both parties will get out of the blame game by blaming EVMs," Kumar predicts.
Get the PrintEssential to make sense of the day's key developments