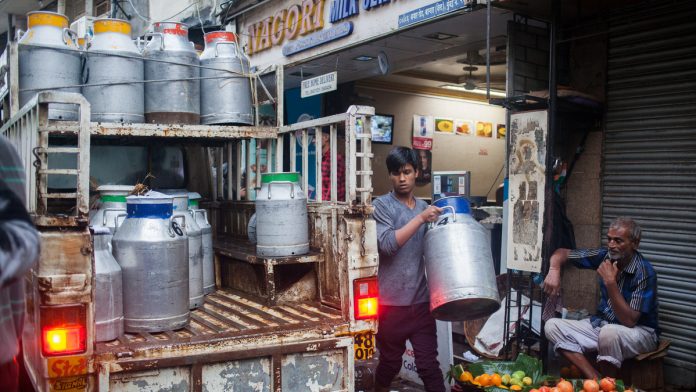 Text Size:
Ahmedabad/Mehsana: Nearly 50 years ago, Gujarat gave India its 'white revolution'. Led by Dr Verghese Kurien, the Gujarat Co-operative Milk Marketing Federation Ltd, which owns the market-leading Amul brand, transformed a struggling India into the world's largest producer and consumer of milk via Operation Flood.
But the situation has changed. Although Amul is today India's biggest food company, the GCMMF's penetration into every village of the state has hit a saturation point. Dairy farmers say they are facing a host of problems — from drought to lack of government support to low prices. In February, milk producers had spilled hundreds of litres of it on the roads to protest low prices and the unavailability of fodder for their livestock.
In this Lok Sabha election season, dairy has become an important issue, not just for the farmers but also for consumers, since milk is a staple item in every household and any price revision impacts almost everyone. And the Congress is looking to capitalise on the issue to take on the BJP-headed central and state governments.
---
Also read: Latest offering from Modi — mega youth conclave in Gujarat as BJP looks to stem jobs anger
---
Farmers' issues
The size of the country's dairy sector is estimated at Rs 6 lakh crore, growing at nearly 10 per cent annually. However, the market is highly fragmented, with only 20 per cent market share for organised players.
In Gujarat, despite drought being declared by the government in November 2018, there has been no subsidy on fodder and cattle feed, allege farmers.
For 45-year-old Rabari Mafabhai Hamirbhai, a resident of Becharaji town in Mehsana district, the battle to feed his family and cattle has never been tougher. With the mercury soaring, he is now contemplating selling his cattle and migrating to a bigger town or city and take up odd jobs to survive.
"The government had declared drought in this district and we were assured that we would be provided cattle feed at a subsidised rate so that we could feed our cattle and continue with our dairy work. But nothing has happened. When we go and enquire, they ask us to come back the next day. We don't have money left now to feed ourselves or the cattle," he told ThePrint.
This is not the lone instance — many in Mehsana, the home district of Prime Minister Narendra Modi — narrate tales of woe and government apathy. There are a number of Maldharis, a nomadic community in Gujarat whose main source of livelihood is cattle-rearing, who are unable to sustain and are migrating to cities.
Dairy farmers are also unhappy with the current situation, with many pointing to the low margins and time-consuming labour work to a lack of incentives that have impacted them harshly.
"Even water is sold for Rs 20-22, and we are getting the same price for milk. In Karnataka and Rajasthan, the government on its own provides a subsidy on milk per litre, but nothing is being done here," says 40-year-old Shyam Bhai from Patan district, adding that many Maldharis are now struggling to feed them.
"Many are forced to leave the villages and take up odd work in cities. Thakur, Dalits, Maldharis are all leaving the villages."
Karan Jojabai Maldhari, a 44-year-old dairy farmer, added: "The government had announced we will get fodder at Rs 2 per kg, but it is not available anywhere. We are starving and so are our cattle. We have been migrating from one place to another to survive. The government is not paying any heed to our situation."
Poll plank
Dairy has taken centre stage in the Lok Sabha election campaign, with the Congress promising to take care of all these issues if voted to power. The BJP knows it cannot afford to ignore the issue, as 15 of the state's 26 Lok Sabha seats are in rural areas, which could have a significant impact on the outcome of the polls.
The Congress has promised a separate Kisan budget in its manifesto, and a subsidy on milk to help farmers get more income, something it feels should be introduced in Gujarat too. The party's state in-charge, Rajeev Satav, is holding meetings with members of dairies and milk cooperatives, and blaming the BJP government for the "mess".
"In Gujarat, farmers are affected by the drought and many are trying to survive by doing dairy farming and keeping keeping cattle. But not only are they unable to get cattle feed, the common land for grazing has slowly been handed over to industrialists by the BJP government. In as many as 1,900 villages, common land has disappeared," alleged Manish Doshi, spokesperson for the Congress.
"The district milk unions are also mostly headed by the BJP, and they ensure prices are not increased. The state government has been asking for votes using the cow, but gaushalas are not being helped at all."
The BJP, meanwhile, claims the state government has already taken a number of steps to address the issues, including providing subsidy on cattle fodder and ensuring crop insurance sum is paid to all the eligible farmers.
Bharat Pandya, spokesperson for the Gujarat BJP, said: "We are providing subsidy in drought-hit areas so that cattle feed is available at very low cost. Apart from that we are already providing subsidy and loan to all those poor families who want to purchase cattle. Our government is aware of the need of the people and is taking all the steps required."
Amul's response
Amul, meanwhile, has refuted the farmers' claim that the price of milk is deliberately not being increased.
"There is no issue for Amul management to revise consumer price of milk any time of the year, depending upon the requirements. While this year, so far, no such requirement has arisen, in 2014, we recall that there was a price revision done during election time," the dairy giant said.
---
Also read: Where's the hurry, I'm just 25: Hardik Patel on losing a shot at Lok Sabha elections
---
This report has been updated to correct the number of rural seats in Gujarat to 15.
Get the PrintEssential to make sense of the day's key developments