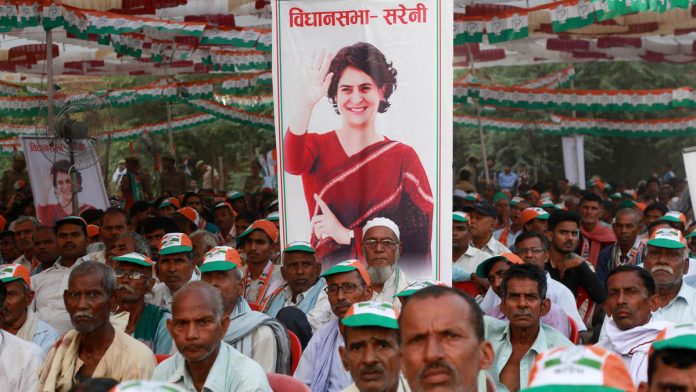 Text Size:
Amethi/Rai Bareli: Union minister and BJP candidate from Amethi Smriti Irani has continuously targeted her rival and Congress president Rahul Gandhi for not visiting his parliamentary constituency often enough. She had even called Rahul a 'missing MP'.
But, it seems, Priyanka Gandhi Vadra, Congress general secretary in-charge of Uttar Pradesh (east), is making up for her brother's absence in Amethi, which will vote in the fifth phase of the Lok Sabha election on 6 May.
Ever since the election dates were announced in March, Priyanka has visited both Amethi and Rae Bareli, her mother Sonia Gandhi's constituency, six times, where she has held small public meetings, corner meetings, done road shows and also made impromptu visits to people's houses.
"She has visited the constituencies (Amethi and Rae Bareli) multiples times. These two constituencies have a special place for the Gandhi family. There are 10 coordinators (five for each constituency), who are the eyes and ears of Priyanka and give her details of every minute. They have direct access to her. She takes regular updates from them. She has been constantly campaigning in both the constituencies and will continue to be a regular face in the constituencies even after the elections," said a member of Priyanka's campaign team.
With Rahul campaigning in other states, Priyanka has been going to 10-12 areas in Amethi and Rae Bareli every day.
When ThePrint followed Priyanka on 1 and 2 May on her campaign trail in the two constituencies, one could see that she was trying to connect with the people by entering their homes, listening to their problems and engaging with children and women in particular. She was also making random stops wherever she found Congress supporters and interacting with them.
Difference in Rahul & Priyanka's campaign style
In the past five years, Irani has visited Amethi, a rural constituency that is nearly 130 kilometres from Lucknow, several times, accusing the Congress president of neglecting it.
Rahul has held four public meetings in Amethi between 22 April and 27 April so far. His mother Sonia, who is a former Congress president, has held one public meeting in Rae Bareli, besides a roadshow, on the day of her nomination on 11 April. Rae Bareli also votes on 6 May.
"There's a lot of difference between the two in terms of campaigning. Rahul Gandhi has also held public meetings and rallies in Amethi, but he has to canvass for the party in other states too, so he comes (to Amethi) for a short time. Priyanka, on the other hand, starts in the morning and continues throughout the day, visiting villagers across Rae Bareli and Amethi and carrying out public meetings and road shows in between," said a senior Congress leader.
Sonia's trust in Priyanka
For the people of these two constituencies, Priyanka has become a familiar face.
"Our village is known because of them. There is a lot of work, which is yet to be done, but we know that they don't have a government at the Centre and the state so work gets affected. We hope they will devote more time to the constituencies. Priyanka Gandhi has been visiting a lot and we hope it will continue," said Radhey Shyam, a resident of Rae Bareli.
Even Sonia during her public meeting with Priyanka in Sareni that falls in her constituency indicated it was Priyanka, who knew the pulse of the people.
"Jaise ki maine kaha, Priyanka ne aapko sab kuch bataya, sab kuch samjhaya aur aap sab log mujhse zyada bhi jaante hai yahan ke haalat kya hai (As I stated that Priyanka has told you everything. And, you people know better than me about the condition of this place)," she had told the crowd at the public meet.
Sonia has been representing Rae Bareli since 1999 and is contesting for the fifth time in this Lok Sabha election. She will take on BJP's Dinesh Pratap Singh, who recently switched over from the Congress.
'Amethi & Rae Bareli extended family of Gandhis'
Even as the BJP is claiming that Rahul will not be able to retain Amethi this time, Uttar Pradesh Congress is confident of his victory. Irani had contested against him in 2014 and his winning margin was reduced to 1.07 lakh from 3.70 lakh.
"Those who fight against the Gandhis come here just to be in the news because they know the result already. Even Smriti Irani is in news for two reasons — for her qualification or when she says something against Congress president Rahul Gandhi," said Congress spokesperson Akhilesh Pratap Singh.
"Earlier also, a number of leaders have contested from here and lost, including Kanshi Ram, Sharad Yadav, Maneka Gandhi, Raj Mohan Gandhi and Kumar Vishwas. Kumar Vishwas had said that he had taken a house here and he would stay here only, but after getting only 20,000 votes, he never came back," Singh said.
He further said Irani would lose her deposits this time as she would be defeated badly. "Amethi and Rae Bareli are not political fields, but extended family of the Gandhis," he said.
---
Also read: 3 months of Congress' Priyanka Gandhi in active politics: Has she lived up to the hype?
---
Get the PrintEssential to make sense of the day's key developments