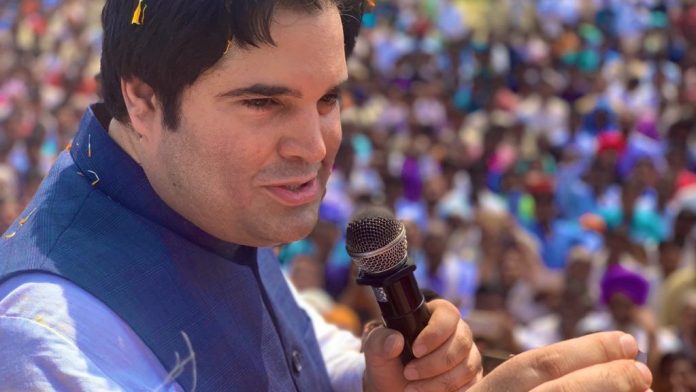 Text Size:
Pilibhit: There is a new avatar of Varun Gandhi in Pilibhit this election season. Prime Minister Narendra Modi's "chhota sipahi (young soldier)" is seeking votes to protect the "maan-samman (honour and dignity)" of villagers and is "ready to be beheaded" for this.
No fire and brimstone speeches for him, unlike his mother and Union minister Maneka Gandhi who wouldn't do anything for those (read Muslims) who don't vote for her. This time around, Varun could give his more celebrated cousins from the Congress — Rahul Gandhi and Priyanka Gandhi Vadra — a run for their money when it comes to wooing Muslims.
In his first election in 2009, Varun had hit headlines with alleged hate speeches. "Sometimes, people construct an image of you… it's completely distorted. Any and every allegation against me was quashed by the court and UP government had to formally apologise to me," the Bharatiya Janata Party (BJP) leader tells ThePrint.
Switch to Pilibhit
Varun had moved to Sultanpur constituency in 2014 but has returned to Pilibhit this time, swapping his constituency in the Lok Sabha elections with his mother's.
The party decided it, he says, adding that he loves the place.
As he travels from one village to another — holding 32-35 village square meetings a day — he strikes an instant rapport, calling villagers by their names everywhere. He seems to remember names of all villages and the problems therein, too — a remarkable and surprising trait in a scion of the Nehru-Gandhi family.
Varun concedes he has changed.
"Over the years, you enter marriage, fatherhood… you are more at peace with yourself. You realise what's important to you as a person and as a politician. At 28 when I first became an MP, perhaps I hadn't found that sense of spiritual equilibrium," says the BJP leader.
"I feel a lot of positivity in me… when I was younger, I had fear in me… when my daughter passed away and when I went through personal tribulations, that fear left me because I felt that the only important thing in life is love, kindness, people's blessing and friendship. That's all I am interested in now."
---
Also read: In BJP's 10th list, party swaps seats of the mother-son duo of Maneka & Varun Gandhi
---
'Modi is a hero'
Varun is confronted with a formidable challenge this time even though Pilibhit is his family pocket borough with the mother winning from here six times and he himself once.
The Samajwadi Party's Hemraj Verma is the opposition alliance candidate while the Congress hasn't fielded one. Of around 17 lakh people in his constituency, an estimated five lakh are Muslims and there is also a considerable presence of Yadavs and Dalits who are perceived to be loyal to the SP and the Bahujan Samaj Party (BSP).
Varun dismisses these "notions". He is confident because he believes 80 per cent of Indians vote on the basis of hope and PM Modi gives them exactly that.
"Modi is somewhat of a hero, an inspirational figure. When people talk about him, they feel he is one of them," says Varun.
"He has risen to international stardom… so they feel that if he can do it, they can also do it. So he is a very aspirational figure and that has helped us… then the hope factor… last is the candidate's own appeal," says Varun.
The BJP leader recently kicked off a controversy of sorts, saying that though many of his family members were prime minister, Modi has earned the most respect.
"I didn't compare and contrast. I said ek arse se aisa aadmi nahi aaya jo neta hi nahin nayak bhi hai (It has been a while since the country has seen a leader who's a hero)… who has devoted his entire life to the country. What's wrong in that? I stand by what I said," says Varun.
'Chota Sipahi'
In Pilibhit, Varun is keeping his campaign totally localised, not talking about any national issues. His speeches at village squares last barely 3-4 minutes during which he says how he promises to be there for the people whenever they need him and takes a vow that for their honour and dignity, "main gardan katwaane ke liye bhi taiyaar hoon (I'm ready to be beheaded too)".
He then exhorts them to vote for the "chhota sipahi", which would translate into another term for Modi.
The crowds look visibly impressed as they raise their hands in support.
"Izzat ghars" or toilets in houses are the most visible signs of the changes in these villages in the past five years. Pilibhit may not look different from Amethi or Rae Bareli (Rahul Gandhi's and Sonia Gandhi's constituencies) when it comes to lack of development and joblessness, but the other branch of the Nehru-Gandhi family tree seems to be holding firm here, thanks to their personal rapport and "assistance".
Pilibhit doesn't even seem to be desperate to keep pace with the times. One still sees a poster of Bollywood star Divya Bharti, who died 26 years ago.
---
Also read: Maneka Gandhi wants to leave safe UP seat for son, looking to shift to Haryana
---
'Have grown in BJP'
Varun may not be worried about his victory in the Lok Sabha elections but he must be keeping his fingers crossed about his fate after polls. His intelligence quotient is 162, far above the average intelligence score. But Modi-Amit Shah dispensation hasn't found any use for it yet.
Varun is rather philosophical about it: "How do you look at life — transactional or transformational? I have grown up in the party. When you grow up in the family, you don't ask what you have done for me lately.
"They have made me MP twice; they made my mother a minister… At every possible juncture, it's not possible to accommodate every single worker's aspirations."
Get the PrintEssential to make sense of the day's key developments