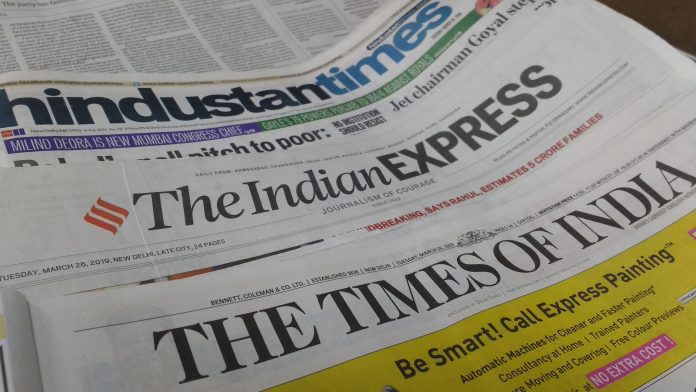 Text Size:
Front Page
Three surveys find considerable space in the Times of India this morning, two on page 1.
A small front page item in reads "TOI most trusted English news brand: Report" This refers to an Oxford University and Reuters Institute India Digital Report which, TOI says, found the newspaper the "most trustworthy" for "users of private news brands."
However, on the Reuters website, the report says, "NDTV (56% offline, 47% online) and The Times of India (46% offline, 40% online) are far more widely used among our respondents than any other brands."
"… the most broadly trusted brands are all legacy brands, including both newspapers like The Times of India, Hindustan Times, and Indian Express as well as television channels like DD News and NDTV'.
Another survey conducted by NGO Association for Democratic Reforms (ADR) found the Centre's performance "below average" on 31 voter priorities in a survey conducted between October-December 2018 (page 1). The voters top priority was "better employment opportunities".
Then there's "Terror & Jobs: that's what the voter is worried about" based on a survey by the US-based Pew Research Centre conducted May –July 2018 which found Indians were "optimistic" about country's direction despite concerns about unemployment. There was growing concern about "terror and the threat posed by Pakistan" — 76 per cent believed this was a serious threat. Also, for 76 per cent, unemployment is a "very big problem" (TOI, page 6).
Congress grabs the day's top headlines with its income guarantee scheme.
It's the lead in The Times of India, The Indian Express, and Hindustan Times but The Hindu downgrades "Garibi Hatao: 2: Rahul promises to wipe out poverty" to third position on page 1.
The other papers see an election gambit here.
HT's "Rahul's poll pitch to poor: ₹72K income guarantee" confusingly states the party will "guarantee an income of at least ₹12,000 a month for India's poorest families by giving them ₹6,000 a month".
Express is clearer in its double decker headline with a pun on the scheme's motives: "Minimum Rs 6000 a month to 20% of India's poorest: Cong pollitics". "The scheme will likely entail an expenditure of Rs 3,60,000 crore a year" given there are 25 crore households, with five crore in the "poorest category", it writes.
In 'Explained', Express adds that Congress president Rahul Gandhi "didn't spell out the details of the scheme called Nyunatam Aay Yojana (Nyay). That's where the devil lies…analysts said that income-support schemes of this type cannot coexist with subsidies on account of the resultant fiscal burden".
Hindu says the acronym was "suggested'' by Priyanka Gandhi "to convey a sense of 'justice' for the poor''.
TOI pitches the story as Congress versus Bharatiya Janata Party (BJP) in "Cong bids to outdo BJP on sops, vows ₹6,000/mth to poorest 20% of Indians", calling the scheme "The big bang populism ahead of Lok Sabha elections".
"The move comes on the heels of the perceived success of farm loan waivers offered by Congress during elections to Rajasthan, Madhya Pradesh and Chhattisgarh…" It's also a response to the government's "annual income support of Rs 6,000 to farmers with less than five acres, with the Congress proposal being much more ambitious", it writes.
TOI features in depth analysis of Nyay inside, with the headline "Cong hopes dole will steal BJP's Balakot thunder".
Jet Airways
The other big story of the day is "Lenders offload Goyals, take control to keep Jet airborne" (TOI).
"A 28-year journey came to an end on Monday as Naresh Goyal, founder chairman of Jet Airways, finally stepped down following pressure from lenders," TOI writes dramatically.
HT, Express and The Hindu say he stepped down after 25 — not 28 — years.
"According to sources, the lenders will invite an Expression of Interest (EoI), for on-boarding of a new investor, on April 9 from interested parties," Hindu reports.
The Economic Times and Business Standard lead with the Goyals' exit, too. Both also see in it an end and a new beginning.
ET writes, "Monday marked the end of an era for Indian aviation."
Business Standard says, "The banks hope to conclude" a new deal by the end of May.
VVPAT
The Hindu's lead is "Why not increase the VVPAT count, asks SC" — a suggestion that "was met with stiff resistance from the Election Commission", says the report. It provides a detailed account of Chief Justice of India Ranjan Gogoi's criticism of the EC.
HT opens differently: SC "pulled up the Election Commission (EC) for seemingly resisting a suggestion by opposition parties" to increase the random physical verification of the VVPATs, it writes.
Hindi Dailies
All major dailies have the same lead: Congress's Nyay scheme.
Dainik Bhaskar elections perspective: "Adhiktam vote ke liye nyuntam guarantee." It says that 2.5 crore families will get this help in two phases each. Rahul Gandhi said that if the PM can offer debt waiver to the rich, why can't we give money to the poor.
Dainik Jagran calls it a big electoral gamble by Rahul – the scheme will raise inflation from 1.5 % to 2% , it adds.
Opinion
The Economic Times is alone in commenting on Congress's minimum income scheme amongst the major newspapers.
In "Justice for the Poor or Path to Ruin", ET says "political courage of a kind not seen in India" is required to make this work.
The "Nyay" scheme would amount to 13 per cent of Centre's budget and "14% of taxes collected by the Centre". Therefore, the plan can be either "ruinous if it adds on to existing subsidy" or "redemptive" if all existing subsidies are "reconfigured and some repressed figures allowed to rise".
ET writes food, fuel and other subsidies and employment guarantee schemes must be subsumed in Nyay, "fold fertilizer subsidies into another income support scheme for farmers", and "raise user charges to realistic levels for power and water" — also, "end farm price repression".
ET concludes that "Minus political daring, the scheme can spell ruin or jumla".
Prime Time
NDTV 24×7 called the Congress announcement a big bang poll "promise".
"Gamechanger?" asked Times Now; India Today called it a "push", and RepublicTV said it was "a sop for votes".
TV news channels devoted Monday afternoon and evening to the Nyay scheme.
No sooner had he left the PC than TV news began to question its feasability. Or, in the words of BJP MP Subramanian Swamy: "I don't see the arithmetic" (Times Now).
And Congress spokespersons, across news channels, failed to provide the arithmetic.
India Today's Preeti Choudhry wondered, "How will Congress decide on the cap of Rs 12,000 per month? Who will be included and who will be excluded?"
Rahul Shrivastava, national affairs editor, India Today said, "This is a template of garibi hatao" — a reference to former prime minister Indira Gandhi's slogan from the 1970s.
Congress MP Amee Yajnik lamely replied: "The question is to lift the most downtrodden 20% of the population," she said.
On Mirror Now, Kavita Krishnan also questioned Congress's largesse. An eloquent but evasive Congress spokesperson Vinayak Dalmia said, "Garibi par we need to do surgical strike, because — abki baar gareebi pe vaar."
Pressed for data, Dalmia added, "The micro specific details will be there in the manifesto."
By the way, Mirror Now celebrated its second birthday Monday.
When NDTV India's Nidhi Kulpati asked Congress leader Randeep Surjewala how Congress arrived at its Nyay scheme, he loftily said, "Some of the top economists in this country, alongside top Congress leaders have decided upon this scheme".
Kulpati asked if this was the Congress reply to BJP's scheme for the farmers.
Surjewala insisted helping the poor was part of Congress manifestos in 2009 and 2013 — "it's the biggest scheme in the world — gareebi bye".
On Aaj Tak, Rajiv Dubey, Business Today managing editor did a rapid calculation: "Rs 3,60,000 crore….. Where is this money coming from?"
BJP spokesperson Gaurav Bhatia mocked the Congress president: "50 saal se kaam ka bacha ka lolipop hai ye. Congress is trying to fool the people." "Ye log garibi ki baat kar rehe hai!" he added mimicking a broad English accent.
Congressman Sanjay Jha retorted: "You are sitting wearing suit-boot, do you even know how bad the situation is on ground?"
Janata Dal (United) leader K.C. Tyagi wanted to know, "If every third man in India is poor and if Congress gives the money, where will they get the money to fulfill other responsibilities?"
Tweet of the day
My final point on this. Ashwin ran Buttler out. It went to the 3rd umpire who is on the ICC Elite panel. He looked at the replays & said the non-striker was out. He is the custodian of the laws & playing conditions. So irrespective of what Ashwin did, it was the umpire's decision

— Harsha Bhogle (@bhogleharsha) March 25, 2019
With inputs from Shailaja Bajpai and Renu Agal.
Check out My543, our comprehensive report card of all Lok Sabha MPs.