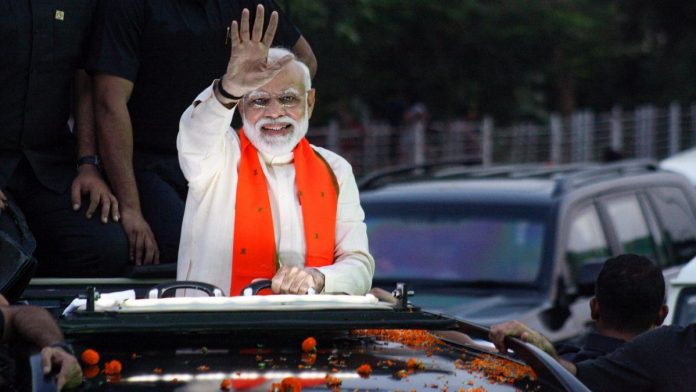 Text Size:
Front Page
The Supreme Court continues to reign supreme on Page 1 across lead newspapers almost totally ignoring what created waves on TV: former prime minister Rajiv Gandhi's INS Viraat 'vacation' in 1987 barring the Times of India: "Rajiv didn't misuse INS Viraat, say top retd naval officers". "Top retired naval officers on Thursday strongly refuted" claims by Prime Minister Narendra Modi that former PM Rajiv Gandhi used the vessel as a "personal taxi", TOI reports.
Hindustan Times's exclusive interview sees Congress President Rahul Gandhi admit "that he did visit INS Viraat with his father… but adds that it was an official trip, not a holiday'' in "Why would one holiday on an aircraft carrier?"
However, The Indian Express digs up its archives and reproduces its coverage of the holiday on page 11: "30 years ago, Rajiv in Lakshwadeep".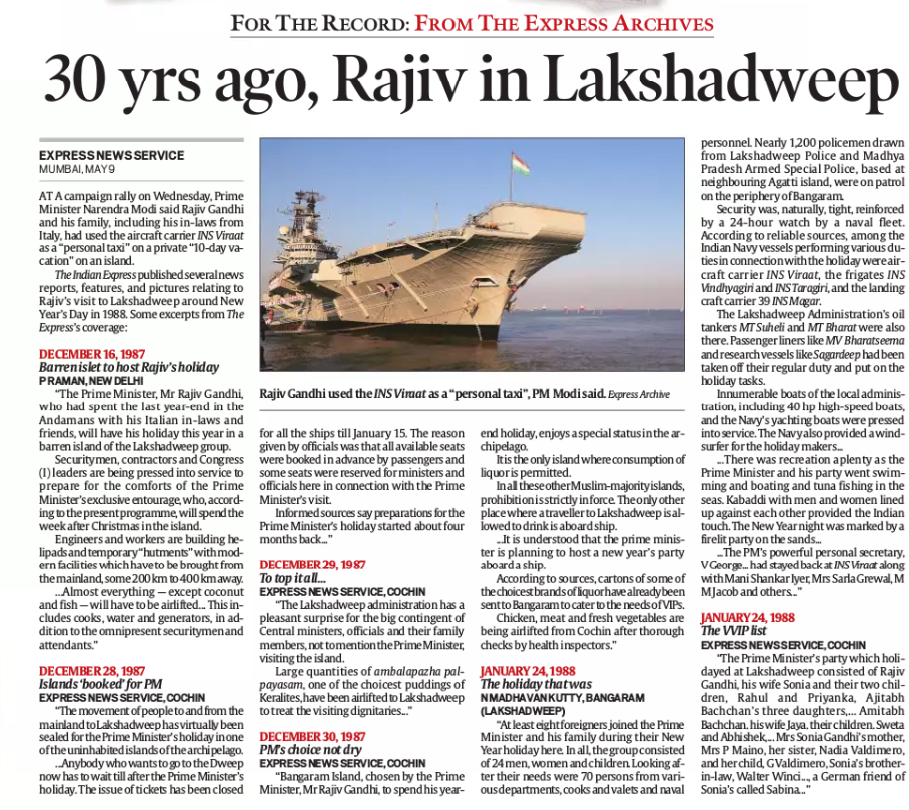 TIME magazine on Indian elections
The other big media story is TIME magazine's cover story on the elections: "Can the World's Largest Democracy Endure Another Five Years of a Modi Government?" asks Time in its May 2019 edition with a cover that depicts Modi as 'India's Divider in Chief'.
TIME's extensive analysis of the Modi years, by writer Aatish Tanveer declares, "Of the great democracies to fall to populism, India was the first". It goes on to study the Modi wave phenomenon, its plus and minuses and finds that "Not only has Modi's economic miracle failed to materialize, he has also helped create an atmosphere of poisonous religious nationalism in India."
"Modi is lucky to be blessed with so weak an opposition — a ragtag coalition of parties, led by the Congress, with no agenda other than to defeat him", but if given a second term, "one cannot help but tremble at what he might yet do to punish the world for his own failures".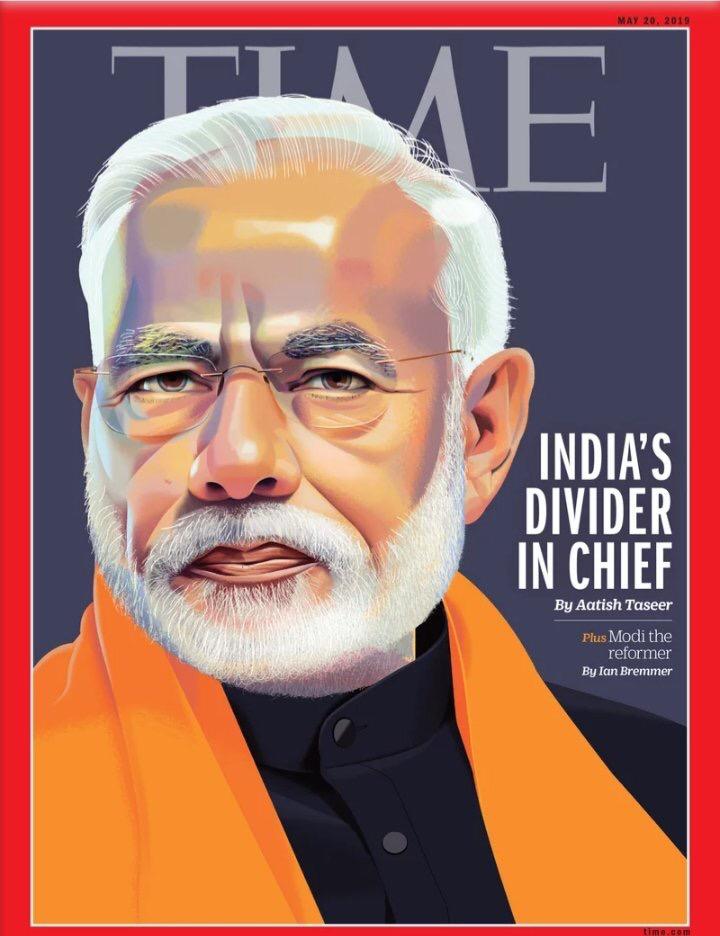 Supreme Court
The Supreme Court is in the lead across newspapers again. For Hindustan Times, The Indian Express, and The Hindu, it's because the apex court and government are in the midst of a "face off on judges' appointments" (HT).
"For the second time in 12 months, the Supreme Court collegium has asserted itself against the executive on matters of judicial appointments", writes HT.
The Hindu backs the motion, writing, "In a single stroke on the same day, the Supreme Court Collegium… recommended the names of two judges to the court and rejected the Union government's disapproval of the elevation of two others."
One of them, notes HT, is "the first Scheduled Caste nominee to the bench in a decade", but doesn't tell us who.
In 'Explained', Express writes that the collegium's decision "has a familiar ring to it".
"Last year, the centre, citing inadequate representation from other states, returned the file of then Uttrakhand High Court Chief Justice K.M. Jospeh who had been recommended for elevation to the supreme court. The Collegium reiterated its recommendation and Justice Joseph was eventually elevated," it writes.
Strangely, The Times of India finds the Amrapali housing case more interesting: "We will ask Centre to take over Unitech group, says SC" in its lead. "A day after declaring that Amrapali's housing projects will be handed over to Noida and Greater Noida authorities for completion, the Supreme Court on Thursday said the Unitech group and its 46 subsidiaries should be taken over by the Centre".
Rafale
The Rafale deal is the other lead in Express and Hindu while HT gives it a column. While Express highlights, "No facts hidden, negotiating team's concerns addressed: Govt", HT and Hindu prefer the perjury angle: "Govt.denies perjury charge in Rafale case'' in Hindu is almost replicated in HT's "On Rafale, Centre denies perjury, hiding information".
Express explains that the Centre's defence in a "fresh affavavit" denies "that it suppressed material facts and misled the Supreme Court in the Rafale jet purchase matter".
HT's Rahul Gandhi interview
A day after HT carried an exclusive interview with the Prime Minister, it swings to Opposition and Congress chief Rahul Gandhi. Gandhi discusses PM Modi at length, saying, "The truth is Mr Narendra Modi is scared of the future, he's always been terrified of it. It's because he knows he lacks the vision to chart the course for India's future". HT also brings up the failed coalition with Aam Aadmi Party (AAP), and the "ideological war" of these elections.
When HT comments, "The media was very tough on you", Gandhi replied, "No, the media was very fair to me…The media was very, very nice to me but not in the way you think. The media was very nice to me because when they took out their aggression on me, they changed me."
Prime Time
The Gandhis continue to make news, dead and alive. Supreme Court's clean chit to Rahul Gandhi on his "British" or Indian nationality and the former prime minister's "vacation" on INS Viraat in 1987, dominated the TV screen all Thursday until Atishi's tearful press conference on an alleged smear campaign by her Bharatiya Janata Party (BJP) opponent in East Delhi, Gautam Gambhir took over.
And PM Modi appears to have learnt the value of impromptu chats with the media — he has given several short interviews on the campaign trails, this week, first to CNN News18, and now to Aaj Tak.
Aaj Tak: Reporter Managya Loiwal spoke to the PM during an election rally in Purulia, West Bengal. Modi firstly congratulated her for interviewing him in the "intense heat" of Purulia: did he mean the climate or the election campaign?
Loiwal asked him about West Bengal chief minister Mamata Banerjee's references to him as "Hitler" and "Dictator".
Modi replied, "Didi is working in a non-democratic fashion. Several people have been murdered in Bengal. Despite this, media sitting in Lutyens Delhi is not ready to register this."
Was the fight for Bengal between Didi and Dada (Modi)?
"In Bengal, the fight is between the people and Didi. There is no Modi involved," replied the PM.
Loiwal raised Banerjee's annoyance on hearing chants of "Jai Shri Ram" during her campaign. "Didi is trying to take out anger on Modi, Maa Durga or Maa Kali."
Loiwal raised Modi's recent allegations about Rajiv Gandhi using INS Viraat for personal purposes.
Modi ignored the question, changed the focus of his attack: "In 1984, it was said that "when a big tree falls, the ground shakes", and thousands of Sikhs were murdered. It is only when Modi government came into existence that actions have been taken."
Spoke to @manogyaloiwal about issues concerning West Bengal. Do watch! https://t.co/XcVaIJQC9Q

— Chowkidar Narendra Modi (@narendramodi) May 9, 2019
Zee News anchor Sudhir Chaudhary also spoke with the PM. Chaudhary asked him, what is his "problem" with Mamata Banerjee?
PM Modi said that it should be asked to all those who have "worked with Mamata Banerjee".
He added, "West Bengal CM recognises Pakistan PM as Pakistan PM, but doesn't recognise the Indian PM. (This) is an indication that Mamata Banerjee doesn't believe in the Constitution."
CNN News 18 anchor Marya Shakil interviewed Union Minister Ravi Shankar Prasad, BJP candidate form Patna Saheb.
Shakil asked him about Rajiv Gandhi and INS Viraat. The answer was evasive: "One should remember who called Modi a chaiwala and a neech kism ka aadmi. Misuse of INS Virat is just a manifestation of the entitlement politics."
India Today: Was Mamata Banerjee's "fortress in Bengal under siege?" asked anchor Shiv Aroor.
BJP leader Amit Malviya said, "TMC is not the custodian of Bengali culture as they pretend to be. People in the state welcoming Mamata with "Jai Shri Ram" signifies something has fundamentally changed in the state."
"Most votes of the Trinamool supporters are from amongst Bengali Hindus — the constituencies where the Muslim population is high, the position of TMC is a little weak," said Garga Chatterjee, TMC supporter.
Tweet of the day
How is @RishabPant777 not in the World Cup squad …… Pretty sure #India still have time to change …….. !!!!! #Bonkers #IPL19

— Michael Vaughan (@MichaelVaughan) May 8, 2019
With inputs from Shailaja Bajpai. 
Get the PrintEssential to make sense of the day's key developments