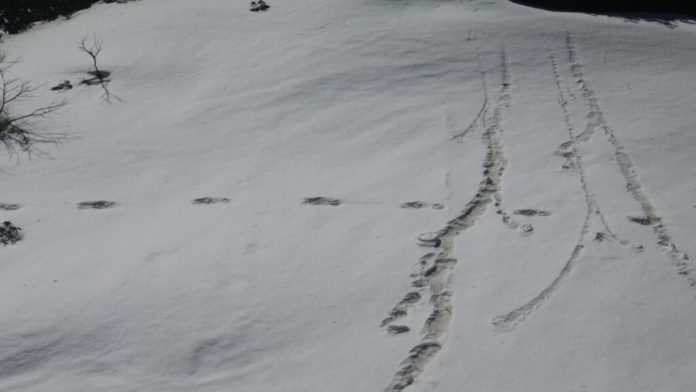 Text Size:
Front Page
The Telegraph combines three major news items and puts it under a dripping-with-sarcasm banner headline: 'Enter, Yeti Yug'. One is the Army's bizarre claim of having spotted the footprints of the mythical Yeti (under the subhead 'The Mythical Beast'), the other is the Ministry of Home Affair's demand that Rahul Gandhi "clarify" his "factual position" on his citizenship ('The Ghuspetia') , and the EC's "clean chit" to PM Modi for his allegedly inflammatory remarks on Gandhi's candidature from Wayanad, calling him the 'Secular Indian'.
"Is it May 1 or April 1?", its subhead begs to know.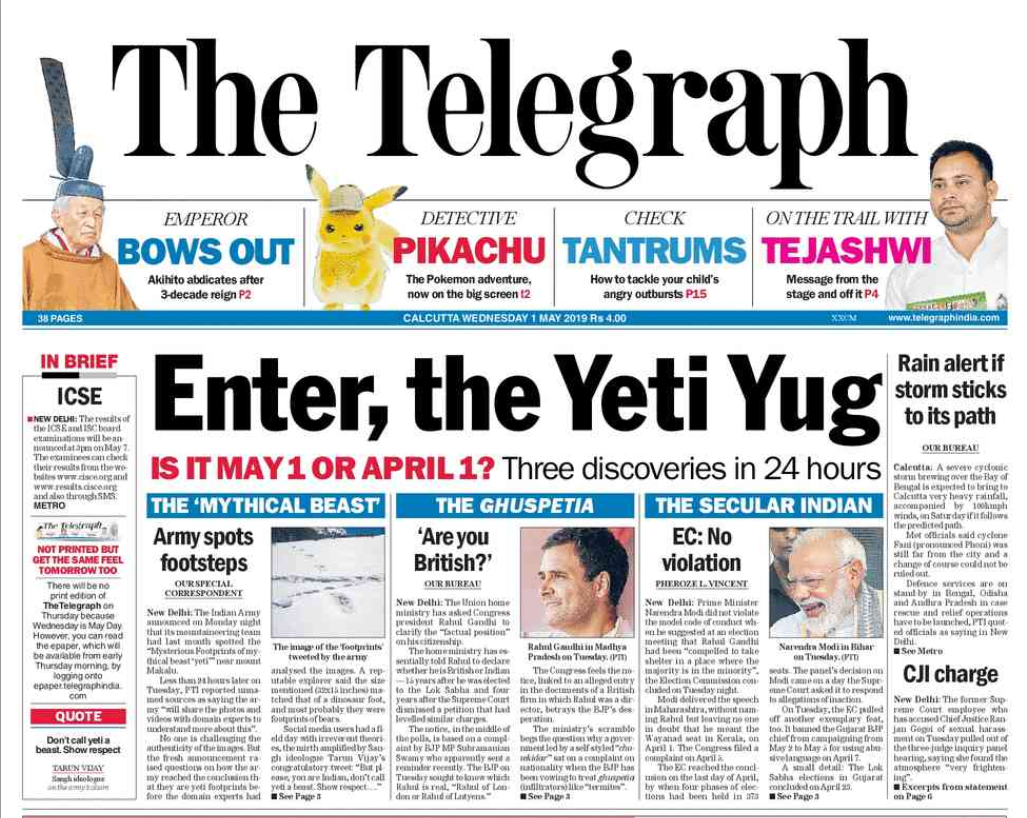 Times of India starts with what is perhaps the most important fact: "No, it was not a joke", and goes on to say, "With all the seriousness at its command, the Indian Army late on Monday night declared that its mountaineers had discovered "mysterious footprints of mythical beast Yeti" in the snow-bound Himalayas, leaving all and sundry flummoxed across the globe".
The Express, in 'Yeti foot and Army mouth', informs that "most scientists believe no such creature exists".
The Hindu blandly states that "the news was trending on social media, all day on Tuesday, with many Twitter users expressing scepticism over the Army's claim."
For The Times of India and Hindustan Times, the biggest news Wednesday is "Woman who accused CJI of harassment opts out of probe" (TOI). HT's headline also says the "Woman pulls out of probe by SC's panel in CJI case" without explaining why. The Indian Express gives the story third billing, but gives more context in its headline, "Not likely to get justice, says woman complainant, walks out of SC inquiry".
The papers quote from the woman's press release, where HT reports she "had 'serious concerns and reservations' about receiving justice from the committee" that is looking into the case.
TOI drops this central argument of hers from its report, and instead writes, "In a startling claim, she alleged Justice Bobde spoke of the institution's reputation needing protection and that the panel would "ensure my reinstatement", to which she said she wasn't interested in the job, and "I want this harassment to stop"".
"She said her decision came after the panel refused to let her have a lawyer or a support person at the hearing. She said she suffered from impaired hearing and was left nervous and scared", reports The Hindu, which gives it fourth billing.
In its 'Explained' box, the Express has many questions: "The in house panel has three days of her testimony, and this gives rise to several questions. How does it deal with her testimony? Will it pass ex-parte order? How does the full court react to her exit? What if she were to file a criminal complaint? The government will need to consult the CJI for registration of an FIR."
Masood Azhar
"'Progress' in U.N. listing of Azhar, says China" gets the lead in The Hindu this morning. It reports that "China indicated on Tuesday that it is willing to change its decade-old stand opposing the move".
TOI gives it column space but says, "If China does follow through, it would mark a diplomatic win for India". The Express notes that the change comes "more than a month after China placed a technical hold on the listing of Jaish-e-Mohammed chief Masood Azhar as a global terrorist", and that "Beijing has come around in the last two months
Election Commission
That the prime minister was given a "clean chit" by the Election Commission over his comments on Rahul Gandhi's candidature from Wayanad—the PM had said Gandhi was contesting from a place where the "majority is in minority".
This makes for the Express's lead, which states it is "the first of five Congress complaints against Prime Minister Narendra Modi" to be disposed. HT says there are "at least six such cases against the PM".
Opinion
In "Wrong step", the Express notes that banning the burqa in the aftermath of the terrorist attacks "makes Sri Lanka the only country outside of Europe to take such a decision". The Express calls it an "unwarranted and extreme measure", especially since "it is clear the community…are fearful of the repercussions of the attack, and want to play down identity markers".
"It cannot be stressed enough that the problem that has erupted in Sri Lanka has not been caused by womens apparel", and that the ban "is hardly the way to meet the challenge posed by radicalism of the ISIS kind", it adds.
Prime Time
Congress president Rahul Gandhi's apology before the Supreme Court remained the hot topic on Hindi as well as English news channels Tuesday. Also, Rahul Gandhi's citizenship came up for debate.
India Today: Anchor Rahul Kanwal discussed why the Bharatiya Janata Party (BJP) wants to defer the Rafale hearing in Supreme Court.
BJP spokesperson flipped the topic by stating, "It was Rahul Gandhi who used the slogan 'Chowkidar Chor Hai' and even used Supreme Court as his political tool. One thing is clear — Rahul Gandhi is a liar. As far as Rafale case is concerned, it is a dead issue."
Congress spokesperson Jaiveer Shergill responded, "Mr. Rahul Gandhi has apologised for his statement. It is Prime Minister Narendra Modi who is running away from a conversation with Mr. Rahul Gandhi. The court has still not given a clean chit to the government as far as Rafale deal is concerned."
Times Now: Anchor Navika Kumar also discussed why Rahul Gandhi used Supreme Court's name to say 'Chowkidar Chor Hai'.
BJP spokesperson Amit Malviya said, "To make himself sound credible, Rahul Gandhi had to drag in the Supreme Court."
Political analyst Sumanth Raman supported Gandhi by stating, "Rahul Gandhi himself has said that he should not have attributed it to the Supreme Court."
3 errors and 'sorry' of an apology. 'Fakery & Fudgery' won't fly in SC. Rahul's credibility takes a beating. 'Faking news' for votes in 2019?

More details by @navikakumar. | #RahulAdmitsFakery pic.twitter.com/BXnbkodqVc

— TIMES NOW (@TimesNow) April 30, 2019
CNN News 18: Anchor Bhupendra Chaubey interviewed Uttar Pradesh chief minister Yogi Adityanath.
When asked about what Yogi's government has done for the farmers, Yogi said, "We give farmers more than the minimum support price so that they get 1.5 times the input cost and stay happy."
"Never before has so much been achieved as in five years of BJP's government under PM Modi's leadership. No other party has the capability to achieve as much."
Zee News: Anchor Sudhir Chaudhary said that Rahul Gandhi had a bad day in office Tuesday as Supreme Court refused his apology and questions were raised over his nationality.
Acting on a complaint from BJP MP Subramanian Swamy, the home ministry has asked Gandhi to provide the "factual position" of his citizenship. Swamy has alleged that Gandhi had declared his nationality as "British" in documents related to a United Kingdom company that he served as a director.
#DNA में जरूर देखें- नेपाल में माउंट मकालू जीव वैज्ञानिकों के शोध का विषय क्यों बन गया है ?@sudhirchaudhary pic.twitter.com/0ym70r73Rb

— Zee News Hindi (@ZeeNewsHindi) April 30, 2019
Aaj Tak: Anchor Rohit Sardana in the show 'Dangal' discussed about Rahul Gandhi apologising for his remarks.
Congress president Rahul Gandhi Tuesday told the Supreme Court he will again apologise for wrongly attributing 'Chowkidar Chor Hai' remark to it.
Congress spokesperson Rajiv Tyagi said, "Supreme Court has yet not given Prime Minister Narendra Modi a clean chit."
BJP spokesperson Gaurav Bhatia commented, "A neta is known only by his credibility, and Rahul Gandhi once again lied to the people of the country."
Bahujan Samaj Party spokesperson Satish Prakash mentioned, "Now, Rahul Gandhi has apologised to the Supreme Court and I think situation is okay. It is Narendra Modi trying to fudge figures in the Rafale deal."
Lok Janshakti Party spokesperson Arvind Bajpai took a potshot at Gandhi by saying, "He is still not mature and dreams to become a Prime Minister. Rahul had no option other than apologising to the court."
Tweet of the day
For the first time, an #IndianArmy Moutaineering Expedition Team has sited Mysterious Footprints of mythical beast 'Yeti' measuring 32×15 inches close to Makalu Base Camp on 09 April 2019. This elusive snowman has only been sighted at Makalu-Barun National Park in the past. pic.twitter.com/AMD4MYIgV7

— ADG PI – INDIAN ARMY (@adgpi) April 29, 2019
Get the PrintEssential to make sense of the day's key developments